Kuldeep Moran's abduction by ULFA(I) is a grim reminder of Assam's past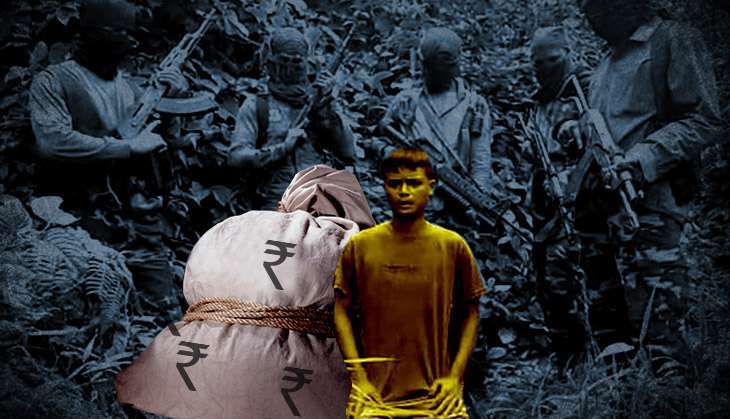 The abduction of Kuldeep Moran, the son of a farmer associated with the BJP in Tinsukia in Eastern Assam has come as a shock. While the recent low intensity blasts in the area are being seen as routine Independence Day eve attacks by desperate terror outfits, the abduction, for some, is a grim reminder of the past.
"The bomb attacks are nothing new. The ULFA militants try to target this area every year before Independence Day," a senior police official says.
Also read - Assam: ULFA kidnaps BJP leader's son; demands Rs 1 crore ransom
The ULFA(I), the anti-talk Paresh Baruah led faction of the group is said to be behind the abduction of Moran, whose own past is dodgy.
This is the first such abduction since the BJP-led government came to power. "And that fact that Moran family is said to be close to Chief Minister Sarbananda Sonowal makes this case far more serious," says a senior police official in Guwahati.
A plea for release
In a surprising move, the abductors released a video that shows Moran and five masked abductors armed with assault rifles. In it, he's seen pleading to his parents, the BJP MLA from Sadia Constituency Bolen Chetia and the chief minister to give his abductors the Rs 1 crore ransom that they have demanded.
Moran's father, Ratneshwar Moran is the vice president of Tinsukia Zila Parishad. According to local sources, he does not have the resources to cough up the ransom amount.
In the video, Moran is seen specifically requesting his parents to arrange money from Chetia - leading to doubts if it is a staged abduction. Ratneshwar Moran and his son are said to be close to Chetia. Meanwhile, CM Sonowal has appealed to the abductors to release Moran.
Moran was abducted from Arunachal Pradesh on 1 August, local police officials have said. He was abducted from Nakhung under Changlang district, close to the Indo-Myanmar border. According to some reports, he was there to deliver a consignment to NSCN(K), a banned Naga terror outfit which operates out of Myanmar. Another strange aspect of the story, according to some reports, is that a police complaint of the abduction was filed only on 8 August.
Interestingly, local police officials say that Moran was involved in a case of extortion in November 2015 and had been arrested by the local police. "He was extorting money in the name of ULFA(I) itself," says Mughda Jyoti Mahanta, the superintendent of police, Tinsukia, adding that Moran spent two-and-a-half months in jail.
According to a senior police official, Moran's maternal uncle Bhaskar Bora is a local top commander of the ULFA(I). However, the official says that it was not clear if Bora was behind that extortion bid which led Moran to jail in November.
Also read - I don't want to get killed: Kidnapped by ULFA, hostage appeals to Assam CM Sarbananda Sonowal for help
This is not the first case of abduction in Tinsukia in recent times. According to the police officer, the district has seen 10 such cases since January. He says that the locals have stopped paying the 'taxes' levied by these terror outfits. "They have started to defy them, leading to a severe fund crunch," he says, which forces them to engage in extortion.
ULFA(I), NSCN(K) and four other outfits have come together to form United Liberation Front of Western South East Asia, which according to the security officials have a considerable presence in the area since they find it easy to move to Myanmar, where their camps are situated.
Mahanta, meanwhile, claims that the local police has been either able to arrest or kill the militants who were involved in the 10 cases of abduction. "Only two militants, including Drishti Rajkhowa, a Rabha - the right hand man of Baruah, who is said to be hiding in Bangladesh - and Arunoday Dahotia, the assistant publicity secretary of the terror outfit are the only ones still at large," he says.
Interestingly, according to local police, Moran's abduction has also led to discontentment among the top leadership of the terror outfit. "Many, including Jibon Moran, the finance secretary of the outfit who also operates out of Myanmar, are upset over these abductions," Mahanta says, pointing out that a lot of cadre of the ULFA(I) come from the Moran tribe.
Edited by Aleesha Matharu
More in Catch -4 explosions rock Assam on Independence Day; no casualties reported
Secret killings in Assam: 400 people murdered. But no one killed them