No remorse: villagers in Bishara say 'beef-eating' Akhlaq deserved to die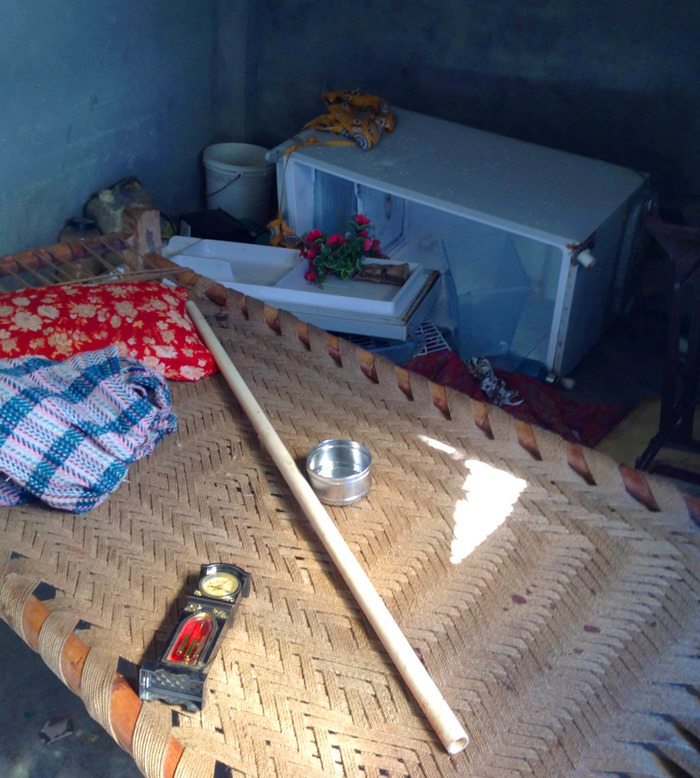 The murder
50 year old Akhlaq was lynched to death by a mob on 27 September in Bishara village
The mob gathered because of a rumour that a calf had been slaughtered
Akhlaq\'s 22 year old son is battling for his life
The aftermath
Some villagers in Bishara say the murderers did nothing wrong
A BJP leader from the area blamed it on Muslims\' cow-eating habits
Union minister Mahesh Sharma said the \"event took place because of a misunderstanding\"
More in the story
What the people of Bishara are saying
What the Muslim families are saying
No one in Bishara, except the family of the murdered man, seems to know what happened on Sunday night. Some neighbours wish not to speak. Those who talk, claim to have slept peacefully till the next morning.
But it isn't easy to believe that everyone was asleep in Bishara, which hosted a jagran that night. How could everyone have slept through the mob lynching of a father and a son of that village?
Also read: Supporters of Dadri 'beef' murder use social media to wield their weapons
There are angry villagers who think that the the "cow-eating Muslim" deserved to be killed. But no one knows how Mohammad Akhlaq was murdered on the night of 27 September and who murdered him.
Bishara, a village in the Dadri district of UP, on the outskirts of Delhi, has a population of about 3,000, and is dominated by Thakurs. The community is bound by a close feeling of kinship and no one is willing to speak out against their kinsmen.
The village also has about a hundred Muslims. The villages adjoining Bishara have similar demographics. Two of the villages are Gujjar dominated, but even there Muslims are in a vulnerable minority.
"We are just two Muslim households surrounded by thousands of Hindus. How would we even have the nerve to slaughter a cow here? And then throw what remains of it out in the open for our neighbours to discover? Do you believe it? My ancestors and I lived here peacefully with Hindus till now. But something happened to them that day. Now this place isn't livable anymore. We're done with Bishara," says Mohammad Jameel, Akhlaq's elder brother.
What exactly happened
Akhlaq's family was attacked at about 10 pm on Sunday, 27 September.
Eyewitnesses say that a jagran was going on in a temple nearby when suddenly someone grabbed hold of the public address system and shouted that a calf had been slaughtered near 'the transformer' which is a village landmark, near Akhlaq's home.
The rumour was fanned by claims that a calf in the village had gone missing a few days ago.
According to Akhlaq's family, around 500 people gathered around their house armed with clubs and bricks. They barged into his house and into his bedroom. They climbed up to the first floor of his house, from where they recovered some meat in the refrigerator.
Akhlaq and his 22-year-old son were battered on the spot. The son, Danish Mohammad, is still battling for his life.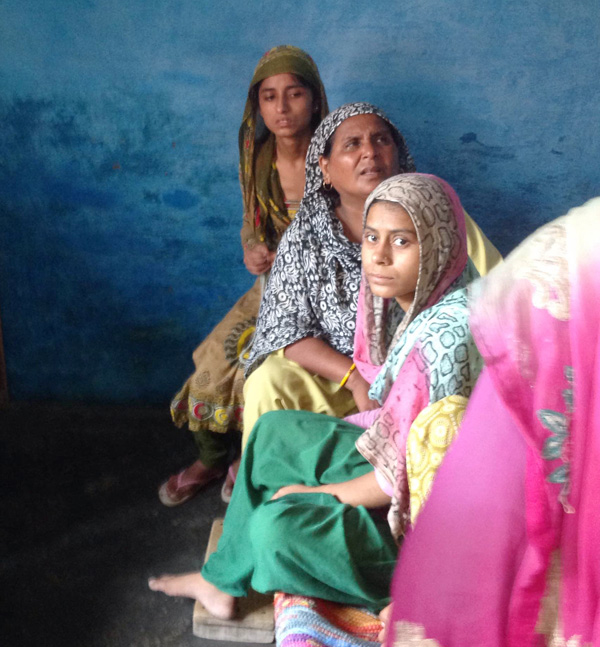 But the violence didn't end there. Rahimuddin, who lives near the mosque which is on the other side of the village, says that a group of about a 100-150 people came to his house and began thrashing him. But the police reached his house just in time.
"I saw them running towards me. Somebody hit me but I kept running and sneaked into my house. The mob ordered me to open the gates. Some of them were about to enter the mosque when the police came and shooed them away," he recounts.
Rahimuddin hasn't decided to leave the village yet. He says he's too poor to think of relocating.
The murder was justified
HK Sharma, Akhlaq's neighbour compares the murder to the anti-Muslim riots that took place in Muzaffarnagar, two years ago.
"I personally took part in Eid celebrations at Akhlaq's house. Isn't it? Tell him," Sharma asks Jameel to acknowledge. Jameel nods politely.
"The thing is, and this is what happened in Muzaffarnagar as well, that youngsters get agitated quickly. What can you do? I acknowledge that this is a blemish on our village's reputation. But some things happen and cannot be helped," he says.
If they ate beef, they are responsible for what happened, says BJP leader Nawab Singh Nagar
Sharma was later seen doing the rounds of the village with a BJP leader Nawab Singh Nagar. Nagar, a former MLA from Dadri, blamed the violence on Muslims' cow eating habits.
"If they ate beef, they are responsible for what happened," he is reported to have said.
At some distance from the home of the deceased, lies the house of Gaurav and Sonu Sisodia - two accused who were identified by Akhlaq's daughter and arrested by police. Their neighbours feel the police was being too high-handed.
"What wrong did those people [who murdered Akhlaq] do? Why is the police after these youngsters? Everyone was present, let the police arrest everyone. How can Muslims eat cows and get away with it?" asked Vivek Sisodia, from the huddle that had gathered near the accused's house.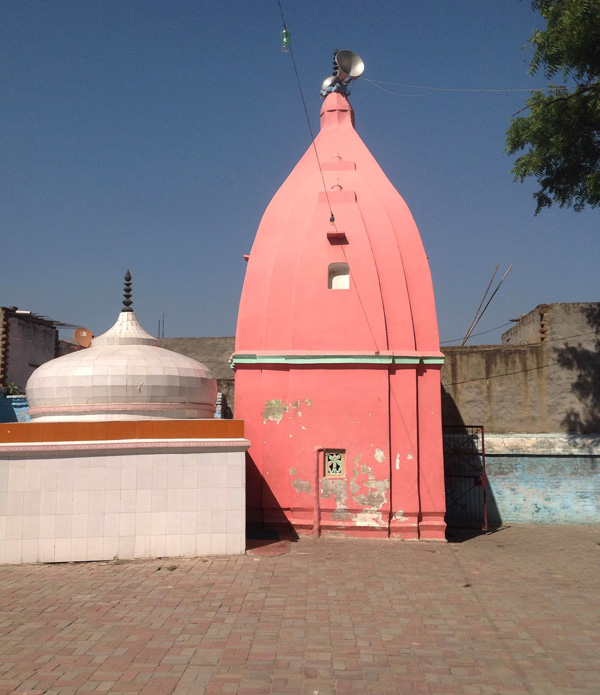 As a cruel joke, the UP police had collected samples of meat from the murdered man's fridge to ascertain whether it really came from a cow or a goat. Did that really matter? Suppose it was beef, would it justify lynching a man for that? What did villagers think about the matter? And, what if the government found the meat to have come from a goat?
"We already know that the government will claim that the meat came from a goat. They can do what they want but we know the truth. Do you know why there are so many riots in UP? It is because the Muslims stoke the fire and then the Samajwadi Party government comes to their rescue just when Hindus begin to fight back," says Sisodia.
Others in the huddle nod in agreement.
Pawan Sisodia, another villager, says, "There is nothing wrong with what happened. The Muslim appeasing party needs to go away from Uttar Pradesh. Things will automatically improve."
Though he doesn't mention which party will "improve things," it is understood by most of the people around him.
'The murder was an accident': BJP leader
Nagar, a BJP politician who lost the elections from Dadri, arrived at Bishara late afternoon on Wednesday, 30 September.
"If the meat samples turn out to be from a cow, they [Muslims] will be to blame for what happened. They [Muslims] have been involved in illegal trading of cows. They slaughter and eat cows regularly," Nagar said.
But Nagar justifies the murder even if the samples don't turn out to be beef.
"Even if the meat samples are proved not to have come from cow, the mob acted on the impulse. They felt that a cow was under threat. What could they have done differently? It [the murder] was an accident."
Nagar added that he would now launch a campaign against illegal smuggling and slaughter of cows. Sharma, Akhlaq's neighbour, nodded in agreement.
Union minister for culture Mahesh Sharma said that "confusion" led to the murder.
"There was some confusion. There were a lot of events (incidents) going on...and not only cow slaughtering but of animal theft and animal slaughtering going on in that area. In that confusion, there was misunderstanding and the event was a result of that," Sharma is reported to have said.
Incidentally, Sharma is the MP from Gautam Budhh Nagar, under which Dadri falls.
Uttar Pradesh is one of the largest producers of buffalo meat but the slaughter, sale and consumption of cows is banned.
The government late on Wednesday announced an ex-gratia compensation of Rs 10 lakh to the family of the deceased.
Must-watch: Yogendra Yadav tells Catch that a lot of communalisation is taking place below the radar