Kashmir: Invoking Vajpayee won't cut it anymore, Mr Modi. You must act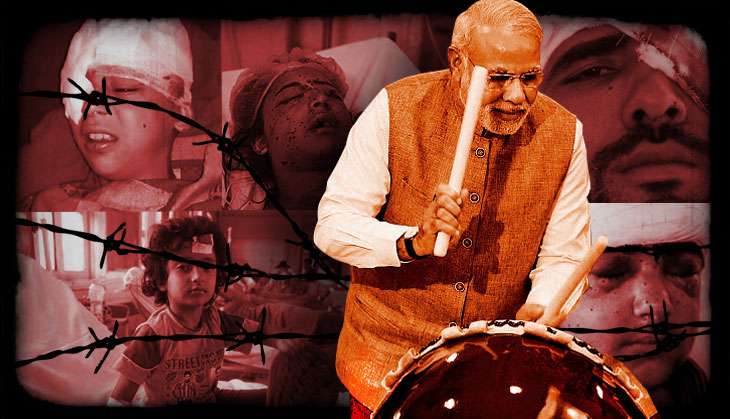 Thirty two days after Kashmir tipped into a cycle of mass unrest and violence, which has left nearly 60 people dead and hundreds blinded, Narendra Modi addressed the issue for the first time Tuesday.
The prime minister chose an unlikely venue to address the Kashmiri youth - Alirajpur, Madhya Pradesh, the birthplace of the legendary freedom fighter Chandrashekhar Azad. Modi was there to kick-start a 15-day celebration of the 70 years of India's Independence.

Also Read: Mehbooba's sole priority is BJP's goodwill. Kashmir be damned
Chief Minister Shivraj Singh Chouhan introduced Modi as the first prime minister to visit Azad's hometown, although why this is significant isn't clear considering that Azad's revolutionary activities were mostly centered in Uttar Pradesh, in towns such as Unnao, Varanasi, Lucknow and Kakori. It was just another attempt by the BJP to appropriate the icons of the freedom struggle.
First words
"The young boys of Kashmir who should have laptops in their hands, who should be out playing have instead been handed stones. What will happen to my innocent children. Come forward and we'll make Kashmir the paradise on earth," said Modi, adding that the youth go astray because a "handful of people" put stones in their hands.
Modi then invoked Atal Bihari Vajpayee, speaking about the former prime minister's promise of resolving the Kashmir issue on the terms of "Insaniyat, Kashmiriyat, Jamhuriyat." "Every Indian loves Kashmir", Modi continued, and promised that "the azaadi that every Indian feels, Kashmir can feel too".
He concluded by raising the slogan, "One nation, one vision."
This was the first time the prime minister was speaking on Kashmir since Burhan Wani's killing sparked a mass unrest, yet he didn't seem to talk to Kashmiris as much as he seemed to talk about them.
Claiming that Kashmiri youth have been influenced by a "handful of people" and suggesting the cause of the unrest was unemployment is something that the BJP has been saying for long, ignoring, of course, the huge numbers of the agitating youth and their comfortable social and academic backgrounds.
By repeating the same line, the prime minister is likely to have disappointed all those who were expecting a "healing touch" from him.
Another fact that won't go unnoticed in Kashmir is the prime minister not granting a meeting to J&K Chief Minister Mehbooba Mufti at this critical time. It could be construed as an arrogant Delhi looking down on Kashmiris and their chief minister.
Modi's invoking of Vajpayee, perhaps the only prime minister Kashmiris came close to trusting, too a symbolic gesture that could do more harm than good.
Also Read: Sense of insecurity: why a spate of proposed yatras has Kashmir on edge
Modi, who did not react to the ongoing crisis in time and has adopted a hardline approach towards Kashmir -- by not talking to the Hurriyat, for instance, and withdrawing from talks with Islamabad when the Pakistani envoy spoke with the separatist leadership - stands in sharp contrast to Vajpayee whose policy was far more inclusive.
Vajpayee didn't merely talk about "Kashmiriyat" and "Insaniyat", he reached out to the Hurriyat and even worked to restart the Srinagar-Muzaffarabad bus service.
No clear message
AS Dulat, former R&AW chief and advisor to Vajpayee on Kashmir, said Modi could have found a better way to send a message to Kashmiris. "The same speech could have been delivered in Delhi -- that would have sent a better message. Leaving aside the contents of his speech, if he had said the same thing in a joint press conference with Mehbooba, it could have had a greater impact."
As for the invocation of Vajpayee, Dulat said, "In 2014 in Jammu also Modi had invoked Vajpayee but after that it seemed that Vajpayee and his ideas had been finished from the valley. You cannot invoke him selectively."
Senior JD(U) leader KC Tyagi said Modi, who begged to be shot instead of Dalits, would have made a world's difference had he said the same thing for Kashmiri youth. "Kashmir's situation is very grim and we all know that. So many people dead and thousands of civilians and security personnel injured. Why did he not remember Kashmiriyat then. What prevented his government in the state from talking about Insaniyat for the past two years? That time he was busy showcasing his 56-inch chest."
Tyagi charged that the NDA regime at the Centre and in the state has never even tried to address the issues of Kashmir. "You talk to extremists from the Northeast all the time, hold press conferences with them. What prevents you from talking to the Hurriyat?" he asked.
In the valley, observers argue that Modi's remarks won't make any difference unless the words are followed by concrete action. "I don't think many people here will take Modi's words at their face value. The words have come after a long time and after a lot of bloodshed. The immediate response is unlikely to be positive, but let us see how he follows up with action," said Prof Noor Baba, who teaches Political Science at Kashmir University.
In the context of Modi repeating Vajpayee's words during his speech, Prof Baba noted, "Vajpayee was always thinking out of the box and rooting for confidence building measures with Kashmiris, with Pakistan. He initiated an actual peace process and understood the real complexity of Kashmir more than anyone else."
But is there anything Modi could have said in his public speech that would have sent a message of warmth, a "healing touch" as it were, to Kashmiris?
Prof Kamal Mitra Chinoy of the JNU pointed out that the keyword "pellet gun", the cause of a lot of the latest violence in Kashmir, wasn't mentioned. "You can't change realities on the ground by taking Vajpayee's name. If you want to talk to the people of Kashmir you should have gone there yourself instead of sending your home minister."
"Secondly, to talk to the people of Kashmir, Modi will have to allow them some concessions that he is not prepared to give. Kashmir is going through the most difficult time since Independence and Modi isn't doing anything to help heal this situation."
Also Read: Nope. They just won't! No FIR filed against a DSP despite court orders, contempt proceedings