Mehbooba's sole priority is BJP's goodwill. Kashmir be damned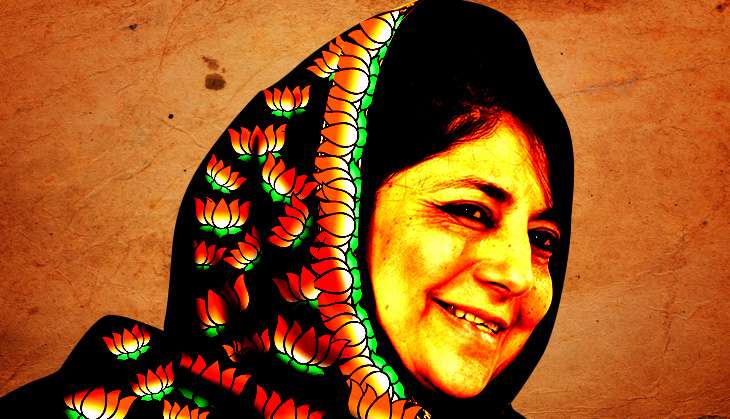 Eight paramilitary personnel were killed and 25 injured in Pampore on 25 June, in what was the deadliest attack by militants in Kashmir in the last three years. While security forces have said they would probe the lapses that led to the attack, what isn't being talked about enough is the political failure of Jammu and Kashmir Chief Minister Mehbooba Mufti.
Mehbooba's response to the attack wasn't to take stock and address the challenge politically, rather she chose to indulge in hyperbole and grandstanding.
"I am unable to understand how somebody can indulge in such shameful acts of bloodshed in the name of Islam, that too in the holy month of Ramzan...We're only defaming Kashmir by these acts. We also deal a setback to the religion we practice, which is a religion of peace," she said.
Also read - Mehbooba's Eid gift: amnesty for Kashmir's 'misguided' youth
By bringing religion into the debate, Mehbooba only ended up feeding the "Islamic threat" narrative that is becoming a trend worldwide. Even in India, it is gaining currency courtesy the rise of the Hindu right, who also happen to be Mehbooba's allies in Jammu and Kashmir.
But this is not an isolated statement as Mehbooba has consistently been making controversial remarks. Either by demeaning Islam and Kashmir, or by asserting her own patriotism, Mehbooba's aim seems to be to endear herself to her right-wing allies.
Controversial statements
In her maiden speech as chief minister, Mehbooba Mufti stirred a controversy by saying that settling migrant Kashmiri Pandits directly in their native villages in the Valley would be like "throwing pigeons in front of a cat". By comparing Kashmiri Muslims to cats and Kashmiri Pandits to pigeons, Mehbooba clearly revealed what she thought of the people of Kashmir.
On 22 June, she hit out at Kashmir's Muslim clergy, saying that sermons are being given in mosques on special status of Jammu and Kashmir, Pandit townships and the alleged molestation of a school girl by Army in Handwara. She said that after the Handwara incident, several cases of molestation have taken place where civilians are involved, "but the clergy takes it up only when men in uniform tease girls (sic)". "Do religious leaders talk about pollution in their sermons? There are heaps of garbage at tourist places but no one is bothered," she further said.
On 17 June, she said, "Kashmir has only four bunkers now and the four militancy affected districts of south Kashmir do not even have a single bunker".
On 3 June, Mehbooba lashed out at Pakistan and asked whether the militant attack on a BSF convoy was its way of showing love towards the people of Kashmir.
While addressing a public gathering on 10 May, she said that the decision to accede to the Indian Union is final and a secure one. She also glorified Indian democracy and criticised Pakistan for hanging scores of people every month.
Amidst the debate on intolerance last year, on 28 November she said "there is tolerance in India and whatever was seen as incidents of intolerance was the failure of the system". She further affirmed that Indian Muslims follow the real Islam and the Hindu majority is very tolerant.
Who needs amnesty and from whom?
Another example of Mehbooba Mufti's flawed political understanding is the manner in which she presented her "amnesty package" for Kashmir's youth.
Last week, the chief minister decided to grant amnesty to Kashmiri youth facing charges for stone pelting or participating in pro-freedom protests. She packaged this goodwill gesture as an Eid gift to the Valley.
Speaking in the Jammu and Kashmir Assembly, she said that she has directed the Home Department to prepare a list of "misguided youths" who have been found involved in protests since 2008 and were subsequently booked by the police. She promised that her government will contemplate an amnesty scheme for youth who are willing to "shun the path of violence" and "lead normal lives".
While this is a welcome gesture, one cannot ignore Mehbooba's choice of words: "misguided youth" who must "shun violence" and "lead normal lives".
The questions Mehbooba should be asking herself are: why are Kashmir's youth protesting in the first place? Why is there a spurt in home-grown militancy in the Valley? Around 800 youth were arrested in the Valley, of which 300 belong to Srinagar alone. Will the government provide amnesty to all of them?
And what precisely does she mean by "leading normal lives"? 19-year-old Nayeem Qadir Bhat wanted to lead a "normal life". An under-19 cricketer, he wanted to play for the national team, before he was killed in army firing in Handwara in April. He wasn't even among the so-called "misguided youth" who were protesting. He had merely stepped out to get a camera when he was shot dead.
Bending backwards to shed past baggage
Mehbooba Mufti's statements make it clear that the only amnesty she is concerned about is for herself. Given her past political baggage, she is going overboard to prove her allegiance to the BJP - her coalition partner and the ruling party at the Centre. It is a well known fact that the BJP never trusted her.
In his recently published memoir, Kashmir: The Vajpayee Years, AS Dulat, former chief of the Research and Analysis Wing, describes Mehbooba as having links with Jamaat-e-Islami, the ideological edge of armed militancy in Kashmir. Dulat recounts how PM Atal Bihari Vajpayee suspected Mehbooba of having links with militants. Narrating an episode from Vajpayee's visit to Srinagar in 2003, he writes "When Vajpayee went to Srinagar in April 2003 and famously extended his hand towards Pakistan, a stage was erected high up for the public meeting. Sitting up on the stage were Vajpayee and Mufti (Mohammad Sayeed). Mehbooba wanted to join them, but she was politely told there was no place for her on that stage". He goes on to add, "Vajpayee did not want her up there...There were grave doubts about Mehbooba in Delhi, about her links with the Hizbul Mujahideen and the help it provided her party during the 2002 elections".
The Jammu & Kashmir Peoples Democratic Party was launched on a soft separatist plank in 1999. It self-consciously styled itself on the Muslim United Front, borrowing the flag of the Islamist alliance and often drawing from its ideological content. On several occasions, Mehbooba has proudly pointed out that the PDP symbol, a pen and inkpot, was the very same logo used by the Hizbul Mujahideen's supreme commander, Muhammad Yousuf (now known as Syed Salahudeen) when he contested the 1987 Assembly elections.
A major feature of the formation of PDP was the unspoken tactical alliance between the elements of Jamaat-e-Islami, Hizbul Mujahideen and PDP. While the origins of this covert alliance remain hazy, Mehbooba is reported to have met senior Hizb commanders on several occasions. Interestingly enough, she met the leadership in the same country she now chastises for being intolerant. Hizbul Mujahideen is a banned organisation and hence the need for Mehbooba to seek political amnesty for herself.
By 2002, the party had achieved some success in the building bridges with the Jamaat-e-Islami and Hizbul-Mujahideen. Ahead of the elections in April 2002, Mehbooba displayed her party's Islamic colours by waving a green handkerchief to the audience at a rally.
In the book, India's 2009 Elections: Coalition Politics, Party Competition and Congress, Paul Wallace and Ramashray Roy write, "The party (PDP) increasingly used religious motifs to appeal to voters. In 2008, this kind of rhetoric succeeded in securing the PDP the undisguised support of Jamaat-e- Islami's cadre, even though the Islamist party formally called on them to boycott the elections".
It is widely believed that the common agenda for the alliance between PDP and Jamaat was the elimination of the notorious Ikhwan who were involved in unsaid atrocities against the Jamaat. Wiping out the NC-backed Ikhwan wasn't possible without a change of power in Kashmir.
Even the concept of self-rule that became the centrepiece of the PDP's ideology, was first coined in 2005 by the then President of Pakistan, Pervez Musharraf. The PDP adopted it in January 2006 in a different form and context.
To end the NC's monopolistic position in Kashmir politics, PDP couched its agenda in quasi-separatist language advocating a drastic redefining of Kashmir's relations with New Delhi in a broader politico-economic framework involving Pakistan. The party sought constitutional restructuring, dual currency, roll-back of central laws applicable to the state, an elected governor, even the renaming of the titles of governor and chief minister as sadar-i-riyasat (president) and prime minister respectively. These proposals would be an anathema to the BJP.
Therefore, its hardly surprising that Mehbooba has to put on record time and again that J&K's accession to India is final and secure. Mehbooba, who chose to use the word Mujahid (holy warrior) instead of militant, now feels ashamed as a Muslim over militant attacks.
It is also a question of style and personality. What helped Mufti Mohammad Sayeed engage a wide variety of stakeholders was his quiet demeanour and ability to speak in generalities. Unfortunately, subtlety isn't something Mehbooba inherited from her father. She goes out of the way to establish her loyalties. She is wooing the BJP with the same hyperbole and melodrama with which she once tried to endear herself to the pro-Jamaat sections.
Given the widespread resentment against the coalition, Mehbooba probably realises that her relevance in Kashmir politics would be shortlived. Who knows if her right-wing benefactors grow to trust her, she might even get to contest elections from the Hindi heartland like her father.
More in Catch - Jammu & Kashmir: Mehbooba proposes amnesty for militants. Will it work?
Handwara: Girl says she was molested by an Army man, was forced to record false statement