Karnataka HC Chief Justice faces flak for failing to report a bribe offer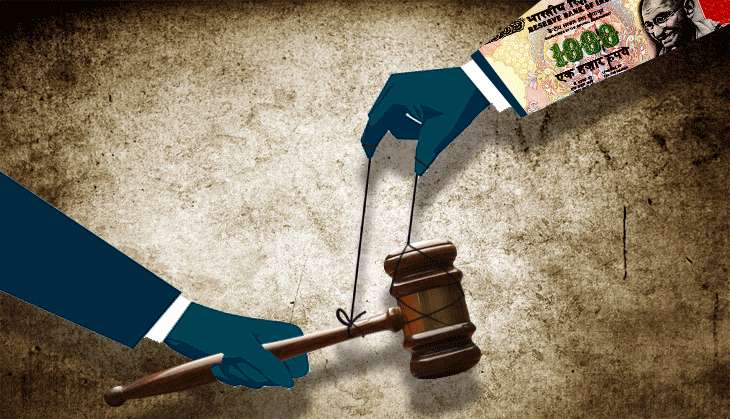 The advocates' fraternity of Karnataka is seething with anger alleging that the chief justice of Karnataka high court, Justice Subhro Kamal Mukherjee has brought "disrepute to the judiciary" by lightly dismissing an alleged attempt to bribe him.
They are planning to take up the issue with the Supreme Court.
Justice Mukherjee, who attends office flaunting a large vermilion on his forehead, stunned the court on Tuesday by openly declaring that he was recusing himself from case No. 34 as "an individual had approached me with bribe offer for giving a favourable judgment".
As soon as the case was called, Justice Mukherjee told advocate Padmanabha Mahale representing his client Umrah Developers, that "a man speaking fluent Bengali came to my official residence on Palace Road and requested that I should give a judgment in his favour. He left behind a visiting card saying the money will be delivered once the order was passed".
Justice Mukherjee said his house was always open to anyone, "but not for such matters".
When Mahale insisted that he or his client had nothing to do with the incident, the chief justice told him to collect a photocopy of the visiting card from his office later to make his own inquiries and that Mahale may do so on Friday as the courts were closed on Thursday for Eid.
The bench comprising Justices Mukherjee and Ravi Malimath immediately passed an order saying, "Since one of us is not inclined to take up this matter on personal grounds, let this matter go out of the list," and proceeded to take up other matters.
When reporters tried to meet the chief justice later to get more details, he sent word through his personal staff saying he had nothing more to add.
This is the second such revelation within a month in higher judiciary. On 6 June, Justice KT Shankaran of the Kerala high court had recused from hearing a smuggling case, saying he had been offered money to deliver a favourable judgement.
The case
The case before the Karnataka high court pertained to a review petition filed by Umrah Developers who had purchased 1.2 acres of land from the revenue department in 2008 after paying Rs 2.1 crore in an open auction. The land was subsequently acquired by the Bangalore Development Authority (BDA) for developing the Kempe Gowda layout.
The BDA paid Rs 1.2 crore to the developer after he approached the court for delay in payment, but not the additional 7.5 per cent interest which the court had ordered. Umrah Developers had again gone to the high court asking for an alternative land instead of the compensation. This issue had been posted before the chief justice's bench.
Ever since Justice Mukherjee's revelation, there's been an awkward silence in the corridors of high court.
Advocates upset
Expressing his shock at the casual manner in which Justice Mukherjee had dealt with the matter, advocate PS Rajagopal said the least the judge could have done was to hand over the 'bribe-giver' to the police and initiate criminal proceedings against him. He said it was a clear case of contempt of the court, but by showing lenience in the matter, Justice Mukherjee had "betrayed the confidence of the public".
Rajagopal said the judges getting anonymous letters accusing them of bias or mala-fide intentions had 'become all too common' whenever litigants wanted to get the judges changed. Instead of merely recusing themselves, the judges concerned should stand up strongly against such nefarious activities, he argued.
He pointed out that a few years ago, Justice Chidanand Ullal, a Karnataka high court judge, had exposed an attempt to bribe him by asking an advocate who had gone to his house with a briefcase full of money, to bring it to the court. He rued that nowadays very few judges took such bold steps.
KN Subba Reddy, president of the Karnataka State Advocates Federation said, "It was a matter of shame that the chief justice remained silent on the issue for two days. His action is highly suspicious. There should be a thorough inquiry into it."
Advocate CV Sudhindra, pointed out that the Madras high court had held in 1965 that approaching a judge to influence his decision in a pending matter "whether or not accompanied by the offer of a bribe or personal abuse, is a contempt of court tending to interfere with the cause of justice."
He said Justice Mukherjee may be committing contempt of his own court if he did not bring to book the person who allegedly came up with the offer of bribe.
In support of his contention, he quoted Section 16 (1) of the Contempt of Courts Act 1971 which states: "Subject to the provision of any law in force, a judge, magistrate or any other person acting judicially shall also be liable for contempt of his own court or any other court in the same manner as any other individual is liable to and the provisions of this Act shall, so far may, apply accordingly."
That this incident could have further ramifications was indicated by AP Ranganath, president of the Bangalore Advocates Association. He said Justice Mukherjee by his inaction had "dealt a severe blow to the morale of the other judges" and his association intended to take the issue to the Supreme Court.
Karnataka Bar Council president Ashok Ramagouda Patil also said the chief justice had sent "a wrong message to society" by taking such a serious matter lightly. He said he would soon call a meeting of the Bar Council to take appropriate follow up action.
Justice Mukherjee is expected to be transferred to Uttarakhand shortly, but the controversy surrounding him is unlikely to die down any time soon.
More in Catch - What a U-turn, milord! Guj judge deletes quota remark to avoid impeachment
Madras high court judge stays his own transfer