#JNURow: Umar is back. And JNU shows it is with him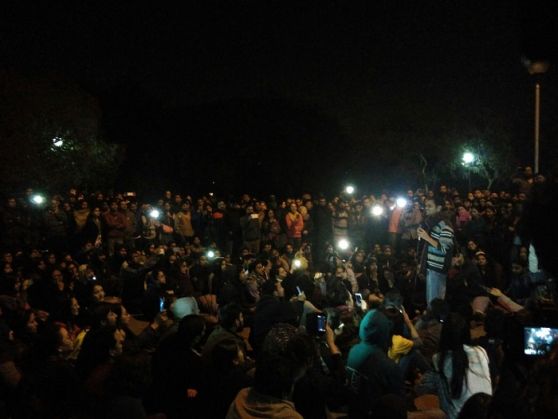 In a midnight drama that unfolded in the Capital's Jawaharlal Nehru University (JNU), Umar Khalid, reappered in the campus amid a large gathering of students.
Delhi Police have been looking for Khalid and a few other students for some time now in connection with a controversial protest meeting in JNU on 9 February where some persons allegedly shouted 'anti-national' slogans.
Already, Kanhaiya Kumar - president of the JNU Students' Union - is in judicial custody, charged with sedition.
On Sunday midnight, about a thousand students, including union members, gathered at JNU's administrative block. Addressing the gathering, Umar brought back memories of Rohith Vemula, the Dalit scholar who killed himself at Hyderabad Central University:
"In the past seven years, the first time I felt I was a Muslim was in the last 10 days. To quote Rohith Vemula, I was reduced to my immediate identity and it is shameful."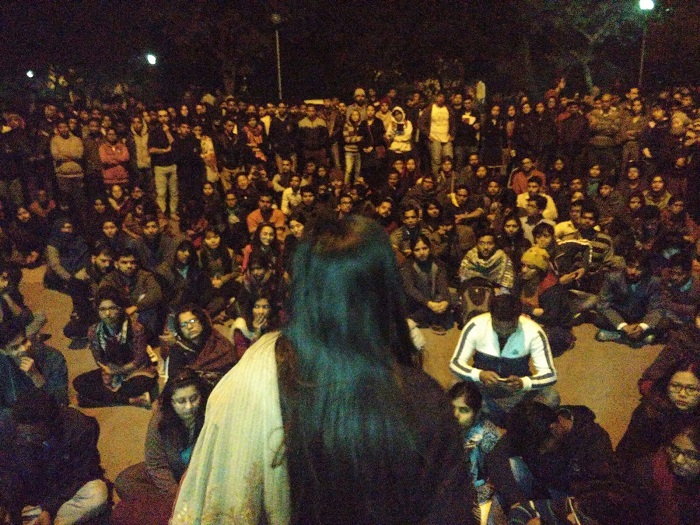 JNUSU vice-president Shehla Rashid Shora, who has led students demanding the release of Kanhaiya, addressed the gathering and said the police were free to arrest Umar, but it must do so "in front of the entire campus . unlike the way Kanhaiya was arrested".
Umar, a member of the now-disbanded Democratic Students Union, was one of the organisers of the 9 February event. He has been in the focus the most among all those charged with anti-India sloganeering.
The issue also left the media divided with some news channels going out of the way to declare Umar a Jaish-e-Muhammad sympathiser. Over the weekend, Vishwa Deepak, a journalist with Zee News resigned over differences on the stand the channel took.
With Umar, Anirban Bhattacharya, another DSU member facing similar allegations also reappered. Earlier, two members of the All-India Students' Association (of which Shehla is a part of) also reportedly resurfaced.
While addressing the midnight gathering, Shehla said students were aware that several from the "right wing", police personnel without uniforms and informers were present. She urged students to maintain peace even if they were to be arrested.
"Our show of strength is not a show of muscle, it is a show of solidarity."
In an interview earlier this week she denied Umar was among those who raised anti-national slogans. She had said the government was upset with the university and its students for raising "uncomfortable" issues like fellowships for PhD students.
On Sunday, she turned the heat onto the police: "If such terrorists have been roaming around the city in prime locations, were you sleeping then? Why doesn't your entire department resign?" She also charged the university administration with trying to terrorise the student community.
Here's what Mohith, a PhD student and an AISA member said:
Edited by Joyjeet Das