Jharkhand & Bihar: how ordinary people are asserting food security right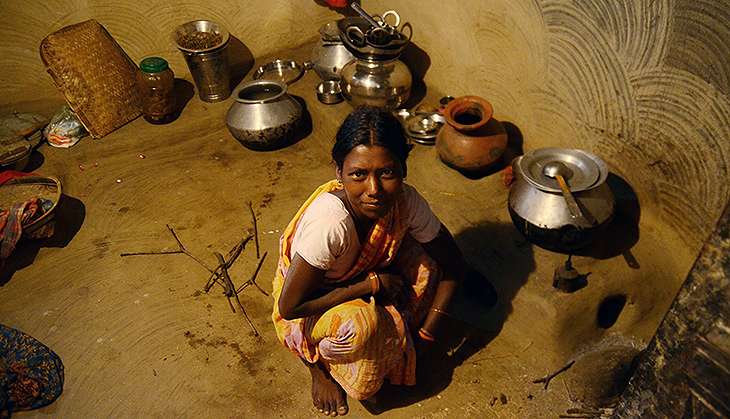 Something unprecedented is taking place in Jharkhand's Bharno block. On the scorching summer morning of 14 June, about 1,000 villagers from across Gumla and some from neighboring districts are shaking with laughter and booing state officials sitting on the dais. The occasion is a public hearing on the implementation of the National Food Security Act. The results of a survey, conducted by student volunteers and anchored by development economists Jean Dreze and Reetika Khera, have made Block Development Officer Shweta Ved and other officials rather uncomfortable.
"It has now come to my knowledge that more than half the people living here have been excluded from Public Distribution System. I will get my officers to collect all your names," says Ved, only to face skeptical stares.
Also read - Jean Dreze explains how Odisha managed to make public distribution system work
Another official casually remarks into the mike that he didn't know getting people ration cards was his job. There is mocking laughter and demands for his resignation.
Dreze and Khera's survey was done over the first 10 days of June simultaneously in six of India's poorest states -- Bihar, Chhattisgarh, Jharkhand, Madhya Pradesh, Odisha and West Bengal. In each state, volunteers went door to door in six randomly selected villages in two districts, and enquired about the residents' ration cards, PDS purchases and related matters.
The NFSA was passed in 2013 and fully implemented by most states only in the last two years. It guarantees 5 kg grains per family member every month under a "priority" card and 35 kg per family under "Antyodaya" ration card. Earlier, a non-Antyodaya card holder got 25 kg grains.
In all, 3,600 households were covered under the survey. The number may be miniscule but the sample selection was scientifically sound. The results, thus, are telling.
In a nutshell, all six states showed marked improvement in implementing the NFSA, expanding average coverage from 58% to 85%. Odisha and Madhya Pradesh, for instance, had given ration cards to 62% and 55% of households, respectively, before the NFSA was rolled out. Now, 88% and 84% of their households are under the food safety net. Chhattisgarh continues to be the best performing state when it comes to PDS coverage. The states that need improvement are Bengal, Bihar and Jharkhand.
Bihar must improve quality and supply of grains
Shriya Mohan/Catch News
Lakhan Urao, 51, is a driver residing in Gaya. Originally from Samastipur, he moved to Gaya in his youth, learnt driving, got married and fathered four children. He has an Antyodaya ration card, which entitles him to 35 kg of grains. Each month, he goes to the ration shop to collect his quota. Only he never receives 35 kg; the dealer gives him barely half of it. Usually, he gets 10 kg rice, 6 kg wheat and a litre or two of kerosene. Sometimes, he returns empty-handed.
"The grains are so bad we can't eat them. In the months we get the grains, I sell them at the market and use the money to buy edible food grains," says Urao, who drives on highways with his rearview mirror turned around lest he's distracted". Several of his neighbours use the Antodaya grains to feed their livestock.
Dreze and Khera's survey shows Bihar has a huge gap when it comes to the entitlements and quality of food grains. Only 15% of PDS entitlements were given to people last month; May is usually the worst month. In an average month, 84% of the quota is given to the card-holders. But, on an average, only 58% say the quality is "good" or "fair".
Jharkhand needs to catch up
Shriya Mohan/Catch News
Lokeshwar Urao, 46, has eight family members to support - his wife, six children aged 6 to 19, and his ailing mother. They own three acres of land, two bulls and a few goats. But due to the consecutive droughts, the field has lain fallow for two years. Under the new NFSA, Urao is entitled to 45 kg of grains a month, apart from sugar, salt and kerosene. But he always gets a few kilos less. Last month, he got 25 kg rice, 17 kg wheat, two kg sugar, three kg salt and four litres of kerosene. The Jharkhand survey shows that last month, only 55% of the food entitlements due families got distributed.
"In the month of May, there were some short-term supply disruptions in Bihar," says Dreze. "About 5,000 tonnes of grains were not delivered by the FCI to the government of Jharkhand just some months ago. Such things create a gap in supply."
Also read - Terror attack: 50% of India is reeling from drought. Here's the impact at a glance
In a "normal" month, however, beneficiaries get about 84% of their PDS entitlements in Jharkhand.
"The only problem is two or three times a year the shop doesn't open and we have to go back empty-handed," says Urao.
Urao gets barely 10-12 days of work on his MGNREGA job card, and claims that he never gets paid. So, he works on private farms and sometimes labours at construction sites. In a month when he gets his PDS ration, Urao buys 100 kg rice for about Rs 2,000 to feed his family. There isn't any money left for dal or vegetables. Once every few months, he buys 200 grams of dal, which if made with enough water, can last for up to a week. On other days, it's just rice with salt and green chillies until it rains on his fields.
The survey showed that Jharkhand and Bihar had a coverage of 50% and 64%, respectively, before the NFSA was implemented. Now 76% and 83% households are covered. This might appear to be a significant jump, but the survey cautions us to factor in the proportion of "missing names" in ration cards. In Jharkhand and Bihar, 12% and 17% households, respectively, have ration cards that don't list all the family members.
At Gumla, Hazeena Bibi's ration card mentions her, her husband and their three children. She says the dealer has refused to give her ration for the past six months. "The dealer says my card is cut," she says, showing her old card. As she narrates her ordeal, women pour out of their homes with "cut" ration cards, meaning they simply have been cut out of the new system.Jharkhand has a significant number of families like Bibi's who were left out of the PDS when the transition to the NFSA happened. So in Bharno, women make sure to attend the Jan Sunvayi and demand action.
No added benefits
Shriya Mohan/Catch News
The NFSA also provides for things other than food: a maternity benefit of Rs 6,000 a month, nutritious food for pregnant mothers from the Anganwadi and freshly cooked mid-day meals at all primary schools.
At Bharno primary school, children are dressed primly in blue and white uniforms. They keep an eye on the clock because it is only an hour to go before a hot meal is served. The menu for the day is rice, dal and sautéed ivy gourd. The school reopened after the summer vacation two days ago. Since Jharkhand was officially declared a drought hit-state, it was sanctioned that all primary schools would provide mid-day meals even during the summer holidays. While each school is supposed to get 100 gm grains per child per day each month, this school didn't get any ration during the holidays.
"Almost no school in Gumla got ration during the holidays. So, the meals couldn't be prepared by Anganwadi workers," says Vishwanath, a volunteer who participated in the survey.
In a Muslim colony in Gumla, women holding babies express surprise when asked about maternity benefits. Nobody has heard of this, let alone received any kind of compensation.
Back in Bharno, the student volunteers are getting droves of villagers to the public hearing.
"We are not asking for a favour, neither are we here to beg. We are merely asking for our rights, without which we won't go back," the villagers shout in a chorus, asking the villagers to repeat after them. Shy at first, they soon join in with renewed hope.
As Dreze puts it, "How can we expect people to defend their entitlements if they don't even know what their entitlements are?"
In the heart of Jharkhand, the awareness of villagers about their entitlements, coupled with the pressure on the state administration, could be a harbinger of much-needed change.
Shriya Mohan/Catch News
Shriya Mohan/Catch News
More in Catch - There's a lot of anger among Bundelkhand migrants: Yogendra
Sure cure: how to tackle India's undernutrition crisis in 10 steps