Birth Anniversary: Life-size bronze statue of Jayalalithaa unveiled
This is the same statue that was planned to be installed last year, however, after the interim general secretary V K Sasikala was jailed in the disproportionate assets (DA) case it was put on hold.
After the statue was installed, the leader which included the present CM, launched Namadhu Puratchi Thalaivi Amma — the party's mouthpiece. This is similar to the one that Jayalalithaa launched after the death of her mentor and party leader MG Ramachandran in 1980s titled ' Namadhu MGR' which was published from Chennai.
This mouthpiece later turned out to be party mouthpiece and ran successfully until Jayalalithaa's death in 2016.
According to the sources, the editor of this new party mouthpiece would be Namadhu MGR's editor, Marudhu Azhaguraj who was removed from office by Sasikala family in August last year. Unlike Namadhu MGR, Namadhu Puratchi Thalaivi Amma will be published from major cities in the state.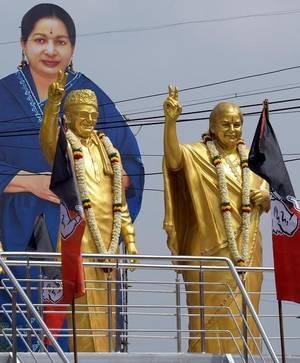 On this occasion, Chief Minister K Palaniswami said, "There was no other party like the AIADMKand no other leader like Jayalalithaa. Several hurdles have come to the party and the government and there have been attempts to bring down the government after Amma passed away but it is steaded fast."
While the party members carried out their predefined schedule, PM Modi will launch Amma Scooter Scheme today evening in Chennai.
This scheme would provide 50 percent subsidy for working women to buy two-wheelers. A very popular star of Tamil cinema and referred to as Amma by political supporters, Jayalalithaa passed away on December 5, 2016, after suffering from prolonged illness. Her death shattered the AIADMK party into factions.