Ishrat's family lawyer cries foul, says Headley 'led' into naming her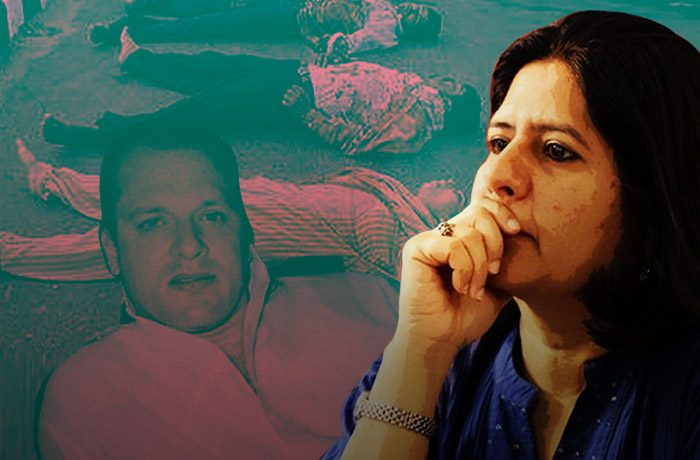 Vrinda Grover, the lawyer for Ishrat Jahan's family, has claimed that David Coleman Headley was 'led' into naming her as a Lashkar-e-Tayyeba operative.
Objecting to the line of questioning adopted by public prosecutor Ujjwal Nikam during the Pakistani-American terrorist's deposition, Grover said Headley clearly said earlier that he did not know of any female suicide bombers in LeT.
Headley is deposing to a special Mumbai court via video conferencing from the US, where he is serving a 35-year sentence for his role in the Mumbai attacks. Thursday, 11 February, was the third day of his deposition, after a technical snag led to a postponement on Wednesday.
Also read: Headley takeaway: Don't count on Pak to give up on terror
The 'leading' questions
Grover said the questions that Nikam subsequently posed to Headley led him to choose Ishrat's name, which, interestingly, was one among three options given to Headley. According to her, Nikam first asked Headley whether there was a women's wing in the LeT, to which the latter replied in the affirmative.
Also read: The deadly Headley revelations: what the LeT operative said in court
Other questions, as reported by Grover, are as follows:
Q: Who is the head (of LeT's women's wing)?

A: The mother of Abu Aiman.
Q: Are there female suicide bombers in LeT?

A: No. I don't know.
Q: Can you name a suicide bomber?

A: I cannot name.
Q: Was there a botched up operation in India?

A: There was a botched up operation, which I learnt (of) while Zaki-ur-Rehman Lakhvi was talking to Muzammil Bhat. Later I asked Muzammil and he told me there was a female member of the LeT who was killed in a police shootout at a naka (picket). Exact place I cannot recall.
Q: I gave you three options. Noor Begum. Ishrat Jahan and ((xxx))

A: Ishrat Jahan
Grover said such kind of questions based on 'multiple-choice' answers were baffling, and indicated that the questioning team wanted to extract a particular answer from Headley. She expressed surprise that the court allowed this line of questioning.
Also read: Ishrat an 'LeT operative' says Headley, prosecutor Nikam gets flak for 'prompting'
It is important to note that Nikam has confirmed these questions. It may be recalled that the Padma Shri-awarded lawyer is known for having admitted that he had 'concocted' the story that the now-executed 26/11 attacker Ajmal Kasab was being fed 'biryani' in jail, to destroy public sympathy for him.
Questions irrelevant to the trial?
Grover also pointed out that these questions were totally extraneous to the case in which Headley is deposing, which is the 26/11 terror attack in Mumbai.
She wondered what relation did questions about the LeT women's wing, its head, its female suicide bombers, a 'botched-up operation' in India, Ishrat Jahan and Noor Begum have to do with Pakistan's role in the 26/11 attacks?
Also read: Will Headley turning approver help Indian intelligence agencies?
Doesn't change legal position
Grover explained that regardless of Headley's statement, the legal position of the Ishrat Jahan case stands as it is. Nothing that Headley has said disproves that Ishrat's encounter was 'staged', as has already been stated by the CBI and a Special Investigation Team.
Ishrat was illegally detained and murdered by the Gujarat Police, Grover maintained, adding that the act was illegal, irrespective of Ishrat's identity.
On Ishrat's alleged terror links, Grover said it has already been amply proved that there was no evidence to back that claim. She was just a simple girl, living in Mumbra, who had told her parents that she was going out with friends on that fateful trip, she added.
Also read: Headley nails ISI & Hafiz Saeed role in 26/11 on Day 2