World's biggest democracy a dangerous place for journalists?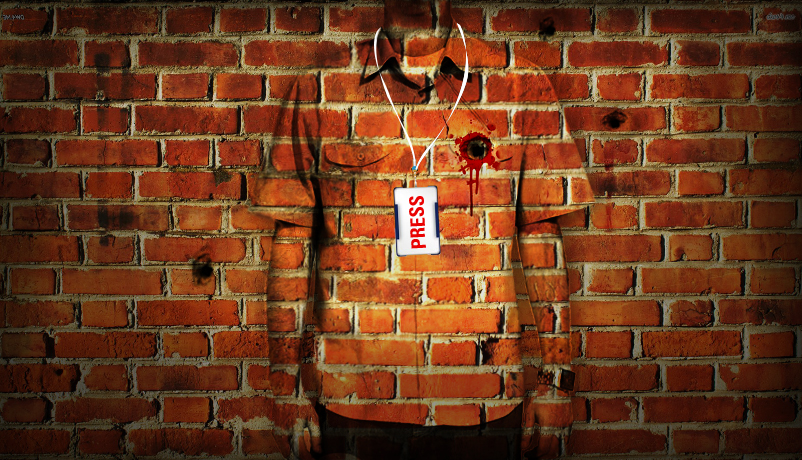 Growing attacks
In the last few years, a growing number of journalists have been attacked in India
The menace is not just restricted to the Maoist belt in Chhattisgarh or high-crime Uttar Pradesh
Scathing indictment
Global watchdog Reporters Without Borders names India as a dangerous place for scribes
According to its report, in 2015, India was third behind war-torn Syria and Iraq in the number of scribe deaths
More in the story
Stories of journalists who have been attacked by goons, as well as the establishment
The RWB\'s recommendation for protecting journos
On Monday, 8 February, Malini Subramaniam, a columnist associated with Scroll.in and the former head of the International Committee of the Red Cross, was attacked by around 20 men in Bastar, Chhattisgarh.
Just a day later, a Times Now video journalist was attacked and held hostage in Shamli, Uttar Pradesh.
Catch's own Vikas Kumar was at the receiving end of police lathis while covering a protest in Delhi on 31 January. His camera was snatched away, while independent photojournalist Rahul M's camera was smashed to the ground.
MUST READ: Photo story: How a protest for #RohithVemula became a free-for-all for Delhi police
Last year, two journalists in UP - Hemant Yadav and Jagendra Singh - lost their lives, while many others were attacked.
Is the world's biggest democracy increasingly becoming one of the most dangerous countries for journalists? The spate of recent attacks on media personnel in the past few months certainly seem to attest to this.
Chhattisgarh a hotbed
According to the report published by Scroll, assailants gathered around Subramaniam's Jagdalpur residence in the wee hours of Monday and shouted slogans like "Naxali samarthak, Bastar chhodo (Naxal supporter, leave Bastar)" and "Malini Subramaniam murdabad (Death to Malini Subramaniam)".
On 8 Feb, columnist Malini Subramaniam was attacked by around 20 men in Bastar, Chhattisgarh
The assailants reportedly belonged to a group called Samajik Ekta Manch (Social Unity Forum).
They pelted stones at her residence, and broke the window of her car. They also reportedly asked neighbours to join the rampage, failing which, they threatened to plant bombs in their houses.
Subramaniam has claimed that at least two of the attackers belonged to the BJP and the Congress.
However, the Chhattisgarh police is no less severe in dealing with journalists. Several reporters and common people have been booked under the stringent Chattisgarh Special Public Security Act, on flimsy allegations of supporting the Maoists.
Police arrests scribes for being Maoist sympathisers, while Maoists gun them down for helping cops
Bastar-based journalist Santosh Yadav was arrested from his home at Darbha on 29 September, 2015. He wrote for several Hindi newspapers, including Navbharat and Patrika. The police alleged he was "complicit" in an encounter between the police and Naxals in August. However, there is still no chargesheet in the case and Yadav awaits his release from the jail.
Similarly, Patrika stringer Somaru Nag remains incarcerated, since his arrest on 16 July last year. Nag covered rural issues like water and electricity. But the local police accused him of being a Maoist sympathiser. He faces serious charges like banditry, arson and criminal conspiracy.
Ironically, journalists have also been among the Maoists' targets on several occasions.
In 2013, Sai Reddy was brutally murdered by Maoists in the Bijapur district of Chhattisgarh. Reddy worked for Hindi newspaper Dainik Deshbandhu. Maoists suspected he was assisting the police.
Another journalist, Nemichand Jain, was found dead in Sukma district on 12 February 2013. His body was recovered under suspicious circumstances from Leda village.
Jain was a veteran Hindi journalist, who had worked for newspapers like Hari Bhoomi, Nai Duniya and Dainik Bhaskar.
Menace spreading
Chhattisgarh and Uttar Pradesh are not alone when it comes to journalists being attacked.
Just a month ago, journalist-turned-social activist Revati Laul was attacked in Gujarat.
Laul had gone to met Chhara in Ahmedabad on 20 January for her book on convicts in the 2002 Naroda Patiya massacre case.
Chhara had been sentenced for life for his involvement in the massacre, and was out on parole.
According to Laul: "Suresh attacked without any provocation. I did not suffer serious injuries, as other people came to my rescue on time."
Also read: 113 cases of attacks against scribes in 2014: Govt
The police have re-arrested Chhara.
Damning indictment
A 2015 report by media watchdog 'Reporters Without Borders' (RWB) is a telling commentary on the security of journalists in India.
The report claims India was among the three most unsafe countries for journalists last year. Nine journalists lost their lives while reporting organised crime or the misdeeds of politicians. Some faced death for exposing the powerful illegal mining mafia.
According to the report, these deaths confirmed "India's position as Asia's deadliest country for media personnel, ahead of both Pakistan and Afghanistan". Only war-ravaged Iraq and Syria witnessed more scribes' deaths than India.
The grim situation prompted the Reporters Without Borders to demand a national-level action plan for the protection of journalists.
As per the World Press Freedom Index (WPFI), prepared by RWB, India ranked 136th out of 180 nations in terms of press freedom. Even violence-affected countries like Nigeria, Afghanistan and Tunisia fared better in this list.
The New York-based press freedom watchdog, Committee to Protect Journalists (CPJ), had also called on Indian authorities to crack down on attacks on journalists.
After Hemant Yadav was shot in UP in October, CPJ's Asia programme director Bob Dietz had said: "The police must act quickly and decisively to investigate this case. Far too often, journalists' murders go unpunished in India, no matter the motive."
(Translated by Deepak Sharma)
Edited by Shreyas Sharma
Also read: No country for journalists? Murder and assault of Indian scribes make headlines every day