Housewife not taken to party ends life, cop 'wishing' boss on New Year loses job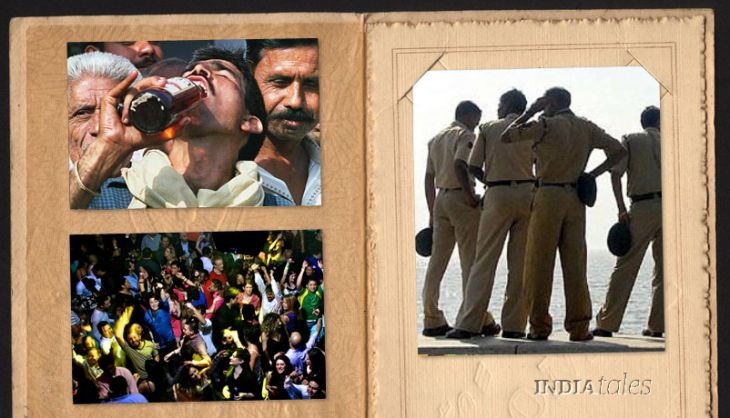 01
Raipur man goes alone to birthday party, wife commits suicide
Last week, Sarita, 29, a housewife from Raipur's Dabripara neighbourhood committed suicide.
Why? Her husband didn't take her to a birthday party.
According to the police, Sarita was the second wife of Vikas Sharma. On the afternoon of 5 January, Vikas went to his father's house for the birthday party of his 6 year old son from his first wife.
Also read - Buffalo makes Alwar farmer 'rich', the sun is unusually kind to Madhya Pradesh
He didn't take Sarita along. She was apparently so upset at being left alone in the house that she hanged herself.
Vikas' son lives with his grandfather in Professors Colony, whereas Vikas and Sarita lived with their two-year-old son in Dabripara.
India accounts for the sixth highest number of suicides in the world, and experts say that "family discord is the main reason why people end their lives".
02
In this Madhya Pradesh village, drinking will cost you your ration card
If you live in Bahinsa village, Madhya Pradesh, and drink liquor, you will lose your ration card.
The woman sarpanch of this village in Sagar district has come up this "ingenuous solution" to curb an "epidemic of alcohol addiction" in the village, according to a member of the gram panchayat. The decree will be passed at a special session of the panchayat on 26 January.
[twittable]Bahinsa's women are fighting to shut village's liquor shops: 'to stop domestic violence, bankruptcy'[/twittable]
"The women of this village have waged a long campaign against the liquor shops in the locality. They have already managed to closed down many shops and warned addicts to refrain from the habit," the panchayat member said.
As a result of alcohol addiction among the village's men, the panchayat member claimed, "many women have witnessed domestic violence". The village has also witnessed "several incidents of bankruptcy due to the epidemic in the recent past".
03
Why greeting his boss on new year cost a Patna inspector his job
An unusual "new year message" to his boss has cost a police inspector in Patna his job.
According to sources in the police, Manoj Kumar sent "some objectionable messages from his personal mobile number" to SP Sayali Dhurat Savlaram on the night of 31 December.
And the message: "Wish you and your family a very Happy New Year, Ma'm. Par meri baddua se aap kabhi zindgi me khush nahi rah paiyega (But my curse will never let you be happy)."
In another text message to Sayali, Manoj claimed that "I am not a corrupt officer."
Sayali complained to Patna SSP Manu Maharaj, who recommended Manoj's suspension to the DIG, Central Range. "The DIG suspended inspector Manoj and ordered that departmental action be initiated against him," the sources said.
[twittable]'My curse will never let you be happy' - the new year 'greeting' to SP that cost a Patna cop his job[/twittable]
Manoj was posted as SHO of Agamkuan police station. A week before the incident, Sayali had removed him from his post and sent to the Patna police line "as he was not actively participating in the ongoing vehicle and helmet checking drive launched by the Patna police", the sources said.
According to the DIG, "We regularly give reward to officials who are doing hard work in the ongoing vehicle checking drive. But we are also punishing those who are not active in this drive. Manoj was performing poorly and this was the reason Sayali had removed him from Agamkuan."
But his act later was "absolutely unprofessional". "I have suspended him and proceedings will soon be initiated," the DIG added.
More in Catch - Solar up, nuclear down: why India should not bark up the nuclear tree
#ChennaiRains: A packet of milk selling for Rs 100, airlines making the most of tragedy