Ground report: scarred residents say Jat rampage was planned, blame netas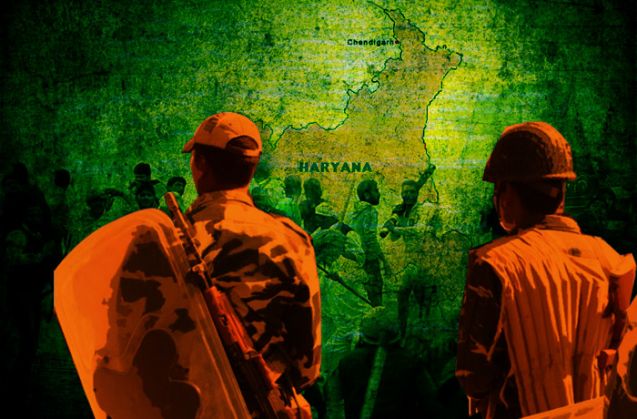 The violence
Haryana\'s Jat heartland north of Delhi witnessed four days of violence
The Jat community was agitating for reservation under the OBC category
The voices
Residents of the worst-hit cities, Rohtak and Gohana, say there was a definite pattern to the violence
They allege that properties owned by non-Jats were targetted, and the administration turned a blind eye
More in the story
Why the residents unequivocally blame politicians for the violence
The real reasons behind the targetted attacks, as narrated by people on the ground
Residents of the Jat heartland in Haryana are scarred - and the scars are both mental and physical. For four days, they witnessed a caste war as the Jat community went on a rampage, demanding reservation under the OBC category. And what's worse, they say only political parties will gain from this violence.
Speaking to people on the ground, one gets a sense that the administration and law-enforcement agencies were nowhere to be seen, or had decided to turn a blind eye to the plight of the masses, allowing a free reign to arsonists.
Read- Lost power, farm distress: what's really driving the #JatQuotaStir?
As one turns on to the Panipat-Rohtak highway from the Grand Trunk Road, one is greeted by a burnt toll barrier. The trail of destruction starts from here. Every few kilometres, one can see burnt or smashed vehicles. Traffic is down to a trickle and roadside dhabas wear a deserted look. A large number of the petrol pumps are non-functional, as machines have been badly damaged.
Just as one enters Gohana, one sees burnt shops, looted showrooms and electricity metres pulled out of shops and burnt. The owners stand around, looking lost.
In Rohtak, the epicentre of the riots, a toll barrier stands charred, and the scale of destruction is many times bigger than in Gohana. The smell of burnt items still hangs heavy in the air.
More than 100 shops and businesses were destroyed in Gohana, while the figure in Rohtak was 500.
Method to madness
There seems a definite pattern to the destruction. There's little scope to disagree with the viewpoint that the attacks were planned, as specific shops were looted and burnt, while the ones next to them were left untouched.
In both Gohana and Rohtak, more than 90% of the property destroyed belonged to non-Jats - Sainis, Punjabis and Dalits.
Rohtak residents say what initially began as a free-for-all, with even Jat-owned properties being targeted, subsequently turned into a focussed attack on non-Jats.
More than 100 shops and businesses were destroyed in Gohana, while the figure in Rohtak was 500
There was also a pattern in the kind of shops that were targeted. Eyewitness Dr Devender Sangwan says: "The rioters targeted shops that sold items that are a symbol of prestige these days. They primarily targeted showrooms of branded apparel, mobile phones, electronic goods and automobiles. I saw people changing their clothes and shoes on the roads, dumping what did not fit them and going off after burning the shop.
Gohana's Sunil Saini says: "How can I believe that it was not pre-planned? The shutter of my shop was neatly cut. They carried away the electronics items and then set the shop on fire."
In the market opposite the bus stand in the town, those shopkeepers who had their shops looted are still scared to even reveal their names while talking to the media, fearing they might be targeted again.
Also read- #JatQuotaStir: here's how Haryana CM Khattar unravelled. Can he recover?
Another interesting pattern to the violence was that arson took place only in urban areas, while the rioters mainly came from villages. They were apparently organised by spreading rumours, or on the lines of the common cause.
"It is possibly because of the fact that there is nothing to loot in terms of high-end consumer goods in rural markets. Secondly, villages are small settlements where everyone is known and it becomes easy to identify the rioters," said Sunita Tyagi, a social activist in Gohana.
Underlying tensions
There are various causes behind the caste war that began as a Jat agitation for reservation.
In Gohana, for instance, people point out that Jats and Sainis have an old rivalry in adjoining villages that has its roots in land disputes. Both communities have land holdings, and there are frequent disputes.
There has also been tension between Jats and Dalits. About 15 years ago, a Jat youth had allegedly been murdered by some people from the Valmiki community, and in retaliation, a large number of Dalit houses had been burnt down. But what remains a more important issue is that the Dalits occupy a very large area right in the heart of the city.
Rohtak residents say it began as a free-for-all, but turned into a focussed attack on non-Jats
Local residents also point out that the Jats were irked by the Punjabis' celebrations when BJP's Manohar Lal Khattar became the Chief Minister of the state. Khattar himself is a Punjabi, and the community allegedly taunted the Jats. It is a common belief that the Jats were upset when a non-Jat took over as the CM.
According to residents, after the first round of arson by those agitating for reservation, people from different castes came together to target some Jat properties. They even pelted stones at the house of Jagbir Malik, a Jat MLA from the Congress.
Some Jat advocates, who were protesting, were attacked by a mob that was carrying a banner with the words "CM sahib mat ghabrana, 35 biradri aapke saath hai (Don't worry, Mr CM. You have the support of 35 communities)."
This was followed by a series of rumours regarding Jat youth being beaten up and targetted by the police.
Read more: Khattar is firefighting, but could #JatQuotaStir cost the BJP in UP?
Dr Sangwan feels there was definitely a socio-economic dimension to what happened. "They were shouting a slogan 'Rohtak ko phoonk do (Burn Rohtak)'. I feel it was their resentment against the city folk who, according to them, lead a better life at their cost. In the city, a large number of people, including Jats, came out to defend the properties of others, and were successful on the first day of the rioting. But they proved to be helpless when the mob came in the thousands the next time," said Dr Sangwan.
Administrative paralysis
People claim the administration and the police were a complete failure in this entire episode. "There was nothing like curfew. It was only being reported on TV news. On many occasions, the police were moving behind the mobs of arsonists," said a Gohana shopkeeper.
"The police officers just said sorry when I called them to say how my hospital was being targeted. The army officers said they did not have orders to shoot. What can a person do in such a situation? Many of the arsonists came in SUVs and other high-end cars," said Dr Sunil Sethi in Rohtak.
Community elders claim to have relived the trauma of partition once again during these four days. People have begun questioning why the guilty have not been arrested till now, as it is not very difficult to identify them on the scores of functional CCTV cameras in these areas.
Political blame-game
People are unanimous in their view that politicians added fuel to fire for their vested interests.
A large section believes that the arsonists had Congress backing, after the name of Virender Singh, an aide of former CM Bhupinder Singh Hooda, surfaced in an audio clip.
But another section believes that this is not very likely, as the Congress influence is limited to Jat voters in the Rohtak, Jhajjar and Sonepat districts. These people are pointing fingers towards the Indian National Lok Dal (INLD), which is very powerful in other Jat-dominated areas like Jind, Kaithal, Hisar, Mahendragarh and Sirsa. They say Jat polarisation would benefit the INLD.
Jats were irked by the Punjabis' celebrations when BJP's ML Khattar, a Punjabi, became Haryana CM
However, both the parties have denied such allegations, saying their leaders were constantly appealing for peace.
There is also a point of view that the BJP wanted to pit Jats against all non-Jats, and hence, adopted a strategy. On one hand, it did nothing to stop its Kurukshetra MP, Raj Kumar Saini, from firing verbal shots at Jats, and on the other, it ensured that the administration stood paralysed.
'Will all Jats get jobs?'
Activists like Sunita Tyagi feel that people must be informed that the underlying factor is a failure of the model of development being implemented. "Even if the Jats are given reservation, would that result in employment for all of them? The people must be made aware of this," she said.
A lot of people blame the Congress for the violence, while others point fingers at INLD and BJP too
Her words find an echo in Dr JP Arora of Rohtak who says: "Over the last 10 years, people got money, but lost their earning source. The money was also quickly spent. The question is, what do they do now? This needs to be addressed."
What's for sure is that the social fabric of Haryana has been tattered. People on the ground feel that the state has been set back by about 20 years, and will no longer be an investment destination.
Edited by Shreyas Sharma
More in Catch:
#RohithVemula family, friends call Smriti Irani out on her 'lies'
Peace project triggers conflict: Kolkata museum cancels Pak artist's show
Yechury corners Irani: should unverified FB posts be read out in Parliament?
Six takeaways from the economic survey