GoC shows letters seeking nod for army drill, but Mamata remains defiant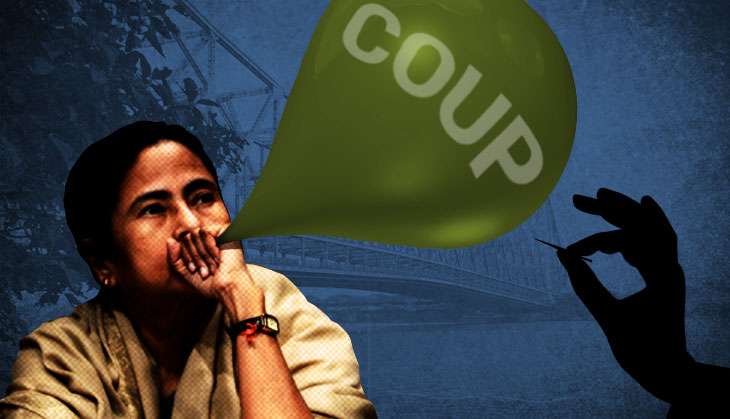 Despite the army producing documents to show it had informed the Bengal government about the troop deployment of 1 December, Mamata Banerjee continued to attack the Modi regime. Her government is now seeking legal opinion on the issue.
On Friday, Major Gen Sunil Kumar Yadav, the army's acting General Officer Commanding of Bengal Area, produced letters sent to the Bengal government between 25 and 28 November seeking permission for a mock drill. One letter asking to allow a drill at the Second Hooghly Bridge elicited a response, on 28 November, from the Kolkata Police, advising the army not to conduct the exercise as it was a "high security zone".
The army also claimed that its men had conducted a recce of the proposed locations for the exercise jointly with police officers on 29 November. The state government, however, wouldn't confirm or deny this.
Also Read: Army deployed at toll booths in Bengal, Mamata labels it 'coup-like situation'
The government, though, kept up the rhetoric. Parliamentary Secretary Partha Chatterjee said the chief secretary has written a letter to the Cabinet Secretary protesting that "it is unprecedented that army has been deployed in several districts of Bengal without taking permission from the state government".
Mamata, on her part, continued to attack the Modi regime for "interfering with the federal structure of the country". The deployment of the army, she said, was just one example of this interference. The chief minister claimed her under secretary for urban development received a letter from the Centre on 1 December asking for revenue details of the Kolkata Municipal Corporation for the months of November 2015 and November 2016.
Also, she claimed, Rajnath Singh has asked for revenue details of the state's panchayat department even though it's not under the jurisdiction of his Union home ministry.
Calling the Modi regime "Daku Sarkar", Mamata asked, "How can the Union home minister ask the state panchayat minister to furnish the revenue details? It's not under his jurisdiction and he's not following the constitution."
Meanwhile, the chief minister left the secretariat today after nearly 30 hours once the army was withdrawn from the Second Hooghly Bridge.
Also Read: Mamata to block GST unless Centre relaxes note ban norms