Getting away with treason: the story of double-agent Rabinder Singh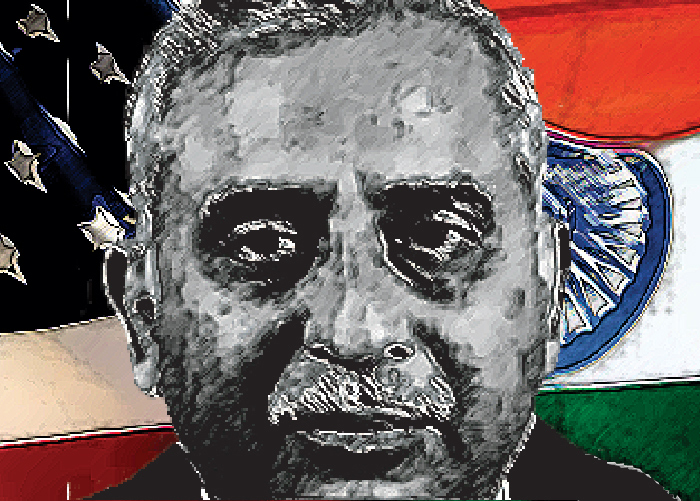 The double agent
Rabinder Singh, army man-turned-Intelligence agent.
Reached position of Joint Secretary in the Research & Analysis Wing.
Defected to the US in 2004, while under surveillance for information leaks.
Early signs
Singh was passing information to Americans as early as the 1980s.
He was then First Secretary in the Indian mission in Damascus, Syria.
Journalist Harish Chandola discovered this by accident, talking to an American diplomat.
Consequences
Chandola reported it to the Indian Ambassador. No action was taken.
No major diplomatic fall-out from the 2004 defection.
In 2004, Rabinder Singh, an Indian intelligence agent working for the Research and Analysis Wing (R&AW), defected to the United States. He fled India while under surveillance, suspected of being a double-agent.
A recent memoir by veteran journalist Harish Chandola reveals that the government should have known much earlier that Singh was working for a foreign power - the USA.
In the following extract from his book At Large in the World: A Memoir (HarperCollins, 2014), Chandola recounts how he discovered, on assignment in Syria in the 1980s, that an official with the Indian mission in Damascus had been passing information to American diplomats - 30 years before his official defection:
*
During my Damascus days, the Indian foreign intelligence service, oddly named Research and Analysis Wing (RAW), had officers posted at almost all Indian diplomatic missions. Its officer in Syria was Raminder Singh [sic]. He came to this service from the Indian Army.
In 1986-87, India needed canopies for its Soviet-made MiG 21, 23, 27 aircraft. The Soviet Union did not have spares, and India started searching for them in countries which had also bought similar Russian fighters. Syria relied solely on Russian military equipment, and the Indian Air Force sent a team to Damascus to inquire if it had spare canopies which India could buy.
In Damascus, the RAW officer was attached to the Indian team that came to make inquiries. The Syrians took the Indian team to its air bases in the north to look at what was available there.
Afterwards, at a reception, an American diplomat inquired if I knew that the Syrians had an air force establishment right inside the 'Guta' (a very large fruit orchard on Damascus outskirts). I said I did not know, but how was it that the diplomat had come to hear of it? 'An official of your government told me about it. He was accompanying an Indian Air Force team flying from Damascus to a Syrian Air Base in the north, and they were flown from that air strip inside the Guta!' the American diplomat said.
Our intelligence man had promptly conveyed to the Americans that the Indians were looking for canopies for their military planes and the Syrians had a secret air force establishment right in the middle of their orchard besides Damascus.
I told our ambassador, Mr Ramesh Mulye, of this conversation. He, it appears, took up this violation of secrecy with Delhi. As it was, Indian diplomats used to be unhappy with Research and Analysis Wing officers, because they, not finding much else to report, spied on Indian staff and reported their gold and other purchases. I presumed that the ambassador took up the matter of the officer's indiscretion with Delhi and asked for his recall, which was done.
Years later, a major scandal was reported in Indian newspapers about a senior RAW officer supplying secrets to American diplomats in Delhi on a regular basis. An inquiry was ordered. But before it could be completed, this officer and his family were secretly flown out of Delhi by Americans and settled in the US under a new identity. The Indian government did not know when he and his family were taken out.
The RAW officer's connections with the Americans should not have come as a surprise to the Indian government, because over ten years ago he had been recalled from Damascus for informing Americans about the Indian search for military spare parts in countries abroad. Since then, some more cases of our foreign intelligence service officers supplying Indian secrets to other countries have been reported in Indian newspapers.
*
In an interview with Catch, Chandola discusses the circumstances around the event:
When were you in Damascus? What were you doing there?
I was in Damascus from 1980 to almost 1992. I was reporting for The Indian Express, and writing for some British papers, like The Observer and The Economist. I was writing about the Middle East. I was also writing commentaries for All India Radio.
Had you encountered Rabinder Singh during the course of your work?
I came to know Rabinder Singh only when he came to Damascus. There was gossip in the Indian Embassy that he was from the Research & Analysis Wing (R&AW).
How did the Americans find out about a top-secret Syrian air base? An Indian intelligence man told them
What was his official designation?
His was First Secretary in the Indian Embassy in Damascus.
Did you have a lot of interaction with the Indian mission?
Yes, indeed. I would go there to see the ambassador, and some other officers. I also had this official connection because of working for All India Radio.
When was the first time you met Rabinder Singh?
In the Embassy, the rooms of all the officers were next to each other. So one ran into him, one met him and had brief chats. Nothing particular though-just "how are you" and "how are things".
What was your impression of him?
Well, he was from the intelligence department so he was secretive and not open on many things. Sometimes he asked about the relations between Iraq and Syria, Syria and Lebanon. But [there was no] regular meeting with him.
Did you believe that he was a R&AW man?
Well, this was the rumour in the Indian Embassy.
As soon as [Rabinder Singh] came, the Embassy gossip was that he was from the Intelligence Department. They knew where he was from. So I also believed it.
In your book, you mention an incident involving Singh at a diplomatic cocktail. What happened?
I was at a [diplomatic cocktail] party at a hotel, where I met an American diplomat, a First Secretary in the American embassy, whom I had known. He knew Rabinder Singh as a fellow diplomat. We were talking about the security situation in Syria when he suddenly asked me if I knew that the Syrians had a secret airstrip, in a huge fruit orchard [Ghouta], in Damascus.
I said I was not aware of it, but I asked him how he came to know of it. He said "Your man told me. Your man Rabinder Singh told me." I said, "How did he know?" And he said, "He knew because he was flown by the Syrians from this airstrip to some airbases in the north."
At that time, a defence delegation from India had come to Syria to look for canopies for Russian fighter aircraft that India had bought. India had fallen short of canopies, [the plastic covers over cockpits on fighter planes]. It could not get canopies from the Soviet Union very quickly, so it thought of asking other countries that had also bought Russian military aircraft if they had spare canopies that India could buy or take on loan. Among the countries the Indian delegation visited was Syria.
This visit was top secret. The liaison person was Rabinder Singh.
What was your reaction?
I thought I must inform the Indian ambassador. The Indian ambassador in Damascus at that time was Ramesh Mulye. I told him, because it was a violation of Indian diplomatic secret activity.
When you told Mr Mulye about this incident, what was his reaction?
He was very surprised that the secret was out, and that the other embassies knew about it. I don't know what he needed to do, but he must have done it. Or he may not have done it, I'm not sure.
Do you know if a report was sent to Delhi?
I don't know. [Mulye] was the ambassador and I couldn't ask him what he did and what reports he sent.
Why do you think the American diplomat revealed his source to you? If Rabinder Singh was in fact a source for the Americans within the Indian mission, why wouldn't he protect that source?
I do not know why he revealed it, but he revealed it.
My impression is, since I had been in Syria for a long time and was travelling and had friends all over, perhaps he wanted to confirm if I also knew that the Syrians had an airstrip inside Ghouta. He had no direct access to find out if the Syrians actually had an airstrip in the orchard, so he was just asking people, "Do you know about it?" I could have known it from my friends, or my contacts. But it was the first time I heard about it.
So, you may have been the first person to be aware that Rabinder Singh was an intelligence officer supplying information to the US.
When I came back to India, there were many rumours. There were rumours that when Rabinder Singh was Joint Secretary in R&AW, he used to take files home to pass on to the Americans. And I think the government came to know of it, but before they could track it, the Americans took him out [of the country].
When you heard these rumours, did you tell anyone what you had discovered in Damascus?
No. I didn't [recount] this conversation with the American diplomat to anyone except the Ambassador, Ramesh Mulye.
Several years later, I talked to someone who had also worked in the Embassy in Damascus. We were just discussing people that we had known in Damascus, at the embassy at that time. Rabinder Singh and his family had been taken out of India and settled somewhere in the United States. Except for this friend, I didn't mention it to anyone.
After you heard that Singh had been talking to the Americans in Damascus, did you suspect that he would turn out to be a defector?
No, I didn't know. He defected after many years.
When he defected, did you immediately make the connection with the man you had known in Damascus?
See, it was in the newspapers. When the name came out, I knew it was the same man who I had known in Damascus.