Free lunches: Dabbawalas create Roti Bank to give leftovers to the needy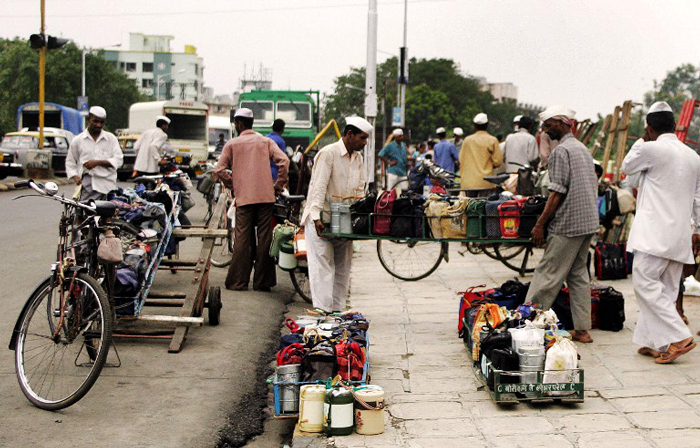 The solution
Ever felt bad about wasting leftover food?
If you\'re in Mumbai, don\'t throw the food. Just call the Dabbawalas
The initiative
Dabbawalas have started a Roti Bank to collect leftover food and deliver it to the hungry
400 Dabbawalas are working on this initiative, absolutely free of cost
More in the story
How did the Roti Bank come about?
How has Mumbai responded to this initiative?
We all come across enormous quantities of leftover food at marriages, parties and social gatherings. Most of us even feel sorry for the waste. This leftover food, which could have been a boon for homeless and hungry people, ends up been thrown away as garbage.
Mumbai's iconic Dabbawalas have come up with a solution. They've offered to deliver food to needy, homeless and hungry people, free of cost. The Mumbai Dabbawala Association has called this initiative "Roti Bank" .
Also read -
Why e-commerce is a boon for Kashi's pundit, bane for Mumbai's Dabbawala
"The amount of food that is wasted in parties, marriages and other events is criminal. There are millions of people in Mumbai who don't get enough food. We have started the Roti Bank to collect the food that goes waste and distribute it among these people across Mumbai," said Dashrath Kedari, General Secretary of the Mumbai Dabbawala Association.
How the idea was born
The idea of creating a Roti Bank was born at a mass marriage ceremony in Goregaon December last year. Kedari and his associates were invited to inaugurate the event. What they saw after the marriage upset them greatly.
"About 3-4 catering agencies were hired to provide food to the people attending the event. What we saw after the event really shocked us. Most of the food served ended up being thrown away. We could not be mute spectators to this, especially when there are so many starving people in the city," Kedari recounted, adding "It was then that we decided to collect the food and distribute it among those who need it".
The next day, Kedari and his colleague Subhash Talekar floated the idea of collecting leftover food and distributing it. Every member of the association readily agreed and supported the concept.
"With the help of our well-wishers, we spread the word among hoteliers, catering service providers and party organisers. And we got an overwhelming response. So far, over 100 hotels, catering service providers have joined the cause and are giving away their leftover food," Kedari said.
Dabbawalas collect the food that goes waste and distribute it among poor people across Mumbai
The Association's helpline number is flooded with calls every day to collect leftover food. They try to respond each call. But sometimes it becomes impossible due to logistical constraints. "We cannot respond to late night calls since we do not have any facility to store the food," Kedari said.
The Association has designated 400 Dabbawalas to work on this initiative, which is free of cost. The Association does not charge anything from those who give the food or from those among whom it is distributed. "Money making is not our objective. We just want to save food and serve the needy. There is an agrarian crisis and we must not waste even a single grain," Kedari feels.
The Association is now working to make the collection system as effective as the Dabba (lunch box) delivery system. They are considering stationing one member of the Association permanently at local train stations to collect the food.
"We appeal to the citizens of Mumbai to come forward to help us in the initiative. We have two urgent requirements: a vehicle to transport the food and refrigerators to store it," said Talekar, the Association's spokesperson.
Here's what the Dabbawalas do
Mumbai Dabbawala is a unique lunch box delivery service in Mumbai. The 5,000 strong workforce delivers two lakh lunch boxes every day. Acclaimed across the globe for its unmatched management skills in delivering thousands of lunch boxes every day, the Association has become a case study for management students. The members of Association regularly deliver guest lectures at various management schools.
The highly sophisticated system of lunch box delivery has evolved to its current form in over a century and has now become an integral part of Mumbai's culture.
The Dabbawala service started 125 years ago. A Parsi banker, who wanted home cooked food every day at his work place, appointed the first ever Dabbawala of the city. The idea of having home cooked food for lunch at the workplace was soon picked up by other people. Initially, the service was not as organised. But after a few years, Mahadeo Havaji Bachche started a professional lunch box delivery service with an initial workforce of 100 people. The workforce grew with the city as did the demand.
So far over 100 hotels and caterers have joined Roti Bank by regularly giving away leftover food
The system set up by Mahadeo Bachche, still continues to be the backbone of the error free lunch box delivery service.
The most unique aspect of the service is coding of the lunch boxes. Initially, the boxes used to be colour coded only. However, as the number of clients went on increasing, the lunch box coding system too evolved to alpha numerical codes.
From Prince Charles to Richard Branson of Virgin Airlines, Dabbawalas have won acclaim from far and beyond.
Branson even accompanied them on an actual delivery, that too at the office of Virgin Airlines, in Mumbai.
The association has achieved 6 Sigma level of accuracy in delivering lunch boxes to 2 lakh people every day. This means only one mistake in 6 million deliveries!
More in Catch - What this incredible story of a beggar couple's 'riches' says about Mumbai
Sassy and witty, Mumbai Police Twitter account is pure genius