Fortress Kolkata: drones and 12,000 cops to watch over city this Durga Puja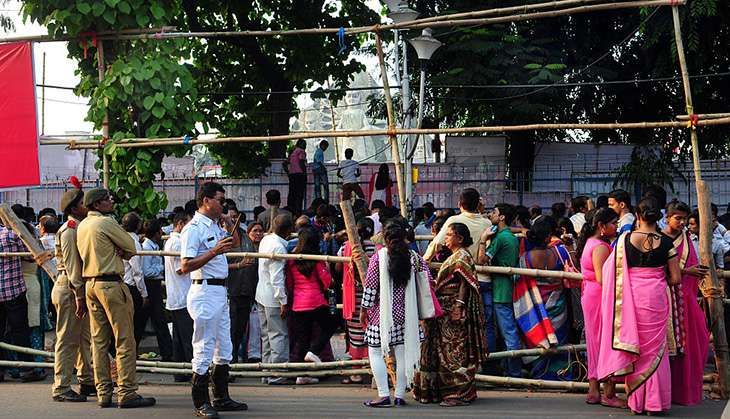 India's surgical strike has left state governments worried ahead of the festive season. The West Bengal government has decided to conduct drone this year. An additional 20,000 policemen will also be deployed in busy areas for patrolling. In Kolkata alone, 12,000 policemen will be deployed.
Also read - Punjab braces for Indo-Pak stand off, armyman Amarinder advises caution
Although additional police forces are deployed ahead of Durga Puja every year, this year the number shall be far higher after the Centre issued an alert and the recent arrests of 6 Jamaat-ul-Mujahideen Bangladesh (JMB) militants from different parts of the state.
Round-the-clock patrolling
Supratim Sarkar, the joint commissioner of Kolkata Police, said, "Drone monitoring will be conducted in some vulnerable areas this year apart from other security measures."
Senior officials of the state government said the Centre had issued a notice a few days ago that patrolling should be intensified in busy areas. While the festivities are on, around 12,000 police personnel will be keeping close vigil across the city, particularly in busy shopping areas like Esplanade and Gariahat. The govt has also decided to have plainclothes policemen patrolling busy streets.
Around 200 CCTV cameras have also been installed in and around the puja pandals across the state, and 100 watchtowers and 200 bunkers have been set up from where policemen will keep a watch round-the-clock. In Kolkata around 46 watchtowers have been set up.
Kolkata Police has also arranged special teams that will be deployed in the riverine belt in the state to increase vigil during the pujas.
A senior police officer said, "Apart from tightening security we have decided to increase vigil in areas where communal tension has taken place in the past."
Chief Minister Mamata Banerjee has urged all the ministers to monitor the law and order situation in their own constituencies and not to leave their constituency during the Pujas, particularly on Muharram and the day of immersion.
The special arrangements
- 20,000 additional policemen will be deployed
- 15 police teams will be deployed in the riverine belt of the state
- 200 CCTV cameras will be placed in strategic locations in the state
- 4,000 additional policemen to be deployed on Muharram and Dussehra
Edited by Aleesha Matharu
More in Catch - Fearing escalation with Pakistan, Rajasthan's borderlands go on high alert
High alert sounded in Gujarat after surgical strikes across LoC