Forget bringing the revolution, you can't even utter the word: Ashis Nandy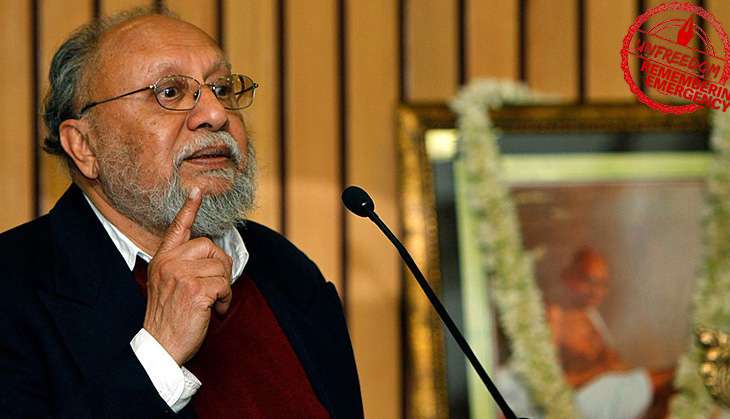 Raghuram Rajan wasn't given another term at the RBI because he spoke his mind. Udta Punjab faced 89 cuts before a public uproar saved it. Journalists in Chhattisgarh are being hounded out for reporting the truth.
The sociologist Ashis Nandy was forced to apologise for an article criticising the Gujarat government he wrote in 2008. These are just a few examples, freedom of speech is being threatened every day. How dangerous this can be for this country was made frighteningly clear this day, 25 June, in 1975, when the Indira Gandhi regime imposed the Emergency.
Catch spoke with Nandy about what ails the Indian state and why this government is particularly harsh on freedom of speech and expression. Edited excerpts from the conversation:
Is freedom of speech under greater threat now?
Things are more or less the same. People have become extremely cautious about what they. There is no doubt about that.
Two months ago you were forced to issue an unconditional public apology over an article you wrote in 2008, which had earned you the wrath of the state. And in 2013, the SC/ST tribunal had slapped charges on you for commenting, at the Jaipur lit fest, about the rise in corruption among backward castes. Then too, you were forced to apologise. Why did you apologise?
I issued it because the Supreme Court was sending my cases back to the states. At my age, I felt nervous that I would have to go to the sessions court in Gujarat and start fighting this battle right from the bottom all the way up to the Supreme Court.
They wanted an apology on their terms. They had a draft apology prepared. The court accepted our draft.
For me, personally, it was difficult because I have never had to apologise for anything I have said. It was difficult for my family. My close friends had been advised me from the very beginning to offer an apology, get out of it and live to fight another day.
In any case, on the very day I gave the speech at the lit fest, I said that in case I had unwittingly hurt anybody's feelings, I apologise for that. The fact is that what I did say I said, but I was also accused of saying things I had never said. But before the entire speech was even published and circulated, people began calling for my head. Accusations came in no time.
Had I not issued an apology, the case might have haunted me for five or ten years or until I died, probably. This is harassment. I don't have the money to fight cases in the Supreme Court and pay for lawyers. I feel indebted to Kapil Sibal, Rajiv Dhawan, Soli Sorabjee, Aman Lekhi and Prashant Bhushan who are my friends and who gave me legal advice and appeared for me in court.
So now, after issuing the apology, are you wary of what you say or write?
No, I am not. I say what I must. I am not at all concerned. I have backed my position even on television.
What do you make of this government wanting to not just remove worthy individuals from positions of power just because they have expressed some form of dissent - say, Raghuram Rajan - but also appointing people who have zero opinion to lead cultural bodies like NIFT, IIFT, censor boards?
(Laughs) That's well put. But I would phrase it differently. This government lacks talent in various domains of life. What they can't find in most domains of knowledge are people who will toe their line. This is true even for the Communist Party, but they aren't voiceless. Look at Mahesh Sharma, the culture minister or Gajendra Chouhan. They are talking a dime a dozen and making fools of themselves. The BJP doesn't have the generosity or the courage to go outside their ideological circle and seek talent. That's why ideological parties are becoming irrelevant to Indian political life.
Isn't that a kind of intolerance?
Yes. It is also a lack of courage, and at the root of it all lies insecurity. Indian politics is marred by insecurity. The insecurity pushes great leaders to their own kin. Even here, when we talk of dynasty politics it is the insecurity of a family that pushes them to each other alone. Even Mamata Banerjee, who for that matter didn't have any relatives, we see now that she has acquired a nephew out of nowhere (laughs).
So, you are saying that beneath all the chauvinism and intolerance is just petty insecurity.
Absolutely! They care two hoots about Hinduism.
Do you think the Constitution offers us enough protection if we claim our right to free speech?
No. Because this is the age of social media where things go "viral" even before factually correct information has a chance to be seen. That happened with me. My defense in the Supreme court was that the things people felt outraged over were not things I had said at all. The FIR against me was a forged piece of work which the court should have rejected outright. But on the basis of an FIR like this somebody can be prosecuted.
So what changes would you like to see in our Constitution to ensure it offers citizens more protection?
I think the Constitution must be expanded; it should be much more detailed. If you want to keep limitations on free speech, certain kinds of work must be exempted.
Works related to empirical data or works which expect a rebuttal? The case should be revolve around whether there is an empirical fact at stake.
People have been speaking about revolution here for the last 100 years without anybody batting an eyelid. The Left has always talked of bloody violence. Russian or French revolutions were seen as liberating movements.
But for the first time now such a thing is seen as being anti-national. Forget revolution, there isn't the space to even utter this word today.
Hinduism is seen as a religion that preaches tolerance and free speech, and promotes the culture of debate. What should the top leaders of this government be learning from their scriptures?
The first thing they need to learn is to live with plurality. If you are not open to living with diversity or plurality even when the diversity goes against your set ideologies in everything - from nationalism to feminism, Hindutva to Islamic Khilafat - then you are a traitor to the Indian civilisation.
In the Shanti Parva in the Mahabharata, after the battle of Kurukshetra has been won, the heroes of the epic feel this enormous sense of guilt. The greatest lesson to learn is that nobody can live a happy life when you have won through violence. There can be no happy killers.
More in Catch
There's a reason Indians love Radhe Maa. And it's not superstition
5 times freedom of speech & expression came under attack during Modi's 2-year reign
Amartya Sen slams 295 A. Says right to free speech greater than religious sentiments