Even in Modi's adopted village, his message is not being followed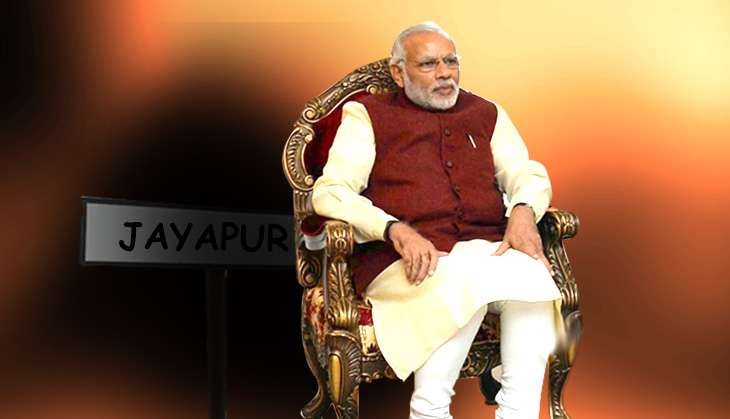 Prime Minister Narendra Modi keeps talking about good governance and his regime being a transparent one. He insists his government is accountable to the people, and has furnished a report card of his two years in office.
However, his message doesn't seem to have reached the village he had adopted in his constituency, Varanasi.
The Jayapur village was supposed to be a model of development for the entire country. Modi had adopted this village in 2014 under the Sansad Adarsh Gram Yojana.
However, the pradhan of this village, Narayan Patel, is far from being an exemplary example of a village headman.
Patel was arrested on Friday, along with his son and nephew, on charges of beating up RTI activist Ajay Singh. Singh had sought information regarding the status of development projects being undertaken in the village. But, the pradhan and his supporters responded by roughing up Singh, who had lodged a police complaint about two weeks ago.
Patel's track record
Patel, elected last year, is a controversial figure. He had allegedly manhandled Rajkumar Yadav, an SP-supported candidate, during the local elections. Some villagers had also complained about Patel to Nripendra Mishra, Principal Secretary to the PM, during his visit to Jayapur last year.
Several villagers allege Patel and his family members are making money out of contracts and terrorising people who dare to speak against them.
The 'model' village
The village has received VIP treatment ever since Modi adopted it. It has branches of Union Bank, Syndicate Bank and State Bank of India with ATMs, around a dozen bio-toilets, 135 solar streetlights, over a dozen houses for Adivasis, a dedicated bus service, waiting rooms for commuters and an under-construction water reservoir for providing water to every household, among other facilities.
However, most of these amenities have not been properly utilised. The waiting rooms at the bus stand have become a hub for gamblers. The bio-toilets are being used for storing cow-dung and wood for fuel. Batteries of many solar streetlights and water pumps have been stolen.
Most of the villagers still defecate in the open. The 100 Kashmiri apple tree saplings, Modi's gift to the village, are withering in the heat.
This is despite the fact that Mishra, as well as the BJP MP from Gujarat's Navsari, Chandrakant Raghunath Patil, have been assigned the responsibility of overseeing the development work in the village. Besides, local administration officials regularly visit Jayapur to monitor the developmental projects.
Development takes time. It takes time to build infrastructure. But what is surprising that the PM is unable to change the minds of the people. Those who are closest to him, his heart and effort, are not able to change. His critics are floating a joke now: "If the Pradhan Sewak can't change a Pradhan, how he will change a nation of more than a billion?"
Edited by Shreyas Sharma
More in Catch
In Narendra Modi's model village, development has a caste
UP Panchayat poll results bring embarrassment to Modi, Mulayam and Rahul
Mann ki Baat: Peace, harmony and unity are the key to progress, says Narendra Modi