DU's Prof G Saibaba convicted of Maoist links, sentenced for life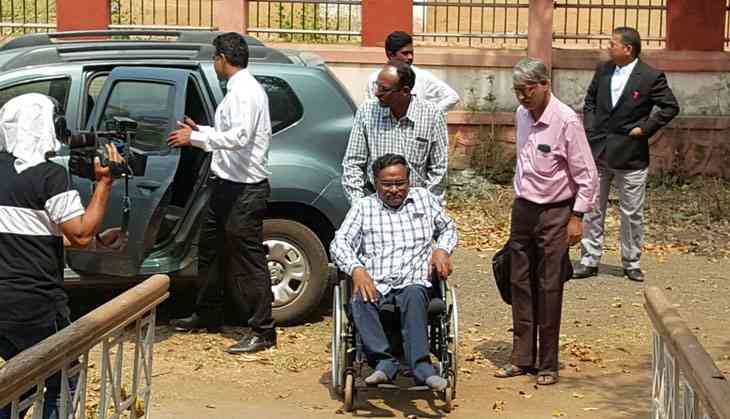 (Ashwin Aghor/Catch News)
Delhi University professor GN Saibaba and four others were sentenced to life imprisonment Tuesday by Gadhchiroli Sessions court. They were tried under the Unlawful Activities (Prevention) Act for links with Maoist links and were found guilty of anti-national activities and being members of a banned organisation.

Apart from Saibaba, the others to be sentenced were:

* Hem Mishra, who was a student in Jawaharlal Nehru University
* Prashant Rahi, a journalist based out of Uttarakhand
* Mahesh Tirke and
* Pandu Narote

Vijay Tirke, another convict, was sentenced to 10 years' imprisonment by the court of Chief Judicial Magistrate of Gadchiroli, Suryakant Shinde. The six were accused of maintaining links with the banned Communist Party of India (Maoist).
Looking back
Saibaba was arrested in May 2014 from his Delhi residence on the basis of the alleged incriminating material recovered from Mishra and Rahi. They were arrested in September 2013 from Aheri in Gadchiroli district and Chhattisgarh respectively in 2013.
The investigators claimed that they had recovered documents, computer hard disks and pen drives which had enough proof of the illegal activities and involvement of Prof GN Saibaba in the same.
Saibaba's involvement in the anti-national activities was revealed during Hem Mishra and Prashant Rahi's interrogation.
After being arrested from his residence in New Delhi, in May 2014, Prof Saibaba was lodged in Nagpur Central jail. He repeatedly applied for bail citing health reasons. However, the Nagpur Bench of Bombay High Court turned down all his applications.
It was in April 2015 that Saibaba got bail from the Supreme Court of India on medical grounds. The Supreme Court, while granting bail to Saibaba, came down heavily on the government of Maharashtra for vehemently opposing the bail without substantial reason.
The Supreme Court Bench led by Justice JS Kehar, during the hearing in April 2015, had opined that the government of Maharashtra had been highly insensitive towards the wheelchair-bound professor. The prosecution argued that Prof Saibaba would propagate Maoist views if set free.
However, the Supreme Court turned down the argument and granted him bail. While granting bail, the Supreme Court had upheld the conditions laid down by the trial court, that Saibaba would make himself available whenever required.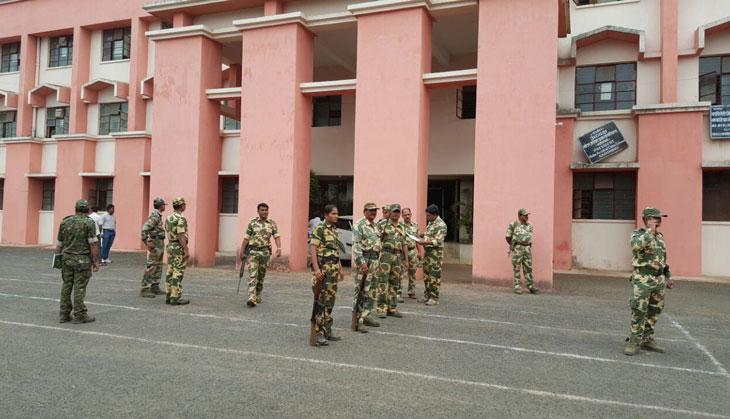 Ashwin Aghor/Catch News
The connections
According to Ravindra Kadam, the then Inspector General (IG), Nagpur Range, Saibaba was active with the Left-leaning students' organisations at Delhi University (DU) and Jawaharlal Nehru University (JNU).
"He had been brainwashing students and recruiting them for the Maoist movement. We got documentary evidence to establish that Saibaba was actively involved in Maoist activities and recruitments for the banned outfit. Though he worked at DU, Saibaba was also actively involved in the functioning of students' unions at JNU and DU. He was PhD guide for several students from both the universities," Kadam said.
Police arrested him after Hem Mishra made some revelations about Saibaba during interrogation. Mishra was a member of Democratic Students' Union (DSU).
Kadam added, "Rituparna Goswami, a JNU scholar was Saibaba recruit. Goswami has completed PhD from JNU and has joined an underground cadre of CPI (Maoist). He is now an important functionary of the banned outfit. We had gathered clinching evidence to establish the links between Saibaba and Goswami."
Edited by Jhinuk Sen