Dismantling Singur: power cuts as work to return land to farmers is sped up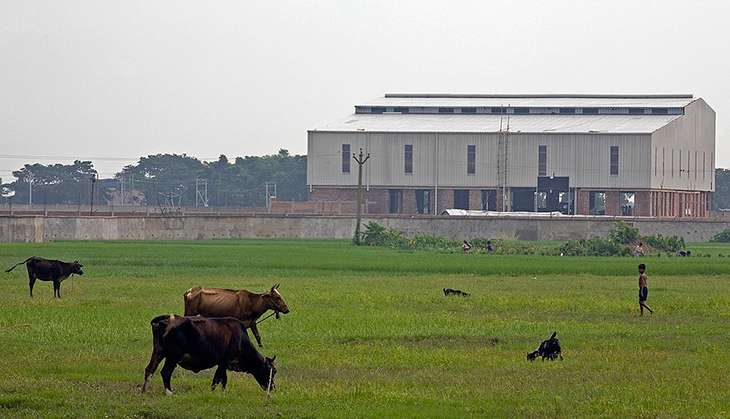 Three days before Mamata Banerjee's grand gathering in Singur on 14 September, around 300 acres of land have been made cultivable to farmers in the area. Infrastructure is being torn down too - the dismantling of two power stations that had been set up on 47 acres of land at Gopalpur in Singur has also begun.
But while the two power stations are being pulled down, nearly 1,500 residents have been affected, as power cuts have become a daily problem.
While power minister Sovan Deb Chatterjee assured that they have organised an alternative power supply for the residents, local farmer Sudeb Das says, "For the last two days, we have faced power cuts for a few hours every day. We've asked the local administration to look into the matter."
Also read -Singur verdict just the beginning. A Pandora's box awaits Mamata
According to the 31 August Supreme Court order, which directed the government to return the land to the owners within 12 weeks, the two power stations should be installed outside Singur.
State parliamentary affairs minister Partha Chatterjee says, "Our target is to make more than 600 acres of land cultivable before 14 September. We are giving regular updates to chief minister about the developments in Singur."
While a section of landowners say that that they will urge the chief minister to help set up industry in the area, there are yet others who desire only to get their land back.
According to most of the landowners, they have received the compensation package from the District Magistrate's office and they have not faced any trouble while submitting the documents.
Mahadeb Das, an unwilling landowner who owns 10 acres of land inside the Tata car factory said: "The work for compensation package has been started after proper verification. Almost 2,000 unwilling farmers have received the compensation package.
Maharshi Das, who owns eight acres of land inside the Singur factory premises says, "We want that industry should be set up in 600 acres land so that it will benefit our future generations too, apart from getting our cultivable land back."
Bijoy Sen, an octogenarian who is an unwilling land owner says, "We are happy to get back our cultivable land back where we can plough."
Full steam ahead
Top officials with the land and land revenue department of the state government have said that the ongoing work of clearing, mapping, plotting, verification of documents, issuing of verified certificates will be carried seven days a week so that the work can get finished as early as possible.
The team is also trying to get a complete picture of how land has been used for road construction, concrete construction, the Tata factory shed, and the unused open area which is not covered by weeds.
Singur in numbers
Total land acquired by Tata: 997.11 acres
No. of landowners/farmers in Singur:13,491
No. of farmers who willingly gave up their land: 10,852
Disputed land where farmers didn't want to give up land: 400 acres
No. of unwilling farmers: 2,639
Edited by Aleesha Matharu
More in Catch - Singur verdict: the Didi-fication of Bengal is now complete
Singur: CPI(M) Politburo admits mistake and blames 1894 Land Acquisition Act