Demons of demonetisation haunt students; some even got groped and assaulted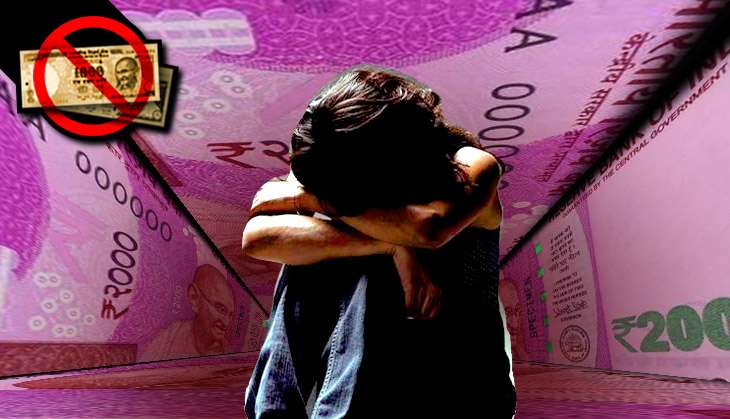 Demons of demonetisation haunt students (Malik/Catch News)
College students living away from home are typically an ATM-dependent lot. So, the Central government's move to demonetise the Rs 500 and Rs 1000 currency notes has disrupted the lives of outstation students to a large extent.
Some women students in Delhi told Catch they had even faced harassment while standing in long queues outside ATMs and banks.
On Sunday, three outstation women students were assaulted in a stampede-like situation while waiting outside the Allahabad Bank at Shakti Nagar near Delhi University's north campus.
"We reached the bank at 8am, yet were allotted the serial number 135 on a chit. Our turn was finally about to come around 4pm, when a bank official announced that they could only service 60 more people. That's when nearly a dozen guys suddenly showed up and tried to break into the queue, claiming they had been allotted chits with earlier numbers," said Shambhavi Srivastava, a third year student at Hansraj College who hails from Patna.
"Everyone in the queue protested. That's when those guys and some others began physically attacking people who tried to stop them. My friend Sheetal was badly groped, I almost got choked, and my friend Aanchal was kicked in the stomach. There were a couple of older women in the queue, but they left after the situation got violent.
"There was even a cop on the road outside, but he simply kept watching, he did not do anything. Later, two more cops came, but those goons were nowhere to be seen," Shambhavi added.
Sheetal Kashyap from Shimla, who is taking coaching classes for medical entrance exams, said she still somehow managed to get inside and exchange money, as she desperately needed cash.
"But the Rs 2,000 note is useless, as we could not use it anywhere. Finally, one neighbourhood lady who sells groceries agreed to give change, but we had to buy unnecessary things for over Rs 1,000," Sheeta said.
Sobia Bhat from Kashmir, a postgraduate student of sociology at Jamia Millia Islamia, said she had also faced eve-teasing while waiting outside an ATM.
"I stay in Batla House. Four days ago, I was standing in a long queue outside an ATM in my lane, and these random guys started making demeaning comments, so I left," she said.
"But I had absolutely no money, so I put up a Facebook status asking for help, and a professor of mine lent me 500 bucks in 100 rupee notes. That's how I've been managing so far."
Many outstation students have been surviving on money borrowed from their friends, while others have been unable to pay rent.
Exams around the corner