Death row convicts: why we need to break our collective silence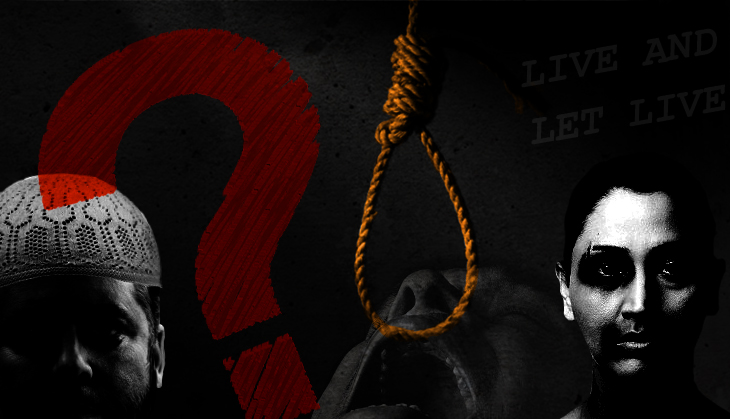 Way back in 2009, in the case of Santosh Bariyar v State of Maharashtra, India's Supreme Court admitted that it has wrongly condemned people to death.
But then, once executed, the death penalty is irreversible, and India's top court ends up with blood on its hands.
Read: Was President Kalam right? Does the death penalty only stalk the poor?
However, the foundational questions aren't about the 'uniqueness' of the death penalty, but the sheer inequities, structural problems and consequent injustices which riddle the system that subjects citizens to the "cruel machinery of death" (in the words of Justice William Brennan, a Judge of the US Supreme Court, who was instrumental in bringing a moratorium on the death penalty, in Furman v Georgia in 1972).
The question about the excruciating anxiety - dangling between life and death - is also a primary one.
"The Death Penalty Report in India", prepared by Dr. Anup Surendranath and student volunteers of the National Law University of Delhi, seeks to unravel the numerous structural problems which contribute to people being condemned to death row. Ironically, each condemned cell, in every Indian prison, has "Live and Let Live" written on its outside wall.
The voluminous report, which come in two volumes, have the potential to send chills down someone's spine. The SC's October 2014 ruling attempted to remedy the fatal injustices in the system, but ended up reducing them to only a half-an-hour's hearing.
What the data says
UP has the highest number of people on death row - 79 followed by Bihar (53), Karnataka (45), and Delhi (30).
The reports, as it explicitly clarifies, doesn't even intend to demand the abolition of capital punishment, but with the aid of data- - 373 death row prisoners in 62 prisons of 29 Indian states, tries to address the excruciating agony of the sheer uncertainty which "condemned convicts" have to face day in day out.
Also read: Law Commission says abolish death penalty, but not for terror cases
Most death row convicts hail from lower income groups and marginalised communities like Muslims and Dalits.
They, and their family members accuse the state agencies of implicating them in false cases, fabricating "evidence", and trumping up charges.
Accompanied with this is the fact that 41 non-homicide offences in all the central legislations carry the death penalty as the maximum punishment, while there are only 13 homicide-related offences do so.
This is in stark contrast to the US, where its apex court ruled that "awarding" death penalty in non-homicide cases (such as rape) is illegal and unconstitutional.
But India's lawmakers, especially after the December 2012 Delhi gangrape case, have demonstrated a predilection of baying for the blood of those who they feel shake "the collective conscience of society". "To satisfy the collective conscience of society" was the reason the SC sent Afzal Guru to the gallows.
Obfuscation
The researchers recount how difficult it was to gather data and how they had to go take the RTI (Right to Information) Act route, approaching the National Legal Services Authority, and the prison authorities to get to even know the total number of people on death row.
Maharashtra straightaway refused interview access to death row convicts on the plea that all were terror-offences convicts and voicing their opinions could jeopardise national security.
Rampant torture
"Custodial torture and various of intimidation are institutionally demanded, condoned, and legitimised", the report notes.
Read more: Don't want death penalty for rapists, say women's progressive groups
Out of 270 convicts surveyed, 216 alleged that they were brutally tortured in police custody, and their confessional statements extracted under torture, were used to convict and sentence them.
The methods mirrored the Guantanamo Bay torture - forcible anal penetration, waterboarding, sleep deprivation, and tying one to a table while a venomous snake was left inside the room.
False pretexts
Many detainees alleged malicious prosecution and false implication,
Akira Begum (location not disclosed to protect privacy) said that "I left my sleeping son at home because the police called me to sign certain documents. I never got to go home after that." Vatsal Singh narrates how he was called for questioning on an alleged bank robbery charge, and subsequently charged with murdering six members of a family.
Harassment of families
Atmaram, a death row convict from Maharashtra, narrates his woeful plight. After he was arrested on a murder charge, his wife, who was carrying, and his children were picked up (without any legally valid reason) and locked up in a police station for four days and they weren't allowed to communicate with anyone. The experience turned out to be so traumatic that his wife underwent an abortion immediately after being released.
In other cases, prison officials and personnel demand sexual favours from the wives of those condemned to death, in order to grant them their right to a weekly mulaqat.
This gut-wrenching report, which seeks to narrate and portray death row convicts' plight "in the hope that their will end our collective silence" should nudge the establishment and the judiciary. But hopes remain dim.
Edited by Aditya Menon
More in Catch:
By 2050, India may lose 6% of GDP due to water crisis: World Bank
Court-ship of the desert: MP camels to get married in a gala ceremony
Superheroes and comic books say more about America today than any literature. Here's why
Bundelkhand drought: Centre offers 'water train', UP says it's of no use