Currency ban: Common man hit by a slew of troubles, but still happy about move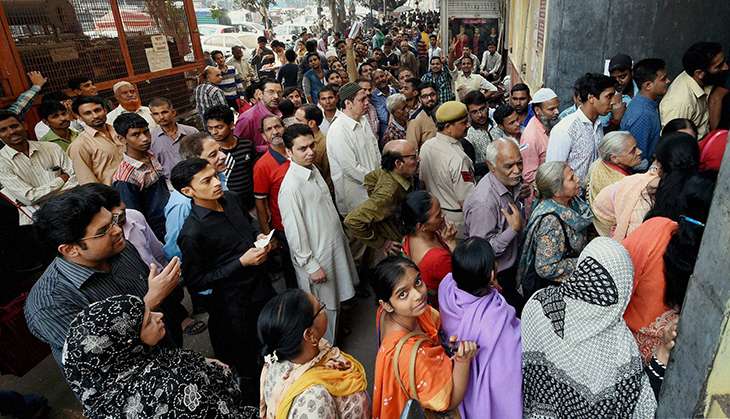 Umakant's daughter is supposed to get married on 3 December. The government's decision to do away with Rs 500 and Rs 1000 currency notes has put all his preparations in jeopardy.
"How will the marriage take place now? I am the sole organiser of the ceremony. I was baffled after coming to know about the government's decision. I want to ask Modiji, is this the way to unearth black money? What am I supposed to do now? I've been standing outside the gate of the bank like a mad person since the morning so that I can deposit all the money meant for marriage expenses and then withdraw it all over again. All the preparations have come to a standstill. Modiji, you just walked away after announcing your diktat. But, how will I marry off my daughter now?"
Also read - Gujarat's old bag of tricks to turn black money into white comes into play
The agony faced by 50-year-old Umakant is being shared by billions of Indians across the country as they line up outside banks to exchange banned notes. Their travails started as soon as Prime Minister Narendra Modi made public his government's move to scrap Rs 500 and Rs 1,000 notes as legal tender in a televised address on the evening of 8 November.
Long queues cropped up outside ATMs within minutes that very night. It was even more chaotic in banks on Thursday. Countless people like Umakant whose lives have been thrown out of gear following the surprise declaration.
Not a one-time transaction
Sunil Kumar, who sells vegetables in one of Delhi's localities, has come under a debt of Rs 20,000 in the past two days.
"I bought vegetables worth Rs 15,000-20,000 on credit from the wholesale market on 8 November. This is in addition to the amount of Rs 5,000-6,000 that I had to borrow for personal expenses. I will have to go to the bank to exchange the notes, leaving behind my shop. People are saying there are long queues there," he laments.
Sunil Kumar is not mistaken as all banks in the capital witnessed an unprecedented rush on Thursday. Some banks only accepted deposits in the morning asking people to come later during the day to get money.
This has caused a lot of trouble to Naresh Kumar. He was hoping to get over his hardships of the past two days and lined up early outside the bank. However, he had to return disappointed.
"Last two days were really difficult. I had planned to exchange the cash available in the home and took leave from work for this purpose. I arrived at the bank at around 7 am. Now, I see a notice asking customers to come later in the day to withdraw money. This has aggravated my problem. First, I will have to wait for my turn to deposit cash and then go through the same painful procedure to get money. It will be dark till then. When will I buy the necessary goods for the home?" Naresh complains.
Despite all his woes, Naresh is all in praise for the government's decision of demonitisation. He hopes it will benefit the country and the people sleeping over the piles of black money would be the real losers.
"I welcome this move. This has caused inconvenience to common people like me. But, think about those who are hiding crores of rupees of illegal cash in their homes. They must have been going mad. Modiji has certainly carried out a surgical strike against them," he says.
Yet, there are several others like Mohit Ali in the city who had to sleep hungry following the decision. A migrant from Bihar, Ali is a daily wage labourer.
"I work throughout the day to eat in the evening. I could not eat anything on Wednesday as nobody was accepting Rs 500 notes. Today, I only had tea and now I am standing outside the bank waiting for my turn. My wife in the village is also worried. She is also finding it difficult to have meals two times. I will somehow manage to get cash by evening. However, she will not be able to receive money anytime soon as the bank is situated far away from my village," Ali says.
More in Catch - Rahul tweets against ban on 500, 1000 rupee notes. But P Chidambaram makes positive noise
Dhan ki baat: Craziest explanations for Modi's black money announcement