Coronavirus: Youth stamped for 'home quarantine' in Mumbai nabbed at Secundarabad railway station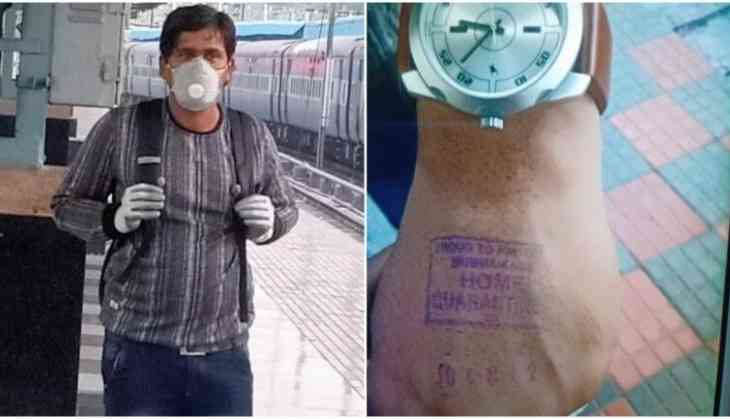 Telangana officials on Sunday caught a youth for journeying regardless of being marked to stay in home quarantine.
The youth was nabbed from the Secunderabad railway station. The stamp on his hands were made by Mumbai officials.
In Mumbai, he was adviced to be in home quarantine for 14 days, and marked on his hand with a seal stating 'home quarantine'.
After Secunderabad officials learnt about the youth, he was examined by doctors on the spot for symptoms of the Covid-19.
People experiencing home quarantine for suspected exposure to the coronavirus will be stamped on the left hand, the Maharashtra govt said on Monday.
In an official notice, the state government stated that the decision was taken at a meeting led by Chief Minister Uddhav Thackeray and was attended by district officials via video conferencing.
In recent weeks, several people have been caught escaping from home quarantine and travelling across the country.
Earlier, a 28-year-old man with a 'home quarantine' stamp was alighted from a Bangalore bound train at Daund station in Pune, a railway official stated.
The man had come to Mumbai from Qatar in the early hours of Saturday, the officials stated.
In the meantime, 15 people with home quarantine stamp were caught in Mumbai's Chhatrapati Shivaji Terminus by railway personnel on Saturday.
They had come to Mumbai from abroad and had been suggested home quarantine which they failed to follow.
Also Read: Punjab: CM Amarinder Singh orders complete lockdown in state to contain spread of coronavirus
Also Read: Coronavirus: 38-year-old Covid-19 patient dies in Patna, death toll in India rises to 7