Centre insists Assam will seal Indo-Bangla border by next June. Can it?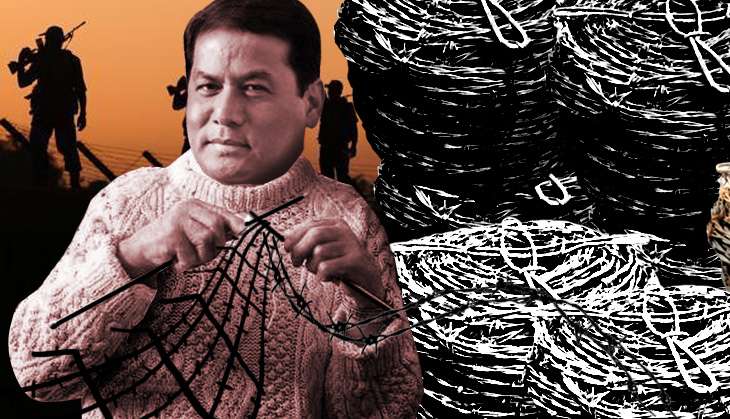 For the umpteenth time, the central government has issued a deadline to seal the India-Bangladesh border in Assam by June next year.
The latest deadline follows from the promise made by the BJP during the campaign for the Lok Sabha election in 2014, as well as the one made by Sarbananda Sonowal before he won the recent assembly polls to become chief minister. Sonowal had assured that all necessary measures would be taken to seal the border and curb illegal immigration into Assam.
On 2 June, the home ministry revealed that 122 "locations" covering 60.7 kms of the border were without physical barriers. And it had been decided that 100 of the locations covering 11.9 kms would be fenced and 22 locations covering 48.8 kms of riverine areas would have "technological barriers". All this would be done by June 2017.
The slew of announcements that were made subsequently to install pontoon bridges, sluice gates, high-resolution cameras, watch towers, static aerial platforms, ground sensors and radars give the impression that a high-tech surveillance mechanism would soon be in place to seal the border.
Catch spoke to serving and retired officials of the Border Security Force, which guards the border, to understand the ground reality and whether the measures announced by the government would make a difference.
Most of the officials welcomed the announcements but lamented that many of their suggestions about making the policing of the border more effective has not yet been accepted by the home ministry.
"The home ministry has been briefed many a time about the long-pending demands of the BSF but no decision has been taken so far. These demands must be accepted if the government is aiming for better management of the Indo-Bangla border," said PK Mishra, former additional DG, BSF.
What are BSF's demands? Helicopters with proper landing facilities, drones, 30 speedboats to patrol the Brahmaputra, uninterrupted fuel supply, another BSF battalion, more personnel for the force's "river wing", and development of border areas.
Mishra's views are echoed by other officials. They have made a case for "virtual fencing" - essentially the installation of high-resolution infrared sensors - in the riverine areas, especially in Mankachar, where the border outposts remain inundated for nearly three months every year. This would be similar to the mechanism put in place along the Indo-Pak border in Punjab.
The officials stressed the need to provide a US-made LORROS - Long Range Reconnaissance System - to every company, a thermal imager to every post and night-vision devices to every patrolling party. Also, they called for giving the personnel proper combat dresses, especially during the monsoon, and ensuring regular power supply to make the floodlights more effective.
No easy task
The home ministry has been apprised about the need to create a 2-km wide "border belt" where Section 144 can be imposed from dawn to dusk. It has also been asked to consider the imposition of curfew in "extremely sensitive" places like Mankachar.

These "solutions" demanded by the BSF aside, there are several hurdles in sealing the border that could prove difficult to overcome in a brief span of time. In Karimganj, for example, fencing of a 3.5-km stretch of the border was halted after Bangladesh lodged a complaint that the fence was erected along the bank of the Kushiara river. The matter has now been referred to the Joint River Commission. The officials were unable to say when the matter would be resolved.

The BSF is also upset over the role of the Assam Police, which is supposed to be deployed 2 km behind the border as a "second line of defence". According to the officials, funds have been regularly sanctioned by the home ministry to the state for this purpose, but it's "doubtful if they have been properly utilised".

The officials explained that the police could be roped in to prevent cattle smuggling, which they claimed has hampered policing of the border. The police could stop the trucks carrying cattle before they reach the border. The BSF had submitted a long list of dos and don'ts for the prevention of cattle smuggling years ago but it has hardly received any attention, the officials complained.

No wonder, many of the officials are doubtful whether the border could be sealed by next June.

"No doubt the measures that have been announced can be implemented ahead of the deadline, but there still would be a great deal of uncertainty if the other factors are not taken into consideration. Complete sealing of the Indo-Bangla border is simply not possible. There are bound to be gaps but the entry routes can be blocked with better infrastructure," said a senior BSF official who did not want to be named.

Interestingly, many of the demands made by the BSF were also listed in an exhaustive report to the central government by former Assam governor SK Sinha in 1998. Suggestions to improve border management - registration of boats in the riverine areas, for example -- have also been made by eminent citizens of Assam for long. But the central and state governments are yet to respond to these recommendations.

Edited by Mehraj D Lone

More in Catch


Challenges for Sonowal: illegal immigration issue tops to-do list in Assam

Assam CM Sarbananda Sonowal urges BSF to seal Indo-Bangla border

Assam assembly polls: Rajnath Singh vows to fence India-Bangladesh border to stop infiltration