Ambedkar's death anniversary: Rohith, Una loom large at Shivaji Park this year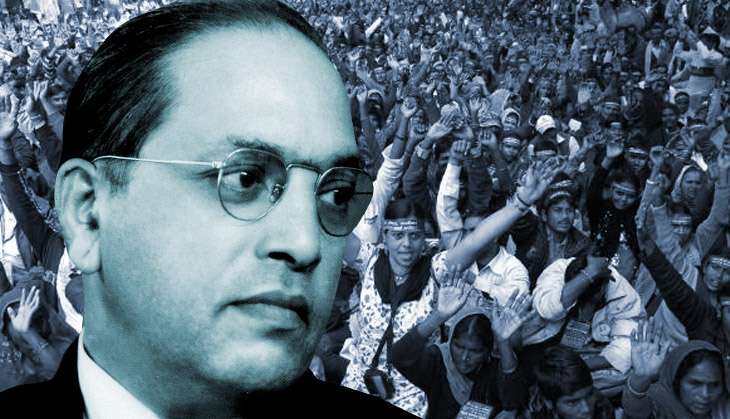 Asha Manovare's two-year-old son is crying incessantly. He slept under the open sky last night and finds himself in the middle of an ocean of people far away from home. Asha is one of the hundreds of thousands who have landed up in Mumbai to mark the 60th death anniversary of one of India's most iconic figures - Bhimrao Ambedkar.
Asha lives in Nagpur - 850 kilometers from Mumbai - and has traveled all the way with her joint family of 10 to pay homage to the architect of the Indian Constitution. "It is important to remember what Babasaheb fought for," she said. "But incidents like Una and Rohith Vemula keep reminding us that the fight is far from over."
Lakhs of people started pouring in at Shivaji Park maidan in Dadar, from where Ambedkar's memorial is just a few hundred meters away. Shivaji Park, spread across 28 acres, is filled with people arriving a couple of days ahead of the death anniversary (6 December).
The civic authorities have made provisions for water, food and public toilets. A vast rectangular pandal has been erected inside the maidan under which some spent their night. Others slept under the open sky in the periphery of the ground. In short, the scene has been identical to what it has been over the years.
Except there is a sense of intensifying persecution that has grown over the past two years among the crowd that has gathered. While Rohith Vemula's suicide and Una agitation appears to have resonated the most, dozens of people even invoked the endemic Maratha protests in Maharashtra that had a palpable anti-Dalit undercurrent.
Along with that, the beef ban, brief banning of Ambedkar Periyar Study Circle (APSC) at IIT Madras and the overall rise of Hindutva has raised the insecurity levels among India's most deprived caste - if the crowd of lakhs at Shivaji Park is any indication.
Rising dissatisfaction
Abasaheb Sawant, 21, who is a third-year science student in Aurangabad, said this is the first time he has come to observe Ambedkar's death anniversary because of the rising intolerance.
"While the oppression of Dalits has transpired for years, the last two years have been particularly vindictive," he said, adding the Hindutva groups targeting minorities and Dalits have gotten bolder over the last two years.
"They have an inherent hatred towards us. And it palpably reflects through Una and Rohith Vemula. Most of the people who are targeted through beef politics come from the lower castes. The ones in Una were doing their job. Considering the amount of attacks across the country, the beef ban seems like a pretext to target minorities and the deprived. The prime minister may not directly be responsible but what about his followers?"
Prakash Kallekavanar, 39, a driver from Hubli, said the fact that students from Dalit community are making their mark in the last few years, has not gone down well with upper castes.
"Rohith Vemula was targeted because he asked uncomfortable questions," he said, as he sat on one the benches on the walking track of Shivaji Park with a sack under his arm. 10 of his village-mates have arrived with him.
"People could not digest his prominence because he came from a particular background. Most of the fields in India are dominated by the upper castes and that seems to be slowly changing with our kids getting educated."
Prakash opines that the RSS-backed forces, who "hold no love for the Dalits", want to negate them. "The RSS is known for its views on reservation," he said.
"With their government in power, they see it as an opportunity to keep their supremacy intact through various organisations under their umbrella including the ABVP."
As the crowds swelled over the past 2-3 days, police cordoned off the lanes leading to Shivaji Park. Police forces managing the crowd and traffic in the bustling Dadar area have undertaken this arduous task, which is a yearly ritual.
After paying their tribute to Ambedkar, people gathered here would return the same night or the next morning to their respective districts and states, only to come back next year with the same zeal.
Deepak Sawant, 39, from Osmanabad unloaded his belongings from a tempo last night as he arrived with a group of 12, which included his wife and friends. He has been an attendee for the last 20 years, he said.
"Today marks 60 years since Babasaheb passed away," he said. "But have we attained the social equality that he dreamt of? Why do we keep coming back year after year? Casteism has not gone anywhere, which is why we leave our jobs and come here to assert the social disparity. By gathering here, we make a statement against oppression and atrocities. And as long as the caste system prevails, the crowds would continue to congregate here and make the statement."