5 mistakes BJP made in Gujarat, and why Modi's visits may not be enough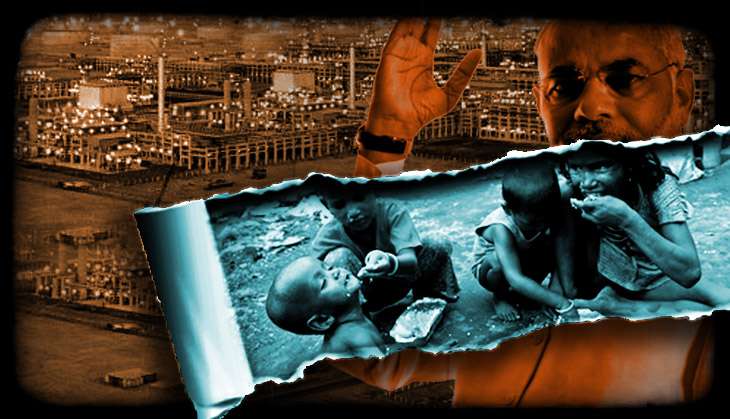 It\'s always good for Prime Ministers to travel, but it\'s better if all areas in the country receive equal attention. However, since the Constitution only expects them to be politically neutral, instead of ordaining it, PMs also tend to act as mascots of their political parties.
This is something that has been common to several Prime Ministers, and Narendra Modi, with his monthly visits to home state Gujarat, is keeping this tradition alive.
His visit to Vadodara on 22 October came just a month after his previous visit to the state on his birthday, 17 September. This is his fourth visit to the state in three months, since Anandiben Patel resigned as Chief Minister in August.
The reason is clear - the BJP is solely dependent on Modi to keep Gujarat in its kitty. After Modi left the state for New Delhi, he left the state leadership divided and weak, which was reflected in Patel\'s resignation midway through her tenure.
The Patidar and Una Dalit agitations further showed that the BJP's grip on the state had loosened significantly. This is also the failure of Modi's fellow Gujarati and party chief Amit Shah, since it was incumbent upon him to successfully manage the party's affairs in the state following the exit of the man hailed by enthusiastic party men as 'Gujarat ka sher'.
The state will go for polls in late 2017, and the BJP is anxious over its floundering position. That's the reason why Modi is touring Gujarat so frequently now, inaugurating projects and deploying other pretexts like seeking his mother's blessings, presiding over world records and distributing equipment for the differently-abled.
The BJP is also possibly threatened by the Aam Aadmi Party, which has been in campaign mode for months. Its convenor and Delhi Chief Minister Arvind Kejriwal's rallies are attracting large crowds.
More than the AAP, the question that will haunt the BJP in the forthcoming polls is what happened to the much-vaunted 'Gujarat model' of development? Many observers have answered this question in the past, but it is pertinent to recall them at this point, because they indicate the gaps that the BJP has failed to fill up before going to town with the 'Gujarat model' story.
Here is a look at five tasks that the BJP has failed to complete in Gujarat:
While Gujarat went about championing industrial growth, it paid little attention to the onerous task of lifting the state's millions out of poverty.
Central Statistical Office estimates clearly pointed out that poverty reduction was very low in Gujarat between 2004-05 and 2011-12, with the state faring worse than the national average and ranking at number 12 among all states.
The poor were hung out to dry by the state government as Modi's ambitious projects took shape, displacing thousands. The Sabarmati Riverfront project in Ahmedabad, for example, caused a great amount of displacement, and it was only after the Gujarat High Court's orders that the city's civic body rehabilitated about 11,000 affected families. However, they were resettled far away, and their livelihoods were lost.
02
Development in social sectors
Chasing the growth story also made the state leave key social sectors like healthcare, education and sanitation behind. The state's malnutrition and infant mortality rates were high, and sex ratio low.
A CAG report highlighted the state's declining sex ratio, proliferating child marriages, ineffective implementation of the Right to Education Act, poor execution of mid-day meals and low pupil-teacher ratio.
The book 'Growth or Development: Which way is Gujarat going?', edited by Indira Hirway, Amita Shah and Ghanshyam Shah, pointed out that Gujarat lagged behind even in terms of availability of drinking water, access to toilets and library facilities.
03
Countering corruption and crony capitalism
Gujarat, under Modi, has been widely accused of providing undue patronage to industrialists, attracting allegations of crony capitalism. In an official statement, Patel, then the state's revenue minister, admitted in March 2012 that about 5,400 hectares of land was given for the Adani Group's SEZ project in the state at unbelievably low prices, ranging from Rs 1 to Rs 32 per square metre.
Another CAG report, tabled in the Gujarat Assembly in July 2014, accused the state government of granting 'undue benefits' to the extent of Rs 1,500 crore to the Reliance and Essar groups as well, apart from Adani.
Economists have also shown that while employment remained almost stagnant, the quality of jobs fell because of 'informalisation' of labour. Wage rates went up only by a trifle.
While Modi has always said with great pride that he delivered a high agricultural growth rate for the state, many have doubted the narrative.
Suicides by thousands employed in agriculture in Gujarat have been reported by the National Crime Records Bureau.
The book referred to above also claims that the benefits of agricultural growth have not reached the poorer regions, marginal cultivators and farm labourers.
Edited by Shreyas Sharma
More in Catch
BJP flustered as Kejriwal visits Patels, Dalits and Muslims in Gujarat
Trolling the BJP: Gujarat's Dalits take to social media after Una incident
Hardik Swagat? Congress woos Patels to trump BJP in Gujarat