Catch Team
| Updated on: 11 February 2017, 5:48 IST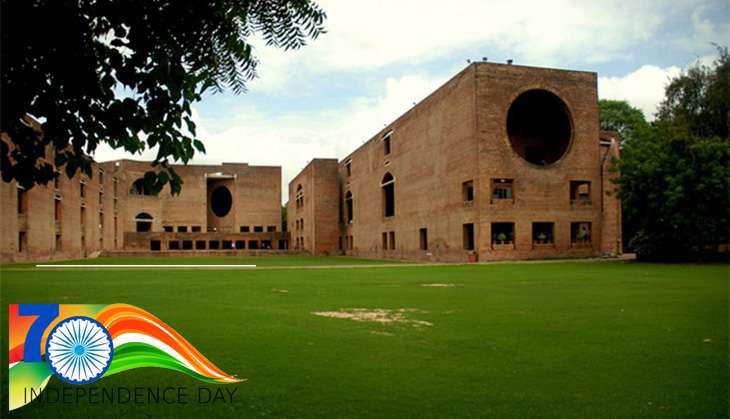 A few days from now India will celebrate its seventieth Independence Day. It\'s been a journey that\'s proven as long as it has been arduous. The desires, dreams and aspirations of a people have evolved drastically since Jawaharlal Nehru first flagged off the country\'s tryst with destiny. Along this journey, a bunch of institutions have played a crucial role, acting as incubators of ideas, initiatives and skill. These are institutes that have moulded the vision and ability of an entire nation and nurtured the minds of those who\'ve gone on to contribute immensely in various measures to the progress of independent India. Here\'s looking at some of those institutions, built after Independence, which have steered India ably towards a brighter future:
01
Jawaharlal Nehru University
Founded - 1969
With an ecosystem of fiesty politics and exceptional academic work, JNU has consistently produced a plethora of notable personalities from former prime ministers to journalists and activists.
File photo
02
Indian Institutes of Technology
Founded - 1950
It's not for nothing that IITs have been accorded the status of 'institutes of national importance.' For generations who've aspired to make it big in the domain of engineering, IITs have been the ultimate platform. The first ever IIT was built in Kharagpur in 1951, and, since then, a lot more have been established - most prominent among them being the IITs at Roorkee, Delhi, Kanpur and Bombay. From Narayana Murthy of Infosys fame to the founders of some of India's most popular start-ups now (the Bansals of Flipkart for example) - the IITs have produced some of India's - and arguably the
world's - best engineers.
03
Indian Institutes of Management
Founded - 1961
What engineering is to IITs, a stellar management education is to IIMs. The first ever IIM came into being in 1961 and since then eighteen more have been established. In fact, the inception of IIMs was an initiative of the first Prime Minister of India, Jawaharlal Nehru, based on the recommendation of the then Planning Commission.
File Photo
04
All India Institute of Medical Sciences
Founded - 1956
Formed in 1956, AIIMS has been consistently ranked as the number one medical college in India. Initially, the plan was to build AIIMS in Calcutta but the proposal was turned down by the then Chief Minister of West Bengal, BC Roy. From minimally invasive surgery training centre to IVF facilities, AIIMS has been at the helm of a number of seminal medical projects in India.
File Photo
05
National School of Drama
Founded - 1959
India's premier institute for learning the craft of theatre, NSD has produced a slew of eminent personalities. Some of India's best contemporary actors have been through NSD's much sought after programme. The doyen of Indian theatre, Ebrahim Alkazi was NSD's most popular and larger-than life director.
File Photo
06
Film and Television Institute of India
Founded - 1960
One of India's best film schools, the FTII has had a long and illustrious history. Some of the country's iconic filmmaker's have been students at FTII. Past presidents of the FTII society include big names such as Mrinal Sen, Adoor Gopalakrishnan, Saeed Mirza and many others. The alumni list is equally long and impressive with names like John Abraham, Jahnu Baruah, Mani Kaul and a host of other names.
File Photo
07
National Centre for the Performing Arts
Founded - 1969
In the Indian cultural space, NCPA stands out quite prominently. Established by JRD Tata and Jamshed Bhabha, the NCPA is a multi-purpose, multi-cultural institution that has actively promoted the arts since its inception.
File Photo
08
National Institute of Fashion Technology
Founded - 1986
The country's best fashion institute, NIFT is where most of the famous Indian designers have come from. From Sabyasachi Mukherjee, Ritu Beri to Manish Arora, all the style sector's biggies are NIFT pass outs.
File Photo
09
National Institute of Design
Founded - 1961
One of the country's foremost design institutes, the Ahmedabad-based NID is an autonomous body under the Department of Industrial Policy and Promotion, Ministry of Commerce and Industry. In fact in 2010, Business Week put NID in its list of top design schools in the world. NID has a pretty long list of eminent alumni including people like
Dibakar Banerjee, Orijit Sen, Dayanita Singh and others.
File Photo
10
Indian Space Research Organisation
Founded - 1969
India's official space agency was established on an auspicious day as well - 15 August. And in a relatively short span of time, it has achieved significant milestones. ISRO developed Aryabhata - India's first satellite - and it was launched back in 1975 by the Soviet Union. ISRO has successfully developed rockets - be it the Polar Satellite Launch Vehicle (PSLV) or the Geosynchronous Satellite Launch Vehicle (GSLV), and it's also come up with an Indian counter to the American GPS with Indian Regional Navigation Satellite System (IRNSS) in 2016.
11
Bhaba Atomic Research Centre
Founded - 1954
The country's premier nuclear research facility, based out of Trombay, Mumbai, it was initially labelled Atomic Energy Establishment. After Homi Bhabha's death in 1966, the name was changed. Besides its core research work - and operating nuclear reactors in many regions of the country, BARC also conducts civilian research.
File Photo
12
Central Drug Research Institute
Founded - 1951
One of the first laboratories to be established in India post-Independence, Lucknow-based CDRI has been a prestigious multidisciplinary research facility in the field of biomedical sciences. Formally inaugurated by Jawaharlal Nehru, it's one of the earliest institutions to delve into then niche segments like toxicology and parasitology.
13
National Institute of Mental Health and Neuroscience (NIMHANS)
Founded - 1974
One of the country's earliest and arguably the best institution that focuses on mental health research. Located in Bengaluru, NIMHANS was given a deemed university status by the UGC in 1994 and has also been declared an Institute of National Importance by an act of parliament in 2012.
File Photo
14
Wildlife Institute of India
Founded - 1982
Now acclaimed globally for its work, WII is based out of Dehradun and offers courses and scope for academic work in wildlife research and management -- one of the few institutions in India to do so.
15
National Institute of Advanced Studies
Founded - 1988
Another eminent institution in the fields of natural sciences, social sciences, arts and humanities is NIAS. Founded by JRD Tata, this interdisciplinary research organisation has had a number of notable personalities as its faculty including Homi Bhabha, Dr Raja Ramanna and CNR Rao.
File Photo