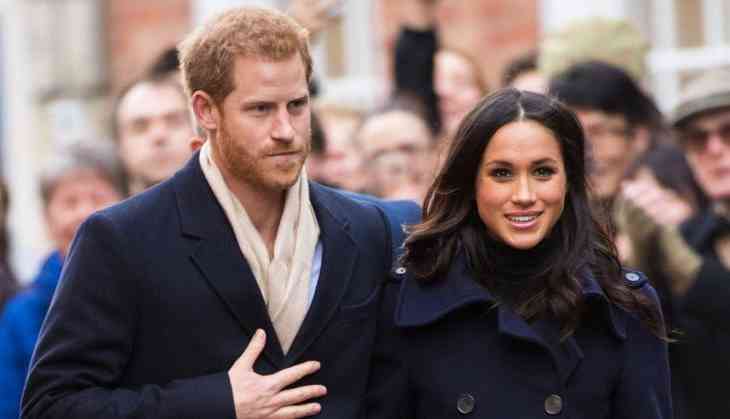 The royal couple Prince Harry and Meghan Markle announced their weeding guest list a few days back. The royal wedding will take place at Windsor Castle on May, 19 and they have invited 2,640 people to the wedding. The couple wanted to include public in their wedding.
In a new guest list, Kensington Palace have disclosed the names of the members from the publich who have recieved an invitation to the royal wedding.
The couple has invited 1,200 people from across the UK who have been selected by regional Lord Lieutenant offices. Also, the couple decided that the group should have people from all sorts of background and different age group. The couple emphasised on inviting young people who have "shown strong leadership and those who have served their communities".
On Tuesday, Kensington Palace disclosed the names of people from public on Twitter:
Also Read: In photos: Khloé Kardashian adorable baby bum and allows Tristan Thompson in the delivery room
Philip Gillespie from Ballymena who lost his right leg in an IED incident in Afghanistan and works to raise funds and awareness for ABF The Soldiers' Charity. pic.twitter.com/WadD7gRpRq

— Kensington Palace (@KensingtonRoyal) April 10, 2018
Pamela Anomneze from Haringey. Pamela is the manager of Studio 306 Collective CIC, a social enterprise that helps those recovering from mental health issues through the creative arts. pic.twitter.com/gSNTcRt9SO

— Kensington Palace (@KensingtonRoyal) April 10, 2018
Reuben Litherland from Derby. Reuben was born deaf and has started lunchtime lessons to teach sign language at school. pic.twitter.com/bpUUO0rIKL

— Kensington Palace (@KensingtonRoyal) April 10, 2018
Amy Wright from Annan. Amy is Chair of Board of Directors for the Usual Place café in Dumfries, which provides employment training and support for young people aged 16-25 with special needs. pic.twitter.com/ATZrolP2cV

— Kensington Palace (@KensingtonRoyal) April 10, 2018
The 1,200 guests includes 200 representatives from charities the royal couple have a close association with have been invited into the enclosure. The other 100 pupils from local schools in Windsor, 610 Windsor Castle community members and 530 members of the royal households and crown estate.
For the actual ceremony, 600 people have been invited to attend the service at St George's Chapel and a lunchtime reception given by the Queen at St George's Hall. In the evening, 200 of the couple's closest friends and family will carry on the celebrations at a private reception given by Prince Charles at Frogmore House.
Also Read: Top 10 luxurious hotels designed by famous fashion designers in the world