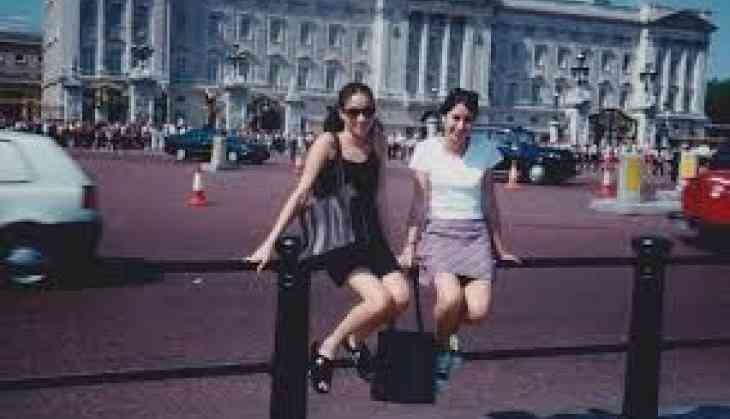 Meghan Markle's royal wedding with Prince Harry was no less than a fairytale. After their wedding, everyone shared their pictures on social media and withing few hours the internet was flooded with royal couple's pictures.

Do you want to see the Duchess of Sussex, Meghan Markle posing outside Buckingham Palace? The picture has caught huge attention of people on social media.

On Saturday, Prince Harry exchanged vows with Meghan Markle at St George's Chapel at Windsor Castle in England. People watched Meghan walk down the aisle with Prince Charles, people talked about the royal couple's first kiss and how Prince Harry wiped away his tears after Meghan arrived.
#royalwedding
Meghan Markle took a picture outside of Buckingham palace as a fan and tourist when she was 15 and today she became part of Royal family. You never know where your destiny is .🌍 pic.twitter.com/wYaQdU5rsg

— 几卂丂丨尺 卩乇尺ᐯ乇乙 (@elegantnasir) May 20, 2018
A lot of pictures from the wedding were being shared on social media, one, not of the event, but from before has caught the attention of people on social media. In the picture, a very young Markle can be seen hanging out with her friend as a tourist outside Buckingham Palace.

According to a report in The Daily Mail, the picture was taken during a European summer trip in 1996 where the Duchess of Sussex was with her friend Ninaki Priddy. It resurfaced on social media after her engagement with Prince Harry was announced. And it is all over the social media yet again as people are gushing over how far Meghan has come and some dreams do come true.
Also Read: Meghan Markle's mom Doria Ragland also wore Stella McCartney dress for the wedding reception
Destiny... somethings are just meant to be. ❤️ #RoyalWedding pic.twitter.com/6EIPwKg7Kn

— Zsuzsa (@Zsuzsa0601) May 20, 2018
You never know what life has planned for you #RoyalWedding pic.twitter.com/F6qTkHogHN

— GirlReligion (@girlreligionco) May 20, 2018
When she was 15 posing outside the Buckingham Palace didn't knew after 22 years later she will marry the Prince. 🤴👸 #RoyalWedding pic.twitter.com/Y0sJEOB0jP

— R.N.Yousuf (@RNYousuf) May 20, 2018
Imagine if prince Harry was inside when this photo was taken and his future wife is outside. This would make a good movie.

— kaloshilo (@kaloshilo) May 20, 2018
Fairy tale story

— Kwon dans (@KwonDans) May 20, 2018
Destiny can never be denied. I am still feeling the joy in my spines.

— Yunusa Agunbiade (@adewng) May 20, 2018
if you then
didn't you don't
love me deserve me
at my at my pic.twitter.com/RuULvwAuEM

— 🌹 (@smashingaces13) May 19, 2018
A lot of people shared the picture and wrote, "Meghan Markle took a picture outside of Buckingham palace as a fan and tourist when she was 15 and today she became part of Royal family. You never know where your destiny is," another wrote, "When she was 15 posing outside the Buckingham Palace didn't knew after 22 years later she will marry the Prince." Some even commented how it was a "fairy tale story", another wrote, "Destiny can never be denied. I am still feeling the joy in my spines."
Also Read: Watch Royal Wedding: Prince Harry and Meghan Markle kiss on St. George's Chapel steps