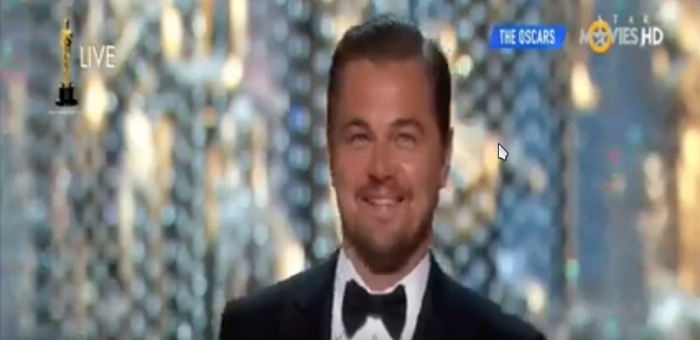 Leonardo DiCaprio won the Academy Award for Best Actor for his portrayal of Hugh Glass, in the gritty Alejandro Gonzalez Inarritu film, The Revenant.
Not only did his performance in The Revenant break his 25-year-long jinx at the Academy Awards, but has helped establish him as Hollywood's most successful actor of the year - he bagged the Golden Globe and the BAFTA for the award - the golden treble of the film awards.
It took him 25 years to bag an Oscar. Over the years, his performances have received both critical and commercial acclaim, with both fans and fellow actors alleging that the Academy had failed to give Leonardo his due.
After having done a number of advertisements as a child star, Leo, as he is fondly called, made his big Hollywood debut in 1991 with Critters 3.
He made waves with his portrayal of a differently-abled teenager in the critically acclaimed What's Eating Gilbert Grape opposite Johnny Depp in 1993.
Countless jokes and memes later, Leonardo has done the unthinkable, and finally got to hear his name at the end of the sentence.. "The Oscar for Best Actor goes to..."
But when he took the stage to accept his award, he chose to speak about a cause that is close to his heart - environmental conservation. Watch his speech here:
Ignored by the Academy, hailed by the rest
He has received a whopping 161 nominations over the years - including Academy Award nominations for What's Eating Gilbert Grape, The Aviator, Blood Diamond and the Wolf of Wall Street, and one for production.
Among Leo's list of impressive wins are a BAFTA award, two Critics' Choice Awards, three Golden Globes, two Australian Academy of Cinema and Television Arts Awards for Best Actor, one award from the Alliance of Women Film Journalists, one from the Berlin International Film Festival, among others.
When he was nominated for Best Actor by the Academy, he had said: "I am so grateful to the Academy for their recognition of this film. Making 'The Revenant' was one of the most rewarding and collaborative experiences of my life".