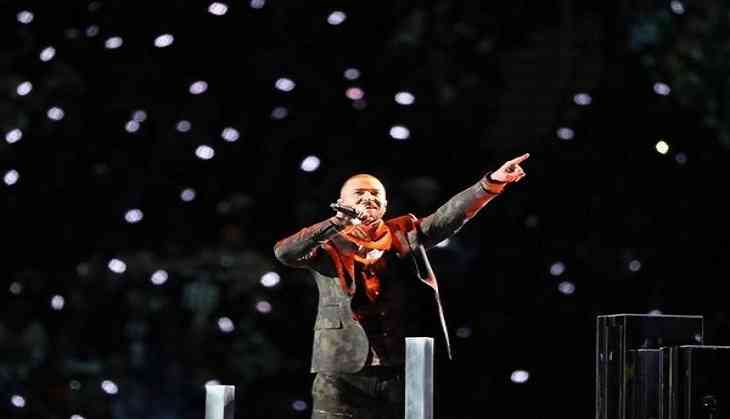 Justin Timberlake honoured the late Minnesota native Prince during his Super Bowl halftime show.
"Minneapolis, Minnesota, this one's for you," the 37-year-old said before paying a tribute to Prince, who was born in the city and continued to have deep ties there throughout his life, before dying in his Minnesota home on April 7, 2016.
The 'Man Of The Woods' entertainer sang alongside a large projection of Prince, singing his classic 'I Would Die 4 U.'
View image on Twitter
'Minneapolis, Minnesota, this one's for you.' pic.twitter.com/1L0RJMJOgY

— Super Bowl on NBC (@SNFonNBC) February 5, 2018
The performance, however, stumped some fans who had criticised Timberlake for reportedly considering the use of a hologram to show Prince performing during the tribute.
The reports had incited mixed responses, including rejection from Prince's former collaborator Sheila E.
"Prince told me don't ever let anyone do a hologram of me. Not cool if this happens!" she tweeted on Saturday ahead of the show. However, she later clarified, tweeting, "Family, I spoke w/Justin 2nite and he shared heartfelt words of respect for Prince & the Purple fans. I look 4wrd 2 seeing what I'm sure is going 2 be a spectacular halftime show. There is no hologram."
Still, the tribute with a video of Prince performing as Timberlake sang along and played piano upset some viewers, who expressed their disappointment on Twitter.
"I wish #Prince had written a will. All of this could've been avoided," one fan tweeted. "Honoring Prince is a good thing. Disrespecting his wishes and using his image anyway is damned disrespectful," wrote another user.
I wish #Prince had written a will. All of this could've been avoided

— Stephanie. (@qsteph) February 5, 2018
-ANI