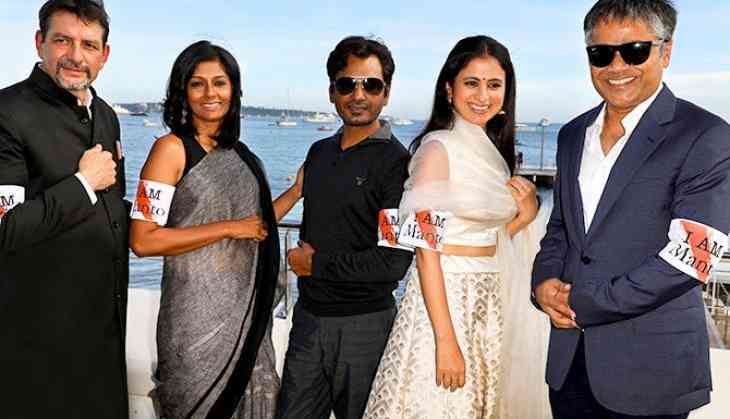 Saadat Hasan Manto's biopic, starring Nawazuddin Siddiqui and directed by Nandita Das was premiered at Cannes Film Festival. The much awaited film was praised by the audience and people congratulated the entire team behind the biopic.

Saadat Hasan Manto was a creative writer who faced trial for obscenity several times in India and Pakistan. In 1947, he faced trials three times in Pakistan for 'KholDo,' 'Thanda Gosht,' and 'Upar Neeche Darmiyaan' under section 292 of the Indian Penal Code and the Pakistan Penal Code

Nandita Das's directorial Manto, is official selection of the 71st Cannes Film Festival was premiered today in a packed Salle Debussy. Around Twenty-three members of the cast and production team took the stage. Festival's general delegate Thierry Fremaux introduced the director and cast of the movie.
Also Read: Cannes 2018: Mahira Khan is melting our hearts with her elegant outfits at French Riviera
World premiere of #Manto at @Festival_Cannes. What a moment! @Nawazuddin_S @nanditadas @RasikaDugal @TahirRajBhasin @Viacom18Movies @HP #Filmstoc @SameerDixxit @jatishvarma #Manto pic.twitter.com/SPZbiVaS64

— Manto Film (@mantofilm) May 13, 2018
Some #Manto moments all the way from @Festival_Cannes. @Nawazuddin_S @nanditadas @AndhareAjit @RasikaDugal @TahirRajBhasin @mantagoyal @HP pic.twitter.com/xpB75cRV5j

— Manto Film (@mantofilm) May 13, 2018
"It's India," Das quipped. "Yes, it's India," Thierry said in response. "Manto is set in the 1940s and 1950s, but it is about what is happening (on the subcontinent) today," the director said.

"Cannes is like home, and it is great to have my second film premiere here," she said. Among the audience, a noted painter Jatin Das was present said, "My films are rooted in a milieu but I do not seek to explain everything. If you are true to the emotions you are dealing with, a film connects instantly with the audience."
With our lovely cast #mantothefilm @Viacom18Movies pic.twitter.com/gjFV5FU9mo

— Ajit Andhare (@AndhareAjit) May 13, 2018
COO @AndhareAjit representing @Viacom18Movies at @Festival_Cannes yet again with @mantofilm. #Manto #Cannes2018 pic.twitter.com/qtSjTdUC1V

— Viacom18 Movies (@Viacom18Movies) May 13, 2018
All set for the Red Carpet at #FestivalDeCannes
Thank You @ManishMalhotra pic.twitter.com/oztM5vxTng

— Nawazuddin Siddiqui (@Nawazuddin_S) May 13, 2018
We've finally found the book fairy! @Nawazuddin_S #Manto #Cannes2018 pic.twitter.com/XWZ0A9ANA8

— Manto Film (@mantofilm) May 13, 2018
#NationalAward winning actress @divyadutta25 attended the premiere of her film #Manto, dressed elegantly in a white and gold #NeetaLulla saree. @Nanditadas @Nawazuddin_S #CannesFilmFestival2018 #DivyaDutta pic.twitter.com/0zErFpX0zl

— Urban Asian (@UrbanAsian) May 13, 2018
four of us @mantagoyal @divyadutta25 @RasikaDugal here. Many more descending today. #manto contingent will be in full force. More than 20 of us!! So happy to be able to share the excitement. Nervousness will be mine alone! pic.twitter.com/GbM1q1SWaU

— Nandita Das (@nanditadas) May 13, 2018
"People across the world are fearful of all the unsettling developments around them. That is why Manto's writings are as relevant today as they were back in his time," Das said.

Nandita said, "Initially, the script spanned a ten-year period from 1942 to 1952. In the film, that has eventually been whittled down to four years."

"I do films as a means to an end. It is better to get your point across through the means of a film rather than engage with trolls on social media and in the real world," she said.
Also Read: Triple Frontier's actor Charlie Hunnam and Garrett Hedlund goes shirtless for their run in Hawaii