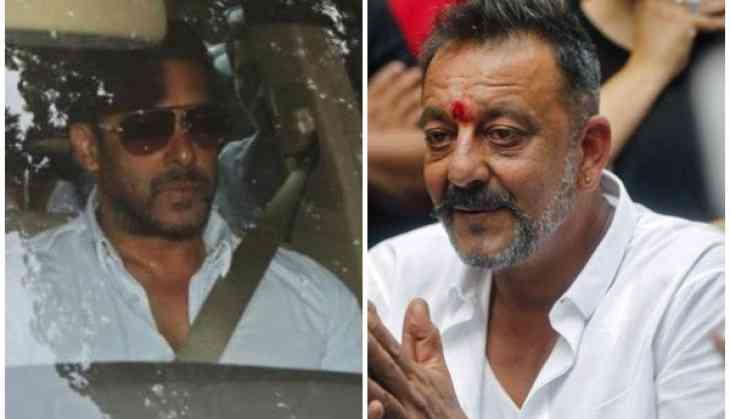 A-listers have, time and again, found themselves involved in notorious acts, brazen scuffles and criminal cases.
From Salman Khan to Sanjay Dutt to Jeetendra, a number of celebs, over the years, hit the headlines for defying laws.
Let's take a look at these Bollywood celebrities with criminal records.
-Salman Khan
Two separate cases were registered against Salman in 1998 under Section 51 of the Wildlife Protection Act after he allegedly poached three chinkaras - two in Bhawad village, and one in Mathania (Ghoda Farm) during the shooting of the film 'Hum Saath Saath Hain'. Along with him, Saif Ali Khan, Neelam, Tabu, Sonali Bendre and Dushyant Singh are also named in the case.
In October 1998, Khan was charged with possessing an unlicensed 0.22 rifle and a 0.32 revolver and using them to poach two black bucks at Jodhpur's Kankani village.
The 'Sultan' star was accused of running his car over a group of people sleeping on a sidewalk outside a bakery in Mumbai's Bandra, in the wee hours September 28, 2002.
-Jeetendra
The veteran actor, in January, was booked by the Shimla Police after his cousin lodged a complaint accusing him of sexual assault.
Bhubaneswar's Lingaraj Temple authorities, in March 2018, filed a complaint against the actor, accusing her of shooting for an advertisement in the 'no camera zone' inside the temple premises.
-Nawazzudin Siddiqui
Nawazuddin Siddiqui, in March 2018, was accused of spying on his estranged wife and acquiring her call detail records (CDR).
-Sanjay Dutt
Sanjay Dutt was convicted of illegal weapons possession in a case linked to the 1993 serial blasts that killed 257 people in Mumbai.
Shah Rukh Khan was booked for allegedly 'rioting' and 'damaging' railway property during the promotion of his film 'Raees' at Kota Railway station.
In 2002, he was caught on camera misbehaving with Mumbai Cricket Association officials and manhandling a security personnel at the Wankhede Stadium.
-Sooraj Pancholi
Sooraj Pancholi, the son of Bollywood couple Aditya Pancholi and Zarina Wahab, has been accused of abetting the suicide of actress Jiah Khan.
-Shiney Ahuja/ Madhur Bhandarkar
Shiney Ahuja was convicted and jailed for raping his maid. Mumbai-based model Preeti Jain had filed a rape case against film-maker Madhur Bhandarkar in 2004. However, Jain, in 2007, was found guilty of conspiring to kill Bhandarkar by a Session Court.
-Govinda
Govinda was charged with slapping a visitor on the sets of his film 'Money Hai Toh Honey Hai.' The 2008-slapping case was closed by the Supreme Court in 2017.
-Rahul Bhatt
Filmmaker Mahesh Bhatt's son Rahul Bhatt's proximity to 26/11 conspirator David Headley brought him under the scanner of anti-terror agencies.
--ANI