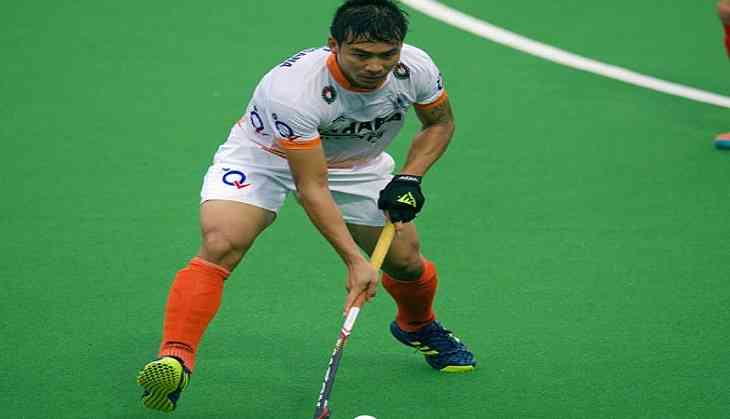 Indian men's hockey team midfielder Chinglensana Singh Kangujam completed the milestone of playing 150 international matches during his country's 1-3 defeat against Belgium in the second match of the ongoing European tour here on Friday.
Manipur-born Kangujam, who made his international debut in the 2011 Champions Challenge in South Africa, has been a regular member of the national side.
He has also been a part of some of the team's most memorable feats such as the silver medal at the 2014 Commonwealth Games in Glasgow, a gold medal at the 2014 Asian Games in Incheon, a historic silver medal at the 36th FIH Champions Trophy in London last year as well as the gold medal in the Asian Champions Trophy in 2016.
As a midfielder, 25-year-old Chinglensana is fast with the ability to set off aggressively inside the opponents half, creating a chance for the Indians to breakout. He is often entrusted with the role of a stopper when Harmanpreet Singh or Rupinder Pal Singh attempts a drag-flick to convert a penalty corner.
Mohd. Mushtaque Ahmad, Secretary General, Hockey India, congratulated Chinglensana on his 150th international appearance.
"Chinglensana is a vital cog in the Indian team who silently holds fort in the midfield. Though he sports a smile at most times (off the field), he can be quite lethal on the field. He has been part of India's great wins in recent times and most importantly guides and motivates new comers in the team. I wish him the very best as he continues to serve the Indian Men's team with utmost commitment. I am sure he has with his performances inspired a new generation of players not just from the North East but from across the nation."
-ANI