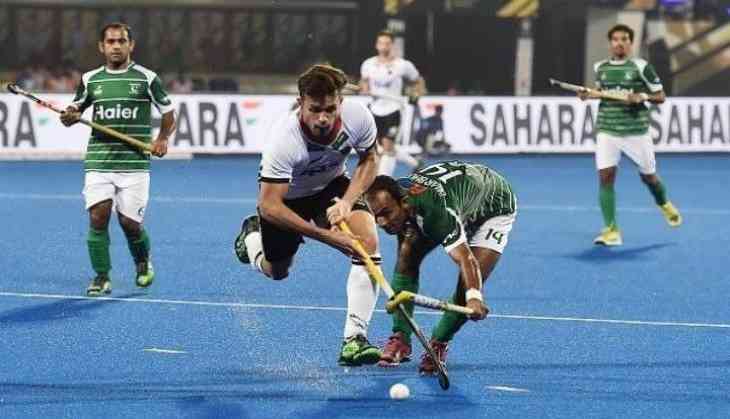 Malaysia and Pakistan shared honours as they played out a 1-1 draw in the ongoing Men's Hockey World Cup here at Kalinga Stadium on Wednesday.
Muhammad Atiq's 49th minute goal for Pakistan was cancelled out by Faizal Saari's drag-flick in the 55th minute of the match.
In the first quarter, Malaysia won two penalty corners in a row, but the first one was blocked by the runner. As the Malaysian side went for the second shot from the right edge of the circle, Pakistan's goalkeeper Imran Butt positioned himself to stop the flick. In the fourth minute, Pakistan too won a corner at the other end but Aleem Bilal's drag-flick was blocked by Malaysian goalkeeper Kumar Subramaniam. In the 15th minute, Muhammad Irfan tried to enter the Malaysian circle from the right side, but he got hounded by four Malaysian defenders.
The Malaysian side seemed more committed in its defence, while its forwards looked at winning a penalty corner. However, both the sides remained unable to break the deadlock at the end of the second quarter.
In the third quarter, Pakistan got the ball into the centre from a right-wing cross from Abu Bakar, but was unable to threaten Kumar Subramiam. In the 44th minute, Mubashar Ali helped to clear the lines, but Pakistan could not build from it.
Malaysia obtained a good chance after making inroads from left to right, but Imran Butt was positioned at the right place, who dismissed Pakistan's hope. In the 51st minute, Muhammad Atiq broke the deadlock for Pakistan. He received a pass from Muhammad Rizwan Sr. from outside the penalty area and created space on the right to shoot the ball past Kumar Subramiam at the far post. However, to level the things, Malaysia's Faizal Saari placed his drag-flick into the top left corner of the goal to end the match in a 1-1 draw.
Malaysia are slated to meet Germany, while Pakistan will lock horns with the Netherlands in their final Pool D fixture on December 5.
-ANI