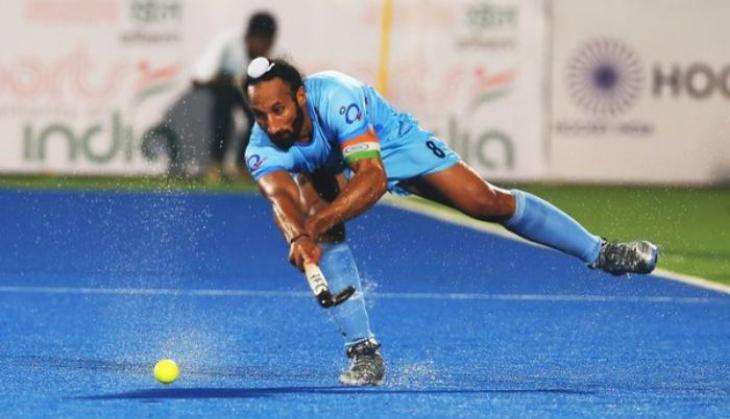 Indian men's hockey team captain Sardar Singh, who has been rested for the ongoing FIH Champions Trophy, has expressed his satisfaction over his side's performance in the tournament so far, insisting that a spirited show against Australia in the finale will boost the team's morale ahead of the Rio Olympics starting in August.
"Australia has brought their full team to the tournament and a good show against them will make a huge difference to the team's morale in the lead up to the Olympics," said Sardar Singh.
According to Singh, the Sreejesh-led squad has delivered on what was expected of them for the tournament and have implemented the tactics they planned here at the national camp in SAI, South Centre.
"This is the first time I'm watching my team on TV and this has helped me in analysing our game. I am happy every player has carried out their responsibilities. Though the match against South Korea was very close, it was an important win and a late field goal by Nikkin was impeccable.
A win against Germany would have been brilliant too as they have brought their core team that will play at the Olympics. But a draw against them is a very good result too considering they are the defending Olympic gold medallists," added the India skipper, who will join the team for the Six Nations Invitational Tournament in Valencia, Spain.
Against Australia in the finale in London on Friday, the key would be to stop them from scoring early goals. "The crucial thing against Australia is to hold our nerve till the last minute of the match," feels Sardar.
Quick details on when, where and how to watch the India vs Australia, Champions Trophy final LIVE:
When: 00:45 AM (Saturday)
Where: Star Sports 2 and Star Sports HD 2 (it can also be streamed on their website)
Earlier in the day, Belgium take on Korea in the 5th-6th place match at 8.15 PM followed by Germany against Great Britain for the bronze medal match at 10.30 PM.