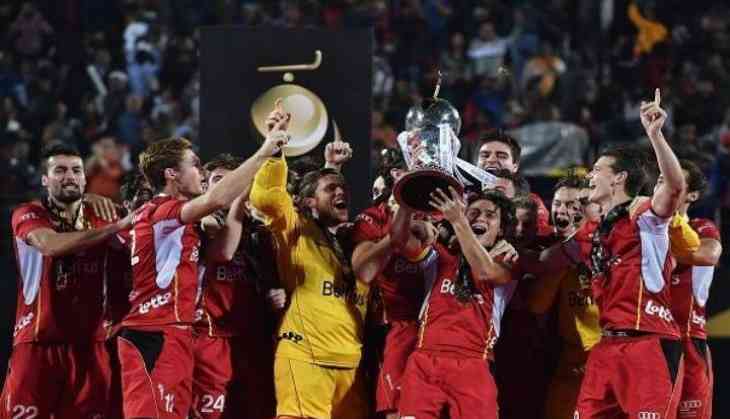 Belgium pipped the Netherlands via a penalty shootout to lift their maiden title of the Men's Hockey World Cup 2018 at the Kalinga Stadium here on Sunday.
During the gruelling four quarters, the two teams played an aggressive brand of hockey, with both of them attempting to up the ante and take the match ahead. However, none of the teams opened their accounts and in the end, with the scoreline at 0-0, the game went into the shootout.
Belgium's Arthur Van Doren and Felix Denayer missed their respective marks, while Jeroen Hertzberger of the Netherlands scored the first goal to keep the momentum going for the 'Oranje' team.
Florent van Aubel and Victor Wegnez finally opened Belgium's account by striking two successive goals, while Jonas De Geus scored the second goal for the Netherlands to keep the game well poised. Belgian striker De Sloover, too, could not score the third goal for Belgium, leaving the two teams locked at 2-2.
Dutch strikers Mirco Pruyser, Seve van Ass, and Thijs Van Dam failed to give the team the undue advantage as they buckled under pressure from a resurgent Belgium. In the decisive moment, Hertzberger, who scored the first goal for the 'Oranje' failed for the second time, while van Aubel struck for the second time, triggering wild celebrations in the Belgian camp.
With this victory, Belgium took the gold medal, while the Netherlands settled for silver.
The nearly sold-out crowd were in for a treat as Master Blaster and former Indian batsman Sachin Tendulkar attended the finals of the prestigious tournament.
Earlier today, Australia registered a thumping 8-1 win over England to bag the bronze medal in the third group match of the tournament.
-ANI