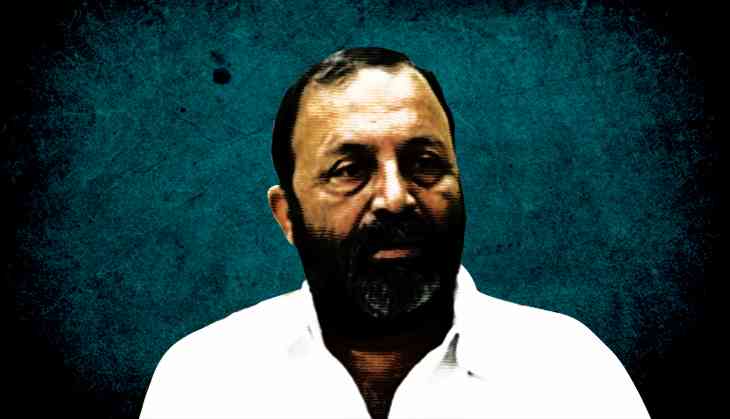 (Arya Sharma / Catch News)
There are rumours in Saurashtra, particularly in the Patidar community, that Vitthalbhai Radadiya has died of illness but his family and the Bharatiya Janata Party (BJP) are keeping it under wraps for some reason. Radadiya won the Porbandar seat for the BJP in the 2014 General Election.
"He died six days ago," said several voters in Radadiya's bastion Dhoraji as well as in Jetpur, his son Jayesh Radadiya's seat.
Radadiya was reportedly admitted to Ahmedabad's Zydus hospital on 10 November. A report three days later said he was seriously ill.
Since then, there has been no news from the family, the party or even the hospital, making people fear the worst.
Drawing parallels with AIADMK leader Jayalalithaa and Shiv Sena supremo Bal Thackeray, several Patidar voters have drawn a conspiracy theory that his death is being kept a secret so that it can be disclosed at an "opportune" time.
Dhoraji's strongman
The conspiracy theory is indeed cruel. But it does highlight Radadiya's importance in the region. A Leuva Patel strongman, Radadiya's stranglehold over the predominantly rural Dhoraji seat in Rajkot hasn't broken for nearly three decades.
An erstwhile part of the Gondal princely state, one can see remnants of Saurashtra's feudal past in Dhoraji's architecture, ethos and political culture. Radadiya embodies this semi-feudal political culture. The locals see him as a benefactor, who helps people in distress and settles disputes between communities.
"There were tensions between Rajputs and Patels in a few villages. Vitthalbhai Radadiya settled the dispute. Now both communities come to him for help and have become his supporters," Jamanbhai, an elderly Patidar, said, building a Godfather-like image for Radadiya. "He put the Rajputs in their place," Jamanbhai, later adds with a smile.
Apparently, Radadiya is also generous in his help to the Muslims and Dalits in the area. People say he often gives donations to some of the Dargahs in the area. Dhoraji is a major centre for Sufism in Gujarat with several Dargahs like Sakhi Sarkar, being located here.
The flipside of Radadiya's Godfather-like image is that he is a law unto himself and this often gets him into controversies. In 2012, he was caught on camera brandishing a gun to threaten a toll both operator near Vadodara.
His tryst with getting caught on camera didn't end there. Last year, he was seen kicking an elderly man at a religious function.
"Radadiya's influence isn't dependent on which party he is in. It is his own popularity," Hitesh, a Patidar Anamat Andolan Samiti (PAAS) volunteer says.
He first won the seat in 1990 on a BJP ticket. He won again in 1995 but left the party with Shankarsinh Vaghela. He won on a Rashtriya Janata Party ticket in 1998 and joined the Congress along with the veteran leader. He won three elections while in the Congress, before returning to the BJP in 2013.
His son Jayesh Radadiya is the youngest minister in Vijay Rupani's Cabinet and is contesting from the neighbouring Jetpur seat.
PAAS threat
Radadiya's influence in the area is facing a serious threat from PAAS.
"We respect Vitthalbhai. Had he contested, he would have won. We would have voted for him as a community elder. But BJP has to be defeated at all costs," Hitesh says.
Local Patidars say that a larger churn is at play, which leaders like Radadiya can't do anything to stop.
"The farmers' anger at the BJP is so intense that no one can prevent them from defeating the party," Jamanbhai says.
The general sentiment among Patidars is that BJP's Patel leaders did nothing to get the community what was "rightfully due to it".
There is much greater anger towards Mehsana Patidar leaders like Nitin Patel, Anandiben Patel and Rushikesh Patel.
"They became rich while Patidar farmers suffered," Hansrajbhai, another resident of Dhoraji says.
Radadiya isn't quite seen in the same category as it is felt that at least he took care of the people in his area.
"He didn't become an agent of industrialists.. We respect him for that," Hansrajbhai adds.
It is for this reason that Hardik Patel is relatively mild in his criticism of Radadiya, even though the latter has attacked him often and called him "mentally unstable".
PAAS cadres are also mindful of not attacking Radadiya, especially given his failing health.
The constituencies
Dhoraji and Jetpur are heavily Patidar dominated constituencies and both seats are witnessing a 'Patel vs Patel' clash.
Dhoraji has over one lakh Patidar voters, over 40% of the electorate in the seat. Around of these are 58,000 Kadva Patels and 44,200 Leuva Patels.
The BJP has fielded Haribhai Patel, who is a Kadva. The calculation is that Haribhai will ensure that the numerically stronger Kadva Patel vote for the party while Radadiya's popularity brings the Leuva votes.
As Congress was almost entirely dependent on Radadiya in the area, it's organisation virtually collapsed except in Muslim and Dalit pockets after he left he party.
The party is now entirely relying on PAAS to defeat BJP in Radadiya's turf. The party's candidate here is Lalit Vasoya, the PAAS convenor for Saurashtra. There were initially reports that local Congress workers were angry at Vasoya being given the ticket.
While this has been sorted out to some extent, pinpricks remain.
The campaign is almost entirely being handled by PAAS functionaries. Therefore it is heavily targetted in the Patidar dominated villages and localities. They do go to Muslim and Dalit areas, traditionally pro-Congress, but the power equation is very clear.
"We don't need their (Muslim and Dalit Congress supporters') help in campaigning. They just need to come and vote," Hitesh says arrogantly.
However at least in the Muslim pockets, PAAS' attitude doesn't seem to have harmed support for the Congress.
"BJP needs to be defeated. We are grateful to Hardik Patel for opposing the BJP in such an effective manner. We must admit that the Patidar agitation is what made this election an equal fight," Zakirbhai, a street-vendor, says.
Muslims form 18-20% of the population in Dhoraji and were one of the main support bases of Radadiya when he was in the Congress.
The Congress-PAAS calculation is that since Kadva Patels formed a majority of the protestors during the 2015, the community will back Vasoya despite his opponent being from their community. They are also counting on getting most of the Leuva Patel votes, as both Vasoya and Hardik Patel are Leuva, in addition to the Congress' support among Muslims and Dalits.
In Jetpur, Jayesh Radadiya is facing a tough challenge from Congress candidate Ravi Ambaliya. A young businessman, Ambaliya is also a trustee of the Shree Khodhaldham Trust, an umbrella organisation representing various Leuva Patel bodies.
The seat is a stronghold for Leuva Patels. There are over 85000 Leuva Patel voters in Jetpur, around one-third of the electorate. In addition, Muslims and Dalits, who together account for 16% of the electorate in the seat, seem heavily tilting towards the Congress. This has made matters extremely difficult for Jayesh Radadiya.
With both seats appearing extremely dicey for the BJP, the rumours surrounding Vitthal Radadiya's health have created an air of confusion in these two seats. This is the Radadiyas' toughest battle ever.