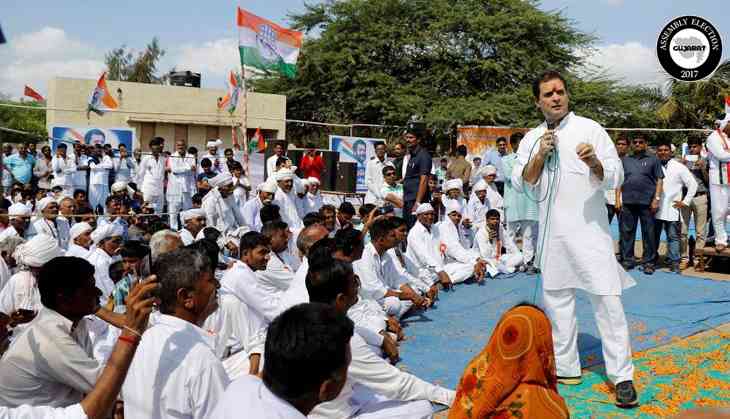 The final results of the Gujarat elections are out and the Bharatiya Janata Party (BJP) has yet again managed to wrest control of Prime Minister Narendra Modi's home state for the sixth consecutive time. But the final tally reveals a very close contest and is a far cry from BJP President Amit Shah's initial claim that BJP would walk away with 150 seats.
In fact, Congress has more positives to take away from Gujarat elections than BJP.
In this bitterly fought elections, Congress has managed to do a face saver by improving its seat share in comparison with 2012 assembly and 2014 General elections. The spirited campaign by Congress President Rahul Gandhi did pay dividends as the party and its allies went on to win 80 seats – a jump of 21 seats with a vote share increase of nearly 2% since 2012.
What must also be remembered is that Congress' tally stood at 43 after party veteran Shankersinh Vaghela and his supporters rebelled and quit the party right before the Rajya Sabha elections. In that context, the party's performance is far more than satisfactory.
A united face
It is also a much improved performance in comparison to 2014 Lok Sabha elections where Congress failed to even open its account while its vote share stood at a paltry 32.9%. Falling short of victory, the Congress has, for the first time in the last two decades, presented a united face and was successful in connecting with the electorate, particularly in rural areas, by raising issues that raised serious questions about Gujarat's development model.
All through his campaign, Gandhi consistently raised issues of farmer and rural distress, unemployment and the twin evils of Demonetisation and Goods and Services Tax, which did strike a chord with the electorate, particularly the farmers and the young voters.
A rainbow coalition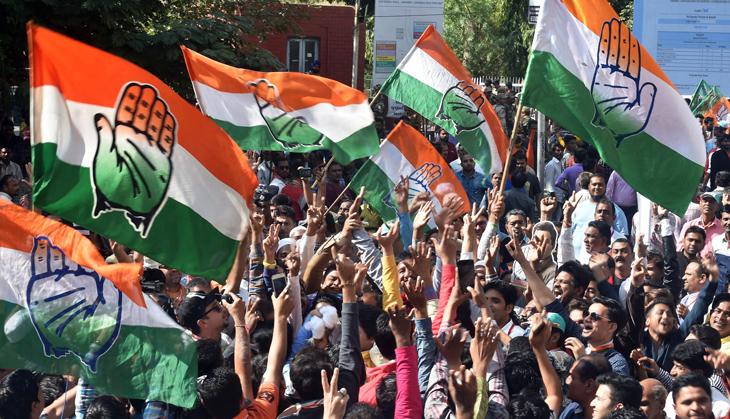 PTI
Moreover, the Congress under Gandhi was able to create a rainbow coalition of castes wherein it managed to rope in young leaders like Hardik Patel, Alpesh Thakor and Jignesh Mevani which has certainly helped the party in increasing its vote share. Both Thakor and Mevani have won the elections from Radhanpur and Vadgam.
Their victory must bode well for the Grand Old Party considering they are most likely to raise pertinent issues in the assembly which should be a cause of concern for the saffron party. In fact, during one of his election rallies in Radhanpur, Thakor had quipped how he and Mevani would bat like Sachin Tendulkar and Virender Sehwag in the assembly, destroying the Opposition much like these two cricketers have in the past.
"What if Yuvraj (Hardik) is not in the team. Both I and Mevani would bat like Sehwag and Sachin and take on the opposition like these two did," he said.
However,the Congress did pay a price for its over dependence on these young leaders as they failed to woo voters outside of their constituencies. Lack of organisational strength forced the the Congress to depend too heavily on these three young leaders which seems to have not worked. The results in North Gujarat is a testimony of this over reliance on Thakor.
While covering election campaign in north Gujarat, Congress workers did concede how Thakor was investing all his time in his own constituency which according to them was hurting the party. Even Mevani could not go full throttle in other areas, which could have helped in some swing of votes. This helped BJP make inroads in the region which was considered a Congress bastion. The saffron party's improved performance in north has certainly saved it from a major embarrassment in Modi's home turf.
Face-off
But these elections have exposes Congress' weak organisational strength and the lack of local leadership in the state. If the party had a strong leader who could have been projected as the chief ministerial candidate, today's result could have gone another way. Such a face could have built a narrative around how inefficient BJP's chief ministers – Anandiben Patel and Vijay Rupani – have been. But that was not to be.
Instead, the Gujarat elections became a face off between Modi and Rahul. And, howsoever hard Rahul must have worked, it was too much to expect that he could challenge Modi's popularity in his home state.
Congress should learn that it can just not piggyback on other social movements without having a solid organisational base at the grassroots level. It has to remember that a last-minute campaign blitzkrieg is not enough to win elections. It has to understand that elections are won by local leadership and not by popular national leaders. It has to work with the people for five years before asking them to vote for the party.
The performance of some of its senior-most leaders in the state is a testimony of all that is wrong with the Grand Old Party. Senior Congress leaders Arjun Modhvadia, Sidhdharth Patel, Shaktisinh Gohil and Tushar Chaudhary lost the seats which they were contesting from, something which should come as a major setback for the party.
Also, if the party had been little more cautious in choosing its candidates wisely and retaining its hold on the seats it had won earlier, the final tally could have reflected a higher number. For example, in Tharad, if Congress had given ticket to Mavjibhai Patel, who lost by a very slim margin in 2012, they could have won Tharad. Mavjibhai went on to contest as an Independent and polled more than 42,000 votes while the Congress candidate received 58,056 votes. The winner got 69,789 votes.
Similarly, in Morva Hadaf assembly constituency, the rebel Congress candidate, went on to win as an Independent. In Lunawada, another independent managed to secure a win as an Independent. Overall, poor selection of candidates cost Congress at least three seats.
A 'moral victory'
This should be a lesson for the party that faces bigger challenges in 2018 when it goes into another round of battle with BJP in states like Karnataka, Rajasthan, Chhattisgarh and Madhya Pradesh. Out of the four states, BJP is facing strong anti-incumbency in Rajasthan, Chhattisgarh and Madhya Pradesh, which gives Congress yet another chance to win some of the big states that it desperately needs.
However, Congress does not seem unnerved by the results of Gujarat elections and sees a moral victory of sorts in its performance. After the results were announced, former Rajasthan chief minister Ashok Gehlot, who has been accompanying Rahul throughout Gujarat, said, "Congress' campaign under the leadership of Congress President Rahul Gandhi has led to a moral victory for our party in Gujarat."
Meanwhile, Rahul also took to Twitter and said, "The Congress party accepts the verdict of the people and congratulates the new governments in both states. I thank the people of Gujarat and Himachal with all my heart for the love they showed me." He went on to add, "My Congress brothers and sisters, you have made me very proud. You are different than those you fought because you fought anger with dignity. You have demonstrated to everyone that the Congress's greatest strength is its decency and courage."
With Sonia Gandhi taking a back seat from active politics, the onus is on Rahul to build a narrative and a coalition of opposition parties to take on the Modi-Shah duo. Meanwhile, what Gujarat has proved that 2019 elections would no longer be a cake walk for BJP which should expect a tough challenge from Rahul led Congress.