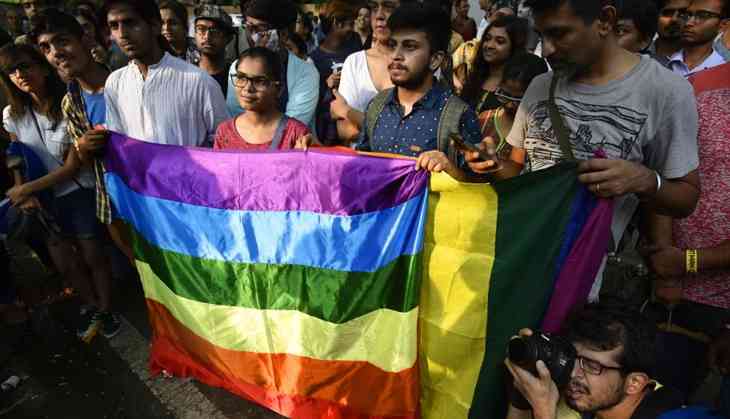 LGBT community members during the protest against Article 377, at Jantar Mantar on July 2, 2017 in New Delhi, India. (Photo: Raj K Raj/Hindustan Times via Getty Images)
In a historic judgement, a nine-judge Bench of the Supreme Court unanimously ruled that Indians have a fundamental right to privacy, as this rooted in the right to life and liberty enshrined in Article 21 of the Indian Constitution.

The Bench also noted that this extends to the LGBTQ community in India, who have been fighting the archaic "unnatural sex" law Section 377 ever since the SC reinstated it. The Constitution Bench, led by the CJI JS Khehar, noted that the 2014 verdict by a two-judge Bench was problematic.
Human rights first
Justice DY Chandrachud, in his judgement, noted that the 2014 judgement which read that "a minuscule fraction of the country's population constitutes lesbians, gays, bisexuals or transgenders" was not reason enough to deny a community their right to privacy.

"Sexual orientation is an essential attribute of privacy. Discrimination against an individual on the basis of sexual orientation is deeply offensive to the dignity and self-worth of the individual," he wrote.

In 2014, the Court had argued that Justice AP Shah based the 2009 Delhi HC verdict to strike down Section 377 on the LGBT community's "so-called" Fundamental Rights.

To this, Justice Chandrachud responded with: "Their rights are not 'so-called' but are real rights founded on sound constitutional doctrine. They inhere in the right to life. They dwell in privacy and dignity. They constitute the essence of liberty and freedom. Sexual orientation is an essential component of identity. Equal protection demands protection of the identity of every individual without discrimination."

AP Shah, quoted by The Indian Express, said that after the right to privacy judgement there's "very little scope now for those wanting to support Section 377."

"The only argument that can be advanced by them is that of reasonable restriction [on the fundamental rights]. But invading the bedroom can't be considered reasonable restriction," he added.
Privacy, not secrecy
Catch spoke to a few LGBTQ activists to see how the community feels about the right to privacy judgement and its potential ramifications on Section 377.

Asked about this, Gautam Bhan, an activist, spoke about how the judgement benefits the LGBT community beyond Section 377. Highlighting how this is rather significant for a community that fears being "outed" and discriminated against, he says, "This provides you the ability to control who knows what about you, the ability to shape terms of your privacy is key."

This right will equip the community in "to deal with the consequences of being outed," says Bhan. Talking about how it will also help people who have undergone or are undergoing gender reassignment surgery, or those does dealing with HIV, he says, "My first reaction as a queer person was not [to do with] 377, but HIV."

There's an important distinction between privacy and secrecy, he says. "It's not about being able to say, 'Oh, I have nothing to hide'," an argument that has been put forth by those against the right to privacy.

The other aspect of the judgement he finds significant is how the "area of privacy" is understood. "It is personal, and not limited to the place." This means that a person's body in a public place is just as private as what's understood as a private place, Bhan argues.

"The expansiveness of this reading of privacy is important," he says, adding, "that is why it can affect Section 377."
Ashley Tellis, however, is of the opinion that "this whole idea of privacy is foolish."

Insisting that "privacy is a very bourgeois idea," Tellis asks, "Which private sphere are they talking about? The family, which is a space of complete social control?"

Adding that the privacy judgement is being held up as ideal by liberal Indians, Tellis says that there's always a consensus in the liberal perspective. "When Koushal happened, the consensus was that it was a shitty judgement."

Tellis begs to differ. "Koushal is deeply conservative," he admits, before going on to argue that it is rooted in reality. "It comes from what is being said on the ground."

"A struggle on the ground to first establish homosexuality as an identity in the public sphere cannot be preceded by judicial shortcuts based on lofty language gleaned from swanky US trained lawyers and interns and passed on by judges with a Rajinikanth complex," says Tellis, critiquing the "abstract judgement" on privacy.
Beyond the 4 walls
While Ashley Tellis is skeptical of the judgement itself, Rituparna Borah is unsettled by the right to privacy petitioner KS Puttaswamy categorically stating that sexuality is not a matter of privacy.

"If somebody is trying to apply this (today's judgement) with Section 377, it will be a blind application with no reason or rationale. The institution of marriage, evolved by humans for centuries, is one of the oldest and let's not degenerate it into a sex trade. If the society has been preserved, it is because of marriage," Puttaswamy said yesterday.

"If the petitioner can talk like this, how will the government deal with it?" Rituparna Borah asks.

About the judgement itself, she says that "because it's a 9-judge Bench and not a 2-judge Bench it can be brought up" while challenging Section 377.

The concept of privacy in the judgement, she reads, "is beyond the four walls of the house."

"For someone who grew up in a tribal society, I've always had a collective notion of privacy," she adds.

Borah agrees that there's a mixed response to the judgement within the community. "There's a mixed feeling. Some people are calling it elite, but it's not. I'm hopeful about it."