Catch Team
| Updated on: 10 February 2017, 1:49 IST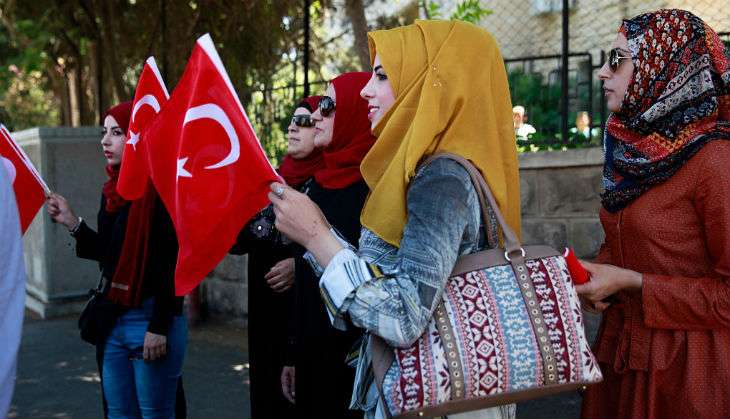 Turkey's failed military coup has affected practically every Turkish citizen. But one half of the population is feeling its affects more. Turkey's women.
Largely absent from the protests that occurred during the coup, the women of Turkey have not just been physically missing, but also silent.
There are some agents who ensure this silence. One religious group, called the Ismailaga movement, has gone so far as to issue a decree that states women stay at home and pray while men take to the streets.
Also read -Turkey coup: public rallies behind Erdogan, checkmate for rebels
Turkish hostility towards its women in the current political environment is only heightened by the ruling government's support of fundamentalism.
"The coup, the war, AKP's [Justice and Development Party ] backwardness or jihadist mobs... they all target women," said feminist group University Women's Collective in a statement.
"They use sexual harassment against women's (need to) exist freely. They are enforcing their manhood by threatening to rape the wives or daughters of the declared enemy. Women must defend themselves."
Haven't seen any women in any of the clips from Turkey. It seems half the population don't exist. They talk of "the people" they mean men.

— Philippa_Perry (@Philippa_Perry) July 16, 2016
It doesn't help that influential voices in Turkey see women as property, bound to 'suffer damages'. As Veysel Taskin, an executive of one of Turkey's largest football clubs, Trabzonspor, tweeted: The properties and the wives of the infidel coup-plotting bastards are spoils of war."
Turkish soccer team manager Veysel Taskin said the wives of coup members to be shared as war trophy. #TurkeyCoup https://t.co/yOX2dBjfyr

— Mike Karr (@MikeKarrSF) July 16, 2016
Taskin was forced to delete the tweet and resign from his job following social media outcry, but still things for women in Turkey show no signs of improving.
@moinaksg And who is veysel Taskin ffs,he must be jailed

— Joumana Gebara (@JoumanaGebara) July 16, 2016
After all, the big winner from the failed coup, Turdkish President Recep Tayyip Erdogan, is no stranger to casual misogyny. In 2014, he had said that putting men and women on "equal footing" is "against nature." In June this year, he went on to say that "a woman who refuses motherhood is half a woman."
While it isn't uncommon for world leaders to say regressive things about women, even in the 21st century, a political upheaval becomes the perfect setting for this sort of misogyny to play out. And that seems to be the case with Turkey.
Also read - Turkey shudders under attempted military coup ousting President Erdogan
Quiet fear
Women in Turkey are worried that the failed coup and the government crackdown that follows would come down worst on women.
"I think it's become much harder for modern women to live here after Friday night, because we have seen the might of the bearded middle-age Islamic tribe," Aysegul from Istanbul told BBC.
"I placed a headscarf and a long shirt in the glove department of my car in case I'm surrounded by them." she added.
Also read - Sushma Swaraj advises Indians not to travel to Turkey till situation normalises
Joy from Istanbul is considering moving out of the country. "It will be more complicated for women too. It is even now hard to live your way of life as a secular woman sometimes," she says.
"This country is sinking. I fear that one day I'll regret staying here."
Outnumbered everywhere
According to a Pri.org report, the Turkish military leadership was 100% male. The face of the protests and the violence that followed was also predominantly male. The government is 85% male. The aggressor is male. The ruler is male. There is no room for women and their rights.
As journalist Burcu Karakas, who writes on gender politics, puts it: "Hard days are ahead of us. Everything will get harder as conservatism thickens."
She doesn't expect any better of AKP. "AKP's misogyny is nothing new," she says. "The only way to stand against it is solidarity among women."
Also read - 90 dead in Turkey Coup attempt; General killed, 200 soldiers detained
"Conflicting environments, such as war or military coups, always incrrease violence and discrimination against women" says Selen Dogan, chairman of the feminist group Uçan Supurge.
"These conflicts involve militarism, nationalism and religious motivations, all of which negate demands for freedom, equality and non-violence," she adds.
With the coup being used as the flashpoint to begin a complete overhaul of the Turkish state, one fear Turkey's women will only find the going harder in the years to come.