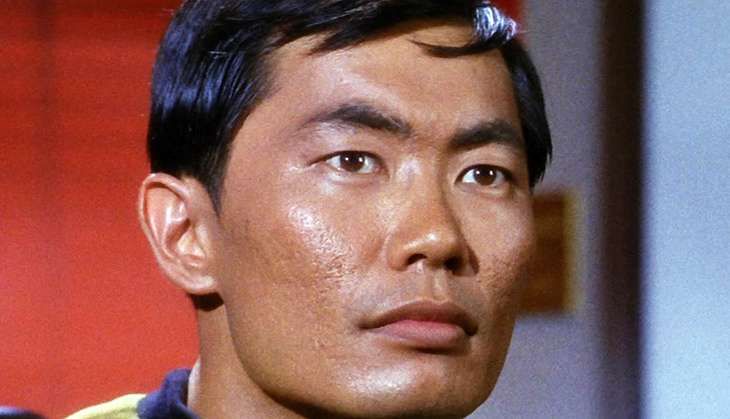 Star Trek has a gay character now. Not a new character, but an old one who happened to turn gay. We're referring to the much talked about Hikaru Sulu's coming out moment in the upcoming Star Trek Beyond. The film is slated for release on 22 July.
Sulu - currently played by John Cho - will be shown to be in a committed relationship with a man. The gay couple will also have a daughter together.
While Cho seems all for the change, especially since he said he "liked the approach, which was not to make a big thing out it", the original Sulu isn't particularly thrilled.
George Takei, the actor who played Sulu from 1966 to 1991, found the character's sudden change in sexual orientation rather problematic.
Takei, who came out as gay in 2005, has been a vocal LGBT voice. Ironically, the makers see this as a tribute to Takei and his association with Sulu.
I'm delighted that there's a gay character," he told The Hollywood Reporter. "Unfortunately, it's a twisting of Gene's [Roddenberry] creation, to which he put in so much thought. I think it's really unfortunate."
Also read- Star Trek Beyond: John Cho's Hikaru Sulu to be openly gay as tribute to original Sulu, George Takei
Don't forget the story
Takei's concern stems from the fact that Roddenberry's character sketches were fairly detailed and in no way was Sulu conceived as gay at any point.
Even though Sulu never had a major romantic angle in place, he did have a daughter born out of a short relationship in Stark Trek's initial run. The daughter, Demora, appeared in Star Trek Generations in 1994.
Incidentally, Takei heard the news from Cho himself. Encouraging the idea to include an LGBT character, Takei told Cho to "create a character who has a history of being gay, rather than Sulu, who had been straight all this time, suddenly being revealed as being closeted."
Funnily enough, this doesn't tie up with the Star Trek timeline at all. Because if one were to go by the storyline, Sulu would have to be gay and with his partner and child first and go back into the closet later.
Since the film comes out on the the 50th anniversary of Star Trek, Takei felt that the only man who should be honoured is Roddenberry. And this move does the exact opposite.
"Honour him and create a new character," he told writer Simon Pegg and director Justin Lin. "I urged them. He left me feeling that that was going to happen."
Also read- Time for Star Wars to get its first gay character? A petition demands just that
The makers' version
Simon Pegg's counter to Takei's opinion is that introducing a new character would also be tokenism.
"I have huge love and respect for George Takei, his heart, courage and humour are an inspiration," he wrote in a statement released by The Guardian. "However, with regards to his thoughts on our Sulu, I must respectfully disagree with him."
Interestingly, Takei's perspective is that changing a character's identity to fit in an LGBT angle is tokenism. Pegg disagrees.
"It's unfortunate," he says "that the screen version of the most inclusive, tolerant universe in science fiction hasn't featured an LGBT character until now."
"We could have introduced a new gay character, but he or she would have been primarily defined by their sexuality, seen as the 'gay character', rather than simply for who they are, and isn't that tokenism?"
It would be tokenism if the writers don't write this new character beyond his sexuality. And that's entirely their choice. Oddly enough, absolutely no one the the Star Trek team is backing Takei here.
Actor Zachary Quinto, who plays Spock in Beyond and is also gay and out himself, was upset that Takei didn't align with the makers' intentions.
"As a member of the LGBT community myself, I was disappointed by the fact that George was disappointed," Quinto told Pedestrian.tv. "I think any member of the LGBT community that takes issue with the normalised and positive portrayal of members of our community in Hollywood and in mainstream blockbuster cinema..."
Also read- A girl has a name: Game of Thrones is finally getting a dose of feminism
Social progression at the cost of creativity
In an earlier Catch article, we'd talked about how Star Wars is being coerced to introduce a gay character via a Change.org petition. While the larger public sentiment - rightly so - is that it's about time Star Wars went rainbow, shouldn't the decision be a creative call, instead of one based on the Orlando shooting?
Similarly, Star Trek's decision to honour Takei by turning Sulu gay seems less driven by a genuine need for an LGBT character and more for a quick fix solution. And this sort of representation can only do more harm than good for the community.
Harm, because representation of the LGBT community should be borne out of creative genius and not an apologetic nod. It's the least filmmakers owe a persecuted group - to write proper characters specifically for them. And the last thing the community should do is celebrate such inclusions. Thankfully, George Takei has set the ball rolling.