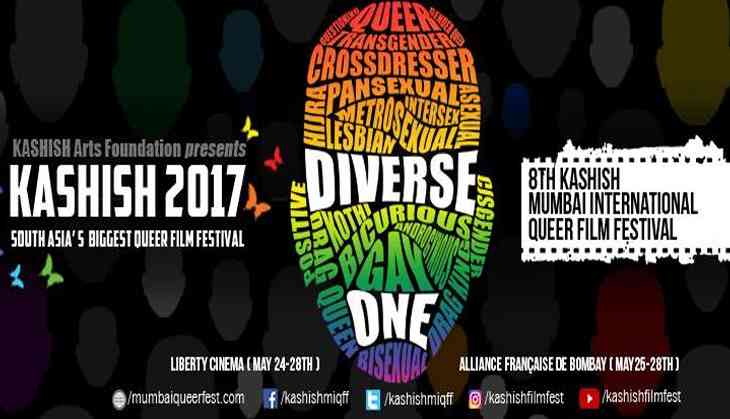 Mumbai will be playing host to the eighth installment of 'KASHISH' Mumbai International Queer Film Festival starting tomorrow, till Sunday. (24-28 May)
The festival, which will showcase 147 films from 45 different countries, stretches over five days and two venues, namely Liberty Cinema and Alliance Francaise de Bombay.
Now we know that 147 films – including shorts, features, documentaries – is a lot to consume, especially for those keen on attending the festival, but not-so-keen on missing attendance at work. We hear you.
Instead, we've curated a list of five feature films – one for each day – that you can catch after work, or over the weekend. Because really, how many queer film festivals happen every year?
Day 1: Signature Move
82 mins/English
Wednesday, May 24, 8:30 PM
Liberty Cinema
Jennifer Reeder's film is the opening night feature at this festival. The story is about complexities in queer lives in the Indian subcontinent, a reality we're far too familiar with.
A Pakistani lawyer Zaynab (Fawzia Mirza) based in the US falls in love with Mexican-American Alma (Sari Sanchez). Zaynab's mother (Shabana Azmi) though would still expect her daughter to marry a man, for her daughter's relationship is one she cannot understand.
Day 2: Only Men Go to the Grave
80mins/Arabic
Thursday, May 25, 6:45 PM
Alliance Francaise de Bombay
Director Abdulla Al Kaabi's feature film has a trailer that would leave you rather curious.
A blind mother dies telling her daughters a secret. The story stretches over the death and the funeral after, and goes into taboo subjects like lesbian love and explores the theme of trans identity in a country like the United Arab Emirates.
Plus the music sounds really cool.
Day 3: AWOL
85 mins/English
Friday, May 26, 10 PM
Liberty Cinema
The Aussie film directed by Deb Shoval is a story that marks the struggle of two women in love in a small town, specifically the struggle of choosing to be together.
The film seems like a charming Friday night watch, that delves into a serious subject, but in a rather consumable way.
Day 4: Play the Devil
89 mins/English
Saturday, May 27, 10:45 AM
Liberty Cinema
Director Maria Govan's film from Trinidad & Tobago follows the story of a teenager exploring his sexuality. Interestingly, the film has a strong class angle as one partner is a working-class boy and the other is a rich businessman.
The boy struggles with his his own personal dilemma with sexuality, with his father's drug problem, as his partner tries to ease him out of it. But it can't be that easy.
As festival director Sridhar Rangayan puts it, "It's a film a lot of us in India can identify with and empathise."
Day 5: Handsome Devil
95 mins/English
Sunday, May 28, 2:30 PM
Liberty Cinema
Most would recommend the closing film Loev for the last day of the festival (largely because of the desi connect), but it's always good to finish early before the crowd gathers. More so when there's a promising entertainer to be watched.
Director John Butler's film from Ireland is probably the most commercial film in this lot, but it drives the point home through the familiar tropes of high-school, conflict, resolution.
That's all for our list, but you can have a look at the full schedule here.