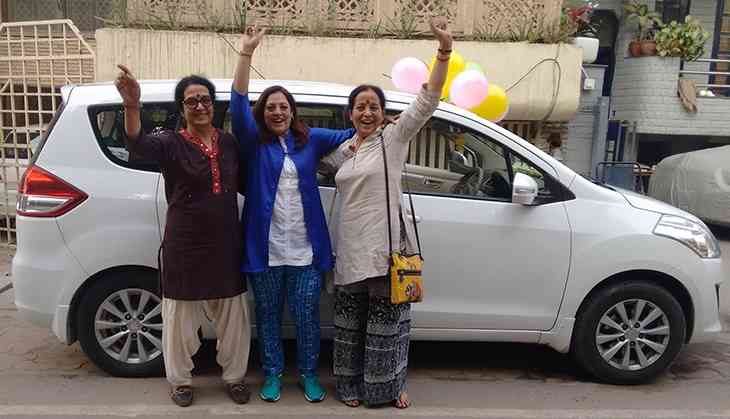 The ladies and their car before trip 1 (Photo courtesy Age No Bar)
Neeru Gandhi, Monicka Chanana, and Pratibha Sabharwal are not very different from the women you meet every day. One was a banker, another a statistician, and the third owned a boutique.
Today, they identify themselves as homemakers, having retired early to take care of their families. All three, proud naanis, are also proud adventurists.
Gandhi is 60, Sabharwal 61, and Chanana 51. At an age that's often considered post-retirement, these three women have completed a 4400-kilometre-long road trip across Rajasthan and Gujarat in less than a month. In fact, for Gandhi and Chanana, this was their second such trip. The first took them all the way to Rameshwaram in Tamil Nadu.
Their Facebook page, titled Age No Bar, reads, "They may be seniors themselves but their story has found resonance with an audience of all age groups,as they drive from New Delhi to Rajasthan to Gujarat to Delhi."
In this interview with Catch, Neeru Gandhi, who envisioned the trips, talks about the journey, how tied they are to their homes, and the naani tag.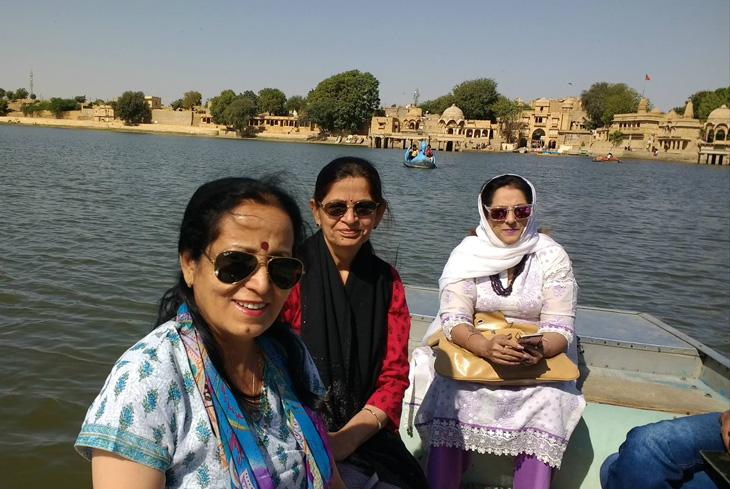 A different mode of transport (Photo: Facebook)
Durga M Sengupta (DS): How did the idea for such a long trip hit you the first time?
Neeru Gandhi (NG): In December 2015, while I was returning from Haridwar with my daughter by car, the idea suddenly struck me – senior citizens doing road trips by car. When we got back I told my daughter that I'd like to go for a road trip to Rameshwaram.
She was very encouraging, cooperative. She planned it all out, prepared a research paper of sorts. She suggested that we take the route via Ayodhya, Allahabad, Chitrakoot, Nasik, just like Lord Ram did for his vanvaas. We put our heads together, mapped distances, highways, pitstops and places to see on the way.
After this, I had to find people willing to go on this journey with me. Most senior citizens don't know how to drive, and those who could didn't want to go on such a long trip. This was a 28-day trip after all.
I spoke to my sister, who is 62 now, and in the beginning she wasn't so sure about it. After this I contacted Monicka [Chanana], who is 51, and she immediately said, "Haan haan, main toh zaroor chalungi". (Yes, I'll definitely join you)
We also took my sister along, but didn't ask her to drive.
DS: What was your daily drill?
NG: We would start driving early morning around 6:30-7 AM each day. Monicka would drive one day and I would drive another. We would carry snacks, poha, some hot water for chai or soup, etc, to have on our way. We'd usually reach our next destination by 11:30-12 and then rest up.
We would then grab lunch and then head out for local sightseeing, return to our hotel by 9 and sleep on time. So it was quite comfortable, enough for us to plan the Rajasthan-Gujarat trip.
This time, my sister didn't join us for this trip. Pratibha [Sabharwal], another friend of mine did.
DS: Did you do social media updates all along the way? Are you still travelling?
NG: No, we've returned but you'll continue to see updates on the page.
Our kids would update the Facebook page about the trip, but only a week after we leave from a destination. This, they said, was their way of ensuring our safety. They also strictly prohibited us from checking in to a destination on social media.
DS: As you've said, your kids have been very supportive, but what about your spouses?
NG: My husband also cooperated. After all, he got us the right car for this sort of trip. We all have small, medium-sized cars and those weren't ideal for such a long journey. We needed space for our luggage as well.
He was able to arrange for a sponsored Maruti Ertiga, both last year and this trip.
DS: And all three of you are naanis? But surely you must identify yourselves as someone beyond that role?
NG: Yes, of course. I used to be a statistician, a senior research officer at AIIMS. I resigned in 1996 because I thought I needed to be there for my kids. So after working 18 years, I got my retirement.
For the last 21 years I've been at home, taking care of the family. There were times when I felt like I must do something for myself.
So when this idea struck me, I thought, yes, here's something I could really do!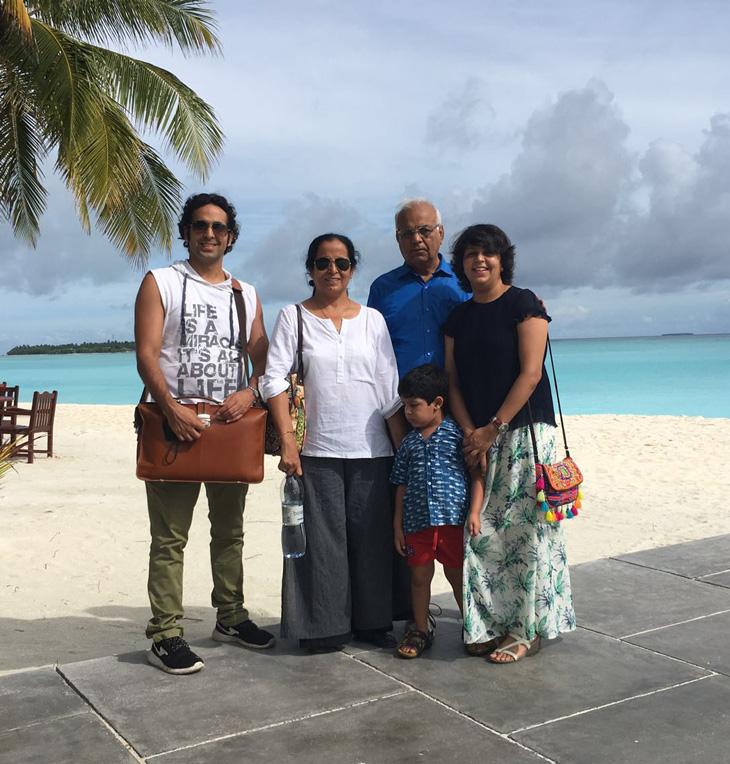 Neeru Gandhi with family (Photo: Facebook)
DS: And what about the professional lives of the women who went with you. Could you tell me about that?
NG: Of course. Pratibha was a banker and she retired just last year because she too felt the need to be there for her grand-daughter.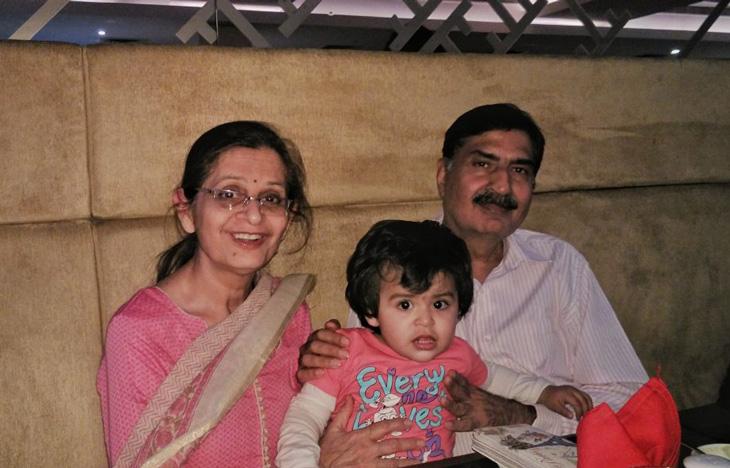 Pratibha Sabharwal with family (Photo: Facebook)
Monicka has tried out a range of things. She had a boutique once that was later closed. She then worked with her husband who has a watch business in Chandni Chowk. Then she left that as well. She didn't have a particular job but she's done things for herself from time to time.
The problem is that very few women my age know how to drive, and even if they do, they're not comfortable driving out of their cities, on highways, long routes.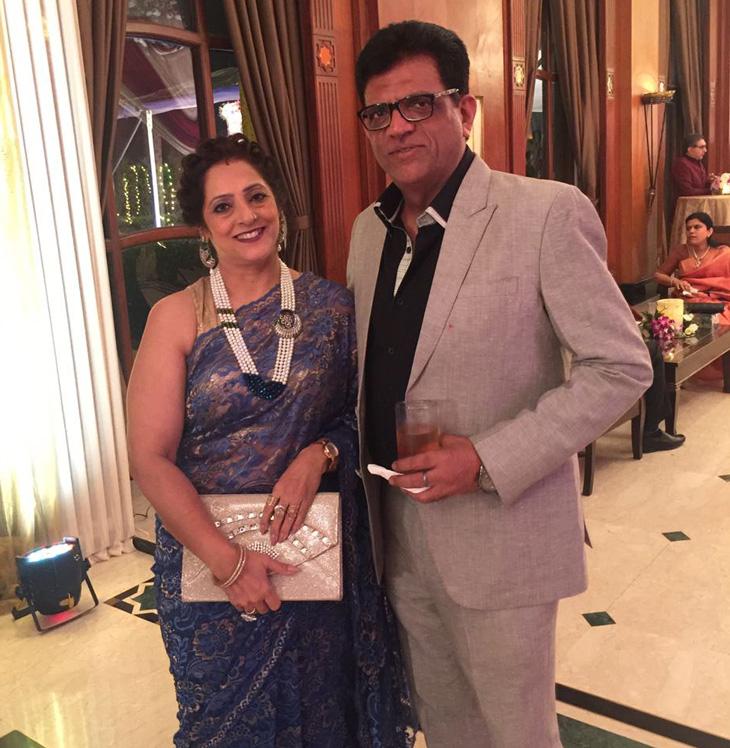 Monicka Chanana with husband (Photo: Facebook)
DS: And it's also what we're encouraged to believe – that we shouldn't be driving.
NG: Yeah, besides being away from the family for such long road trips... Last time I went they were also excited, but to go again for a long trip? I could hear whispers in my own house.
"Chhota trip kar lo/Itna lamba nahi rakho." (Cut it short/Don't go for such a long trip) But if one is on a trip it's important we stop for at least a day at each destination. Not just for rest, but to also take in the place.
I have an uncle. He was quite taken aback when I planned this last year. Him and his wife were so shocked they called up my husband all worried, asking him why he was letting me go. Even at this age people worry, but because we completed the first trip successfully, safety wasn't a big concern this time.
DS: While on the road, have people ever said anything strange to you?
NG: Strange, maybe not. But people do get surprised, even shocked, that ladies are doing road trips on their own.
Last year, we suffered quite a few punctured tyres. We were getting a tyre fixed this one time and the mechanic says, "I can't travel 20 km from here, how did you make it all the way from Delhi?"
On our last trip, our hotel manager at Sikar couldn't digest that we were driving to Bikaner. "Why are these ladies going to Bikaner? They should go to Jaipur" -- because all the shopping is in Jaipur.
Our guard in Ahmedabad, as we were leaving from the hotel, offered us a driver. "Madam, aapko driver kar deta hun. Chaar paanch din mein ghuma dega." (Madam, let me get you a driver. He'll show you everything in 4-5 days) So yeah, this is very surprising for them, that women are driving long distances.
DS: Has anyone offered to drive or park?
NG: Not upfront. But yes, indirectly we're constantly advised or expected to get a driver. Like if we walk into a hotel, they say leave the keys with the driver, he'll park. We have to tell them that we are the drivers.
They found that strange.
DS: On a side note, did you ever enjoy their confusion?
NG: (Laughs) I like that we are doing something that they find hard to accept.
We've also met women who expressed the desire to join us, who've been inspired by us. A friend of mine once said, "Aap humein apna jhutha khila do na, jisse hum bhi aage se kuch kar sake". (Give us a morsel from your food, so that we can do something for ourselves)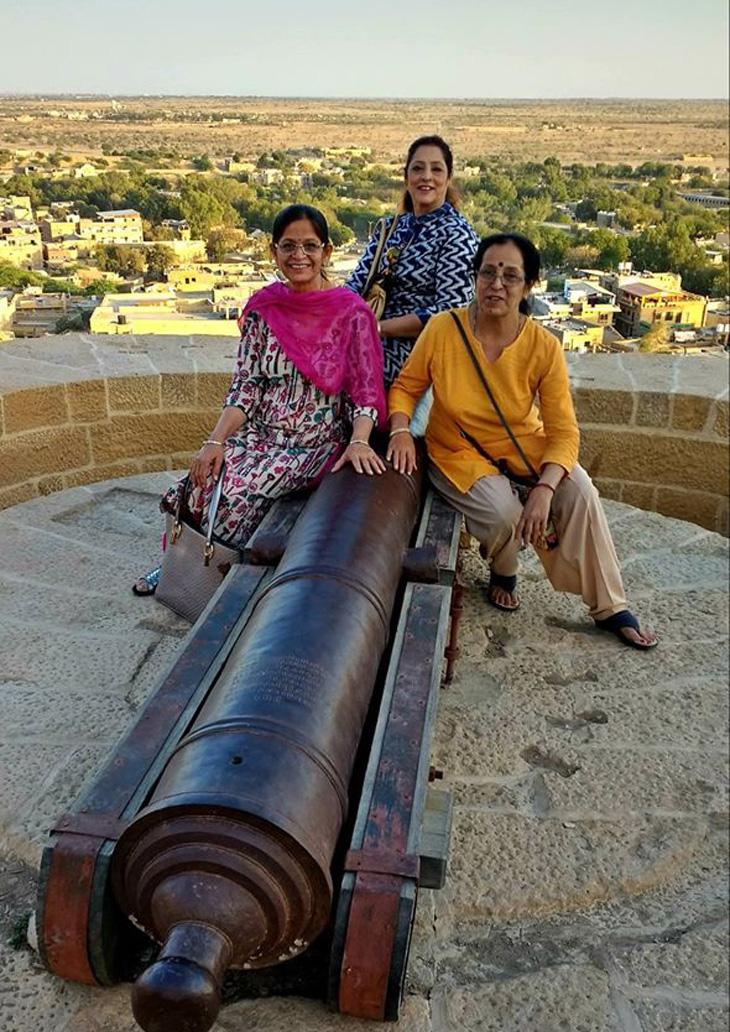 While sightseeing (Photo: Facebook)
DS: So would you include more women on your next trip?
NG: Sure, we can consider it. This time also we had to look for a third person because my sister couldn't join in due to her health.
The main problem with ladies is that they don't leave their homes and families for so long. Perhaps they don't get the support from home, or they believe their families won't function without them. They worry about their husbands getting food, the house being kept properly...
There are many women on Facebook who've contacted us, shown interest. Of course, they're interested. But when it comes down to planning, they all remember the problems at home.
DS: So, do you have a message for women who are thinking in your direction?
NG: The message is simple: If you want to do something for yourself, then you need to take some time out for yourself.
On this trip, we're living for ourselves. On the road, we're not mothers, wives, naanis, we exist for our own selves.
So if you feel like doing something of the sort, just try it once. I always remind myself that when I'm gone tomorrow, the household would function. I am tied to the family, the family isn't tied to me.
As long as we remain tied to them they'll continue expecting us to serve. And why not.
DS: Say your husbands were going for such a trip, how do you think their experience would differ from yours?
NG: I'm sure their experience would be great, but it wouldn't be this extraordinary. Gents go on tours and trips all the time, what's so new about it?
It's extraordinary for us because we got the freedom from home and also because we're taking the risk of driving only on self-belief.
DS: What have you planned ahead?
NG: This time, next year, if I'm okay health wise, and otherwise, I think we'd like to explore the northeastern states. We haven't touched that yet.