Have you ever wondered what it's like to be on a porn set while a film is shot? To see pornstars as just regular people, doing regular things when no one's watching?
London-based photographer and director Sophie Ebrard did just that. She followed porn director Gazzman for four years, documenting all that caught her eye while he filmed on porn sets around the world. Ebrard experiments with natural light "preferring the surprise factor of film for her personal work" giving it a "sense of genuine warmth", according to her website.
The resulting images in this particular series titled 'It's Just Love' unflinchingly display nudity at its raw best, without a focus on sexual gratification. Not something one would normally associate with pornography.
Among the photos, there's a man deep in thought while holding his erect penis, another ironing clothes, a third reading a script. There's a woman laughing as someone outside the picture grabs her breast, one painting her nails after putting her stilettos on, and another just lying on a bed looking into the distance.
No different from paintings, and certainly nowhere close to the pornography we consume or hear about, Ebrard's photographs attempt to show the human side to porn.
In this interview with Catch, Sophie Ebrard talks about the shock value in finding porn beautiful, how she sometimes found it just as dull as any other movie set, and how it's in her DNA to make the mundane seem special.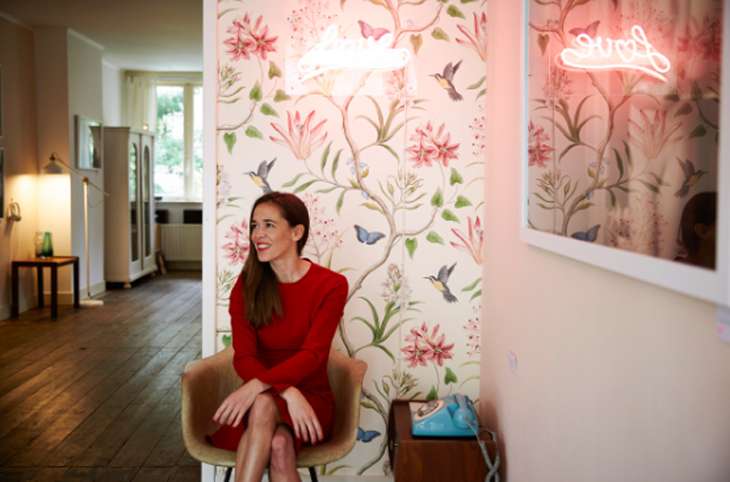 Sophie Ebrard sitting in her house (Sophie Ebrard)
What made you call your project based on pornography 'It's Just Love'? Isn't it possible to humanise sex as sex, and not love?
As everyone else, I had preconceptions about the porn industry and I did not think that I was going to encounter love and compassion.
I was surprised to see that there was a lot of love in the making: from the director to the actors. And everyone was very caring.
The director was always making sure the actresses were treated well, that I was treated well...
A beautiful love story even started on set. Danny D and Sophia Knight met in Scotland whilst I was there shooting, and they just got married.
What I witnessed was the opposite of what I had imagined. That's why I called it 'It's Just Love'.
As I realized that it is really about love.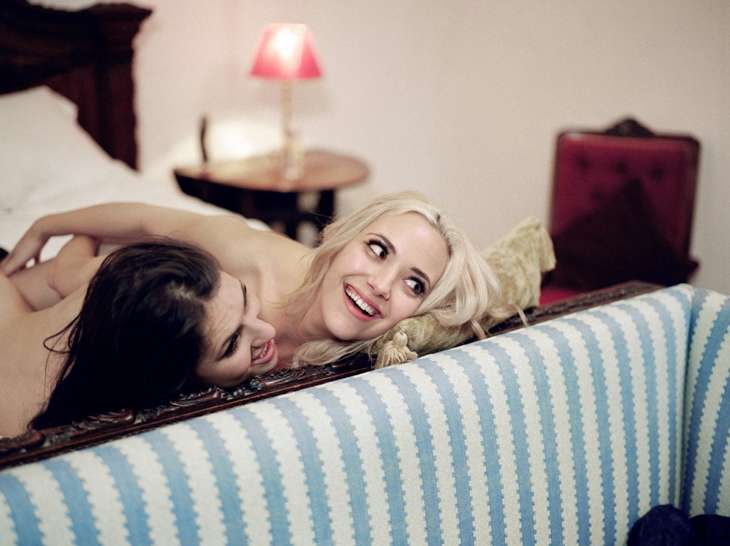 Sophie Ebrard
The gaze that you're trying to shift here - from that of consumerism to that of a human bond - isn't it largely male? Have you intentionally tried to reverse how porn objectifies women?
I am not here to make a judgment about porn, or how it objectifies women, or how it could be done differently.
The only thing I can say is that I have found beauty in porn. And the experience I had is not all seedy and disgusting as everyone thinks it is.
My images reflect that there is beauty and I have found it.
There is also humour and humanity.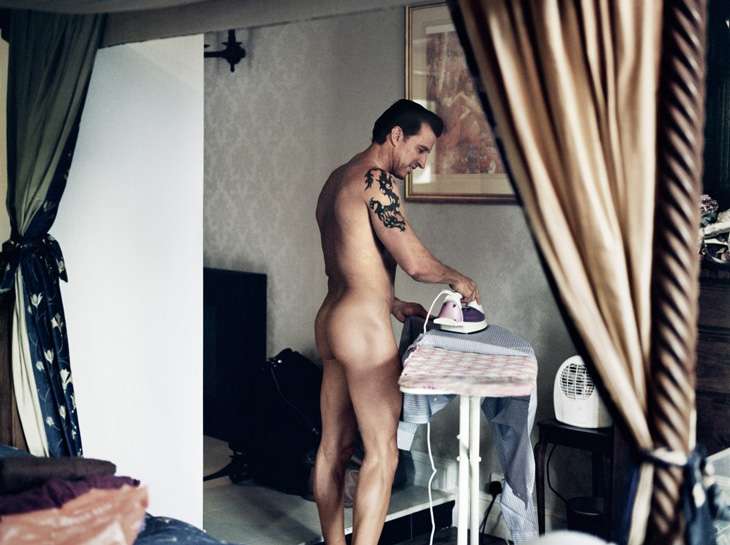 Sophie Ebrard
Have the subjects seen your pictures? Can you recount any interesting reaction from someone within the porn industry?
The actors have seen a lot of the images. As it's a four-year long project I have tried to involve them in the work.
At first they did not understand what I was trying to do. But when they got it, they just loved the work.
It's as close to art as it can be, and they were really grateful about it, about the fact that I was taking a different approach.
A few actors wanted to come to the exhibition but never made it in the end as it was conflicting with their schedule. They were very supportive all along.
You chose to display your work in your home in a stunning display as a part of the Unseen Photo Fair. Do you think you're setting aesthetic standards that the industry cannot always deliver?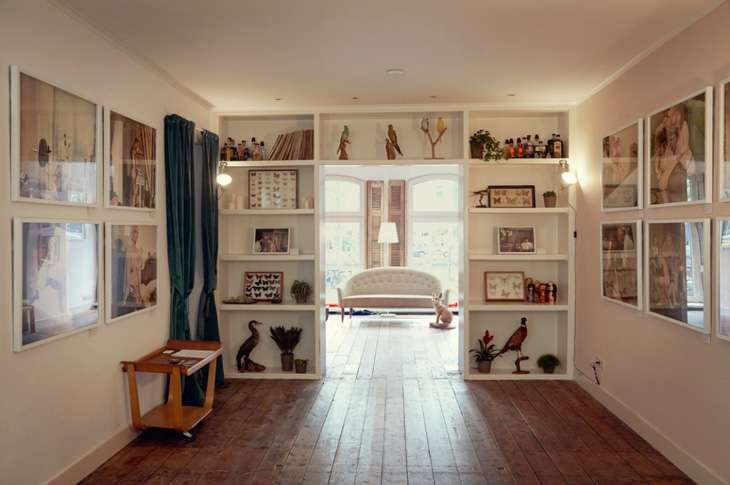 Sophie Ebrard
Porn never leaves the house - it is mostly consumed at home, which made it the ideal location for the exhibition.
It did not feel right to show the images in a blank space like a gallery. So I chose to exhibit the work in my own house and stage it as an "experience".
In a way, I wanted people to experience what I had witnessed, and it felt right to also show them with a little bit of myself.
Very few people have access to the industry, and most people have preconceptions about it. I wanted to show the world what my experience had been.
I felt that by explaining to them that I am kind of a "normal "girl, it would help them have a different perception.
Also, there are a few pictures that are quite graphical and the last thing I wanted was to shock people. If you show them out of context it can be intimidating.
I worked with Gina Geoghegan, an art Director to create a "French boudoir" feel. We also added sound, music, moving image, smell...it was an entire experience.
Some people like Erika Lust are trying to set higher standards to the industry and shooting porn that is more for women than shot for men.
My objective was never to do porn though.We don't have the same objectives, so I feel that it's a bit different. What I tried to say though, is that there is beauty in porn and I found it.
Did you deal with any conflict and/or challenges while working on porn sets? If not, were you surprised?
What struck me the most the first time I got on my first porn set was how nice everyone was towards each other. The director and his girlfriend (who is also a director) were really taking care of the girls. They make sure they are well looked after and that they are happy.
I don't know why it shocked me in a way. It shouldn't. I guess it was probably due to the preconceptions of the industry.
Every time I was coming back from porn sets, my friends expected me to tell them stories of crazy things that had happened. In reality, apart from the scenes, it's pretty much like any other movie set.
There's a lot of waiting and boredom. It's not as glamorous or wild as people would expect.
I discovered a world that is very professional and human. That's mainly what 'It's Just Love' is about. Trying to show the humans behind the action.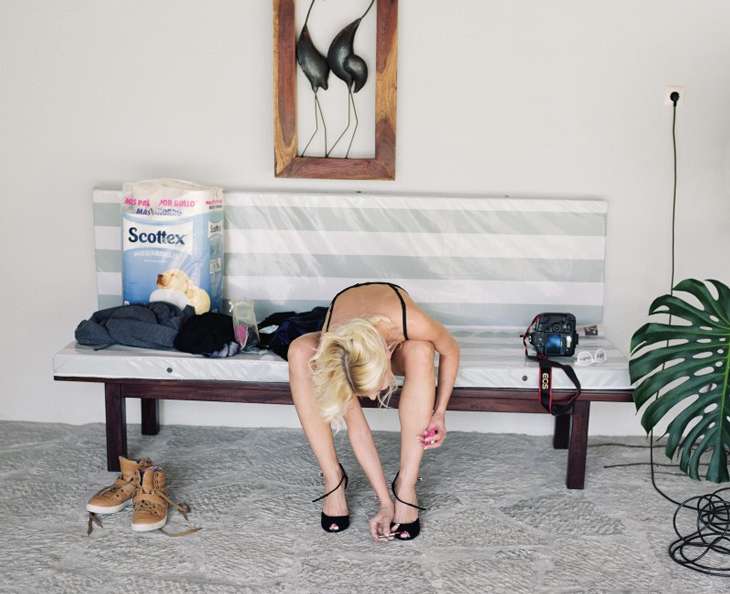 Sophie Ebrard
You've photographed people in schools, at beaches, weddings, streets. Do you have a common theme running through your work?
I believe my DNA is all about making the mundane appear special.
So wherever I am in the world, whomever I shoot I have this objective: finding beauty.
Have you been able to raise awareness about the porn industry via your experience?
I'm not sure my intention was to be an advocate for porn. I have only been on set with one director only.
What I can say about my experience is that I have found beauty and humanity. Most of the girls I met were having fun and enjoying sex. It was not like I thought it would be. But it's only my experience with just one director, who happens to be quite a high-end director.
You can check out the rest of the series on her website and follow her work on Instagram at @sophieebrard.