Full disclosure: I have never been pregnant, but I know even less about it than I should because of how hush-hush pregnancy is in India. Perhaps I'm not the best person to talk about pregnancy, but I most certainly have some thoughts about how little I see it.
Two of my cousins just gave birth. The third is pregnant and in hiding, 'safe' in an environment where she isn't answerable - cocooned in her parents' home, fleetingly available on WhatsApp before she disappears again. This is someone who loves being photographed and documented on social media and her sudden invisibility is rather conspicuous.
While my cousin's choice to be private is hers alone, the invisibility of pregnant women - an irony in itself - is a larger societal concern that, fortunately for us, some celebrities are starting to undo.
Kareena Kapoor refuses to change
Kareena Kapoor's showstopper moment at Lakme Fashion Week (LFW) Winter/Festive 2016 was as much about her proud display of her baby bump as about Sabyasachi Mukherjee's designs.
Dressed in a regal olive green ensemble, Kareena walked the ramp, before pausing to casually touch her belly. That wasn't just a stunning moment in fashion, but also a much needed acknowledgment of Indian mothers.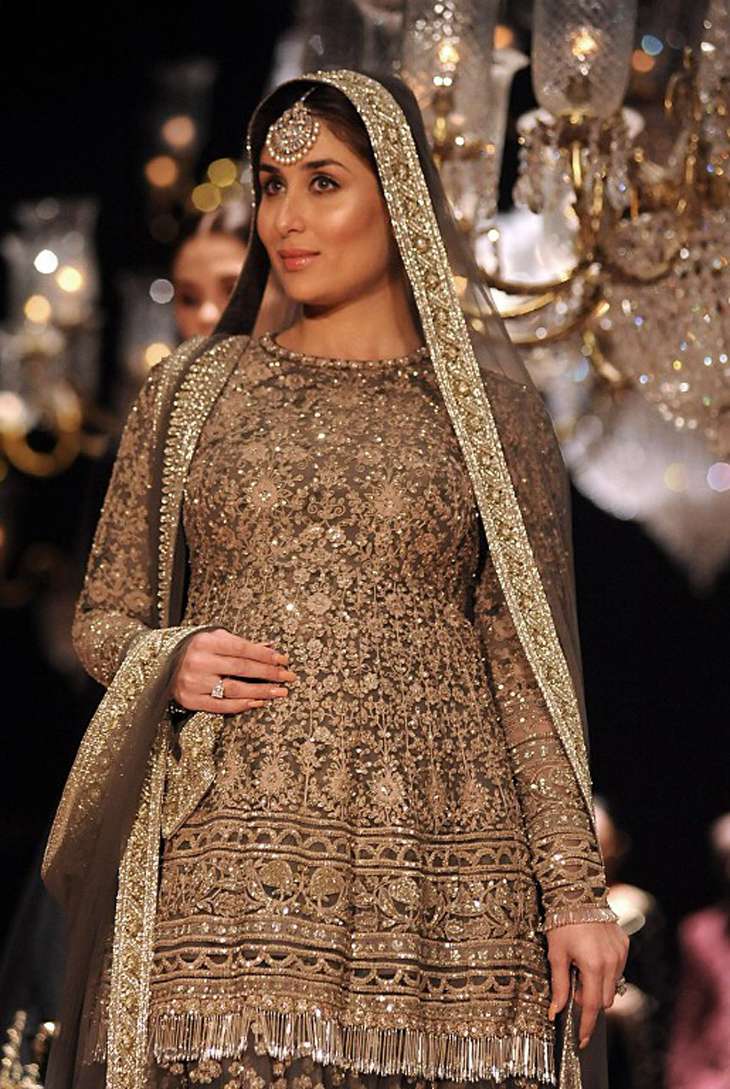 Photo: Sujit Jaiswal/AFP
Mothers who work through their pregnancies, push their limits with manual labour, mothers who need to fight to keep the baby in their womb, mothers who, despite being a part of the workforce, will never be appreciated for the effort.
Celebrities have the power to destigmatise, normalise and bring attention to social issues, and it was heartening to see Kareena weild this power on behalf of India's mothers.
Her walk is an encouragement for the woman who wishes to be seen as pregnant, not limited. It challenges that shift in stares from female breasts to bellies, from that constant otherisation that pregnant women face for going through the most natural of processes in life. The process of creating life.
"The most important thing is that pregnancy should not be looked upon as some sort of disease of any kind. It's the most beautiful phenomenon that can happen to a woman... I would continue to do as normal things as everybody else because that's what it is," the Bollywood actress told IANS post ramp walk.
Also read - Pregnancy is the most beautiful phenomenon, says Kareena Kapoor
Baffled at how differently women under the spotlight are seen when pregnant, Kareena, who intends to work through her pregnancy and motherhood, said, "I don't look at it like any change. I know of course everyone prefers 16-year-olds dancing around in mini skirts, but there is a certain amount of stature that is required for certain roles. And that will always be there."
Carol Gracias hopes for change
Model Carol Gracias, as almost every news outfit reports, has 'returned' to the ramp after giving birth to her son just four weeks ago. But, in truth, she never left.
Carol sported a handloom sari at the Winter-Festive 2016 in Mumbai for designer Gaurang Shah. This is incidentally the same designer who had Carol walk the ramp during Lakme Fashion Week (LFW) Summer-Resort 2016 while she was still pregnant.
In an NDTV blog titled Why I Walked The Ramp 6 Months Pregnant, Carol wrote about not feeling good at first, before finally making the decision to do it.
"I didn't feel the way most of you saw me on the ramp - confident and sexy. I felt bloated, sick, tired and moody. But towards the fifth month, I started to feel a bit better," she writes.
File photo
Empowered by her decision to go through with it, Carol acknowledges the pressures of being under the spotlight, especially when you don't have the 'perfect body'. She understands that she cannot speak for all pregnant women, but feels good about setting an example.
"I am not a spokesperson for pregnant women, we all have different lives and issues.," she writes, adding, "But if just walking the ramp with my baby bump can help women realize that our swollen bellies, feet and breasts are not just a thing to suffer through, these are things that make us beautiful, as long as we let ourselves feel that way, that is welcome."
These women are vocal, and therefore cannot be seen as celebrities who just pose for aesthetic baby bump photos before making quiet exits. Perhaps they do not face the troubles an average pregnant woman does, but the constant spotlight on them makes the societal pressures that they face very public. And therefore, when celebrities challenge those societal pressures, it most certainly starts a debate. Which is a feat in itself.
Shveta Salve talks of bodily changes
Carefully airbrushed pregnancy photoshoots aside, women, especially on social media, are getting very real about motherhood.
Actress Shveta Salve has used Instagram right through her pregnancy to keep the humour alive while making valid points. In a Pyjama People blog titled 'Hello from the Bumpy Side!', Salve candidly talks about the joys of a super active pregnant sex life, keeping up with fashion, her insecurities about her changing body, and her family's support through it all.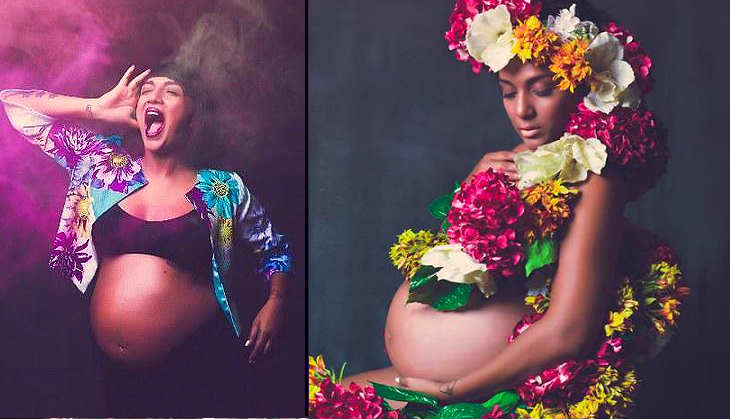 Photo: Facebook
"Friends and family would tell me to slow down and calm down, I know they speak out of concern, but believe me the secret to this is just to listen to your body," she writes. "If your body says hey I need to chill now, relax, and take a nap. If it's up and about, go for a walk or swim or do some yoga, as your heart pleases, after all, you are just pregnant not physically challenged."
Also read - Shveta Salve's floral-themed pre-delivery photoshoot defines real beauty
Documenting her pregnancy through the various trimesters, Salve confesses to having enjoyed her first for making her naturally beautiful and a heavy sleeper.
On her third trimester though, she writes, "Everything grew, literally: appetite, weight, breasts, belly, hands n feet you name it, and it grew."
Still, none of this was 'weird' or 'gross', but normal. Something that society seems to have forgotten and is now being reminded about.
The debate grows larger
Changes in society always have a pattern. It is no coincidence that all these very public women decided to change the discourse around pregnancy the same year.
This is not to say that women haven't been #PregnantAndProud before, or that motherhood hasn't been celebrated - Hallmark would testify to this - but identifying the political aspect of motherhood is finally getting mainstreamed.
Be it the effort made by women to normalise breastfeeding internationally, or the legal framework supporting working mothers towards better childcare, it enables the mother to no longer be the altruistic angel of the house. She is a functioning member of the society as much as the father who, thanks to biology, needn't carry the marks of parenthood.
Breastfeeding is natural, instinctual and yet relegated to stinky corners attached to ladies toilets in malls and offices. If at all.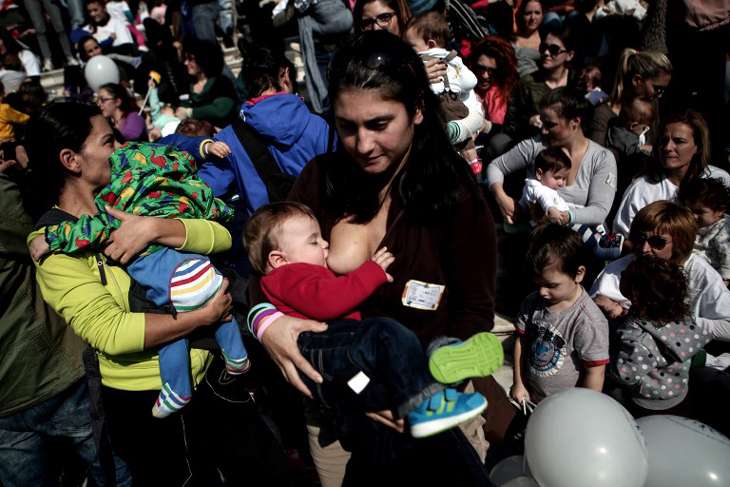 Photo: Angelo Tzortzinis/AFP
As BBC reports, just two days ago, a mother was asked to go to a pub's disabled toiled and breastfeed as "breastfeeding isn't good around other customers".
While the pub later apologised, their actions are reflective of a larger social barrier, more pronounced in 'developed countries' than elsewhere. In the lower strata of society, especially among the poor in India, pregnancy isn't a phenomenon that comes in the way of daily functioning, because that's a luxury that cannot be afforded.
There, breastfeeding is fairly normalised, as you'd observe on local trains. There's a social code that requires everyone else in the breastfeeding woman's vicinity to look away. But it isn't safe at all.
The safe spaces, on the other hand, don't want to deal with the embarrassment of a lactating woman and her hungry infant. Which is why when the most public of all get past the 'embarrassment' of motherhood, it's most definitely a sign of changing times.