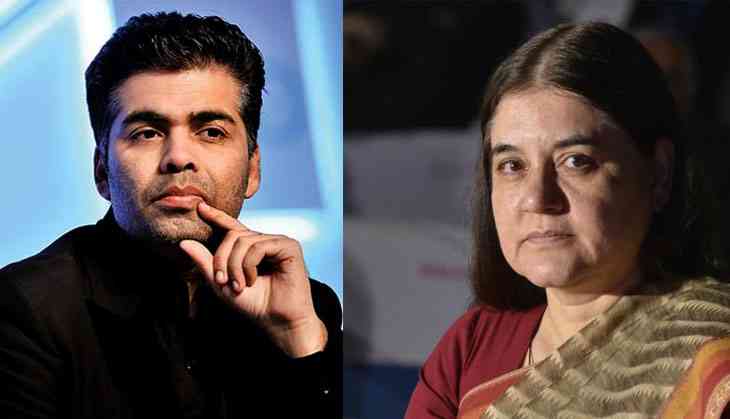 The man, today, is as successful as he can be, with the entire film industry waiting to sit on his couch, sip coffee, and dish out their most personal details, often with sass and humour. Karan Johar isn't just one of Bollywood's most celebrated directors, but appearing on his show means that you've arrived in Bollywood, that you're finally Bollywood elite.
The woman is the only Gandhi to occupy a powerful position in the BJP government, presiding as Union Minister for Women and Child Development. Maneka Gandhi has stepped out of the Gandhi family's shadow, especially her mother-in-law Indira Gandhi's, and become an important female voice of our nation.
In any other context, the twain don't meet. But unfortunately, the one time they do, it isn't for being progressive, for breaking glass ceilings, for changing narratives. But rather for reinforcing them. For reinforcing everything they fought, coped with, quite simply because today they can.
The comments
Johar "gave it back" to an actress who comes from a background far removed from his. She has felt the lack of privilege, lived on the streets, slept on pavements, as she's mentioned in interviews. She made her way up the film industry with her talent alone, defying norms established by the likes of Johar.
And finally, she became a name big enough for Johar to invite to his show, not as an accessory or 'arm-candy', but as a guest acknowledged for her work. On this show, she reminded him of the times he mocked her accent, appearance, and even talent, of his 'nepotism'.
Johar has now responded to these allegations by accusing her of playing "the victim card". "You cannot have a sad story at every point of time about how you have been terrified by the industry which is a 'bad world'; leave it!" Had he added "Go to Pakistan", nobody would have blinked.
Proving Ranaut right in the same breath, Johar added that he wanted to know if she understood the word 'nepotism'. Never mind that Johar doesn't understand 'decency'.
A few hours prior to Johar's verbal diarrhea, WCD Minister Gandhi shared her views on why the youth should adhere to hostel guidelines and not protest extremely stringent [especially girls' hostel] curfews.
At first, she said, "I don't have a viewpoint on this. I think ministers are given few seconds to express their views, and these views are usually not thought out."
And as irony may have it, her following statement was this: "When you're 16 or 17 you are hormonally very challenged. So to protect you from your own hormonal outbursts, perhaps a Lakshman Rekha is drawn. Now you can make it 6 [PM], 7 or 8, depends on college to college. It really is for your own safety." And this comes from a woman, who at age 17, had the agency to advertise bathing towels.
Women have heard this language for centuries. Cross your legs, it's for your own good. Be home before dark, it's for your own good. Don't be too friendly with boys, it's for your own good.
Though Gandhi clarified that she extended this to both boys and girls, it's apparent that she sees the youth through an impossibly patronising, backward lens.
More harm than good
Both Gandhi and Johar should be held accountable for the harm they're causing the individuals they direct their parochial comments at. But it's important to note the common pattern through which they're causing them harm.
Having beaten disadvantage, one as a queer man under the spotlight, and the other a woman, that too in a political family, Gandhi and Johar have the power to inspire, challenge patriarchy, and help the less fortunate to come forward.
Instead, by locking doors, both physical and metaphorical, and worse, by mocking those who attempt to break free, protest against these chains, they're belittling their own journeys. And others like them.
Perhaps Maneka Gandhi didn't have to fight 6PM hostel curfews, and perhaps Johar never had to second glance a casting couch, but while their means were different, they've seen struggles other disadvantaged people have, albeit in a different capacity.
A Lakshman Rekha, in itself a sign of stinking patriarchy, can perhaps physically contain those who want to challenge it. It can perhaps even make them question their intentions for a day. It can make them wonder if they'll ever make it out, if they'll ever make a mark.
But it cannot cage their spirits. And therein lies a lesson for patriarchal agents like Karan Johar and Maneka Gandhi.
Pinjra Tod.