Ka Bodyscapes is a film about breaking free. Breaking free from prescribed gendered behaviour, from the normative heterosexual values of society, from shame - about our bodies, choices, and lives. And, ironically, this Malayalam film by Jayan Cherian has fallen prey to what it objects to the most - censorship.
Bodyscapes, Cherian claims, has been refused certification by the CBFC on the grounds that it 'insulted and humiliated' the Hindu religion.
Also read - CBFC chief Pahlaj Nihalani bats for Salman Khan; says his films should get tax benefits
"The entire content... is ridiculing, insulting and humiliating Hindu religion, in particular portraying Hindu gods in poor light," reads a letter apparently from the CBFC office in Thiruvananthapuram.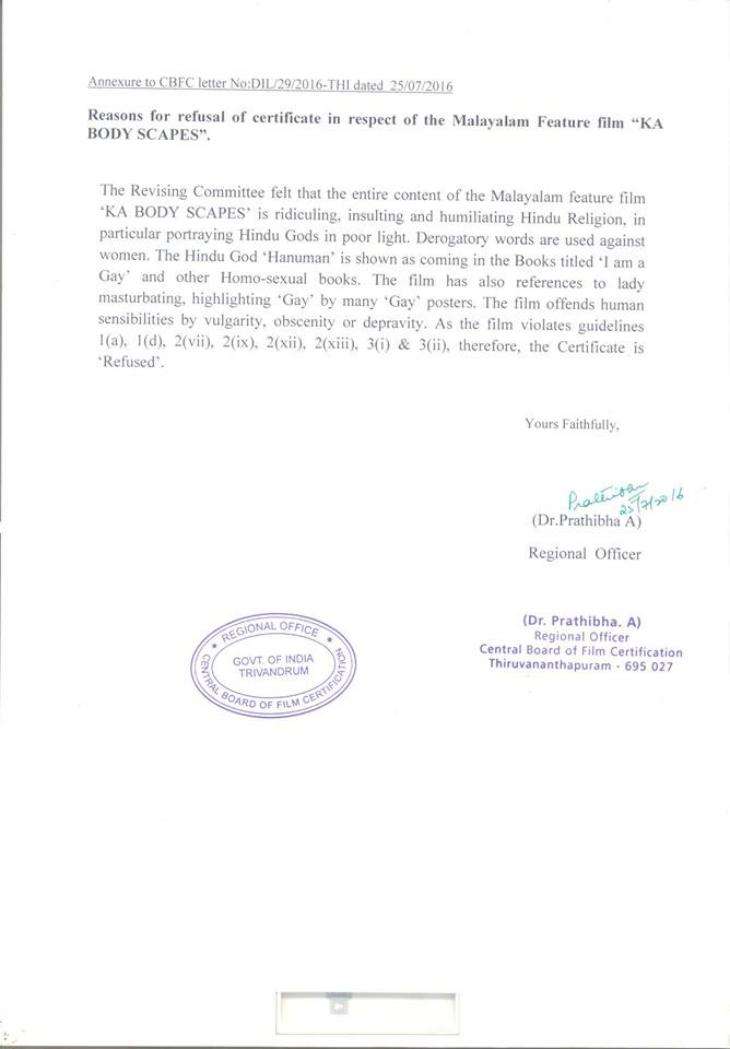 Photo: Hindustan Times
Their primary objection is to a scene which shows "Hindu God Hanuman... as coming in the books titled 'I am gay'." Cherian told Hindustan Times that this is a baseless argument as the character in question strikes a 'Hanuman pose' holding a symbolic message against Section 377.
"This is a bizarre attack on creative freedom and sexual minorities," he told HT, adding, "We have to fight growing authoritarianism."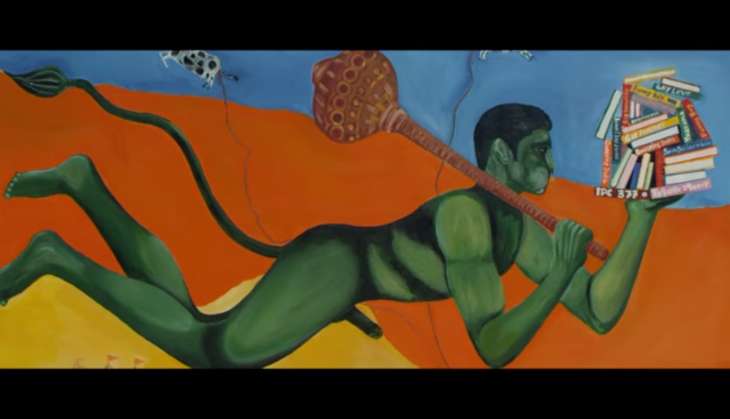 Silencing Kerala
The film may be a work of fiction, but it is deeply rooted in social movements that have recently occurred in Kerala and spread to different parts of the country, largely due to social media.
Set in Calicut, Ka Bodyscapes tells the story of three people. A gay painter, the man he loves and a female factory worker.
All their stories are relevant because they echo incidents that have happened in the country over the past two years, ever since the Modi-led government came into power.
Also read - Udta Punjab leaked online before release, producers smell CBFC rat
The film goes into the taboo of menstruation at work, in places of worship, online, and the subsequent fight back through widely popular social media campaigns like Happy To Bleed and the like. It also brings up the increasing number of LGBT pride parades despite our regressive laws. It later goes into Kerala-specific mass movements like the Kiss of Love campaign back in November 2014 that captured the whole country's imagination.
It's a film that speaks of relevant subjects that involved the youth, the people on streets, and not those in power or positions of privilege, making it all the more important. However, despite its social relevance, the CBFC has arbitrarily banned it.
The fact that those in positions of power don't want it to be seen, a subject the film directly addresses, makes its message and banning that much more significant.
"I feel deeply committed to the cause and will challenge it in the high court. We will fight for free speech," Cherian told HT.
Not a first
The recent battle between Anurag Kashyap and the CBFC over Udta Punjab unearthed something important. It showed us the lengths to which the CBFC will go so that viewers don't watch certain things. To 'protect' us from certain realities. But this protective streak is so suspect that it invites even more curiosity in the subject.
Which, for Udta Punjab, was great, with public clamour for its release forcing the CBFC to finally back down.
But must we always be exposed to art after so much struggle? While Udta Punjab had the star-power and mainstream visibility to eventually overcome the CBFC, not every film has the budget or the influence to gather support. Especially not films that deal with serious subjects or prevalent issues.
Also read - Is Nihalani crazy? Udta Punjab is the anti-drug PSA this country needs
Two films - India's Daughter and Unfreedom - one a documentary, the other not, got banned for similar reasons as Ka Bodyscapes. While India's Daughter showed us the real face of the society we inhabit - by picking up on one of the most talked about rape cases in India, Unfreedom was a film on the taboo subject of lesbianism and the social problems around it. All three films question our laws, our gender differences, and, ultimately, our society.
Strangely, these are the films that got banned. Meanwhile, films like Mastizaade and Great Grand Masti make it past the certification board with no cuts. Sure, they don't pretend to be anything but sex comedies, but how do they project women and marginalised men in society? I don't mean to say that these films should be our go to sex-ed, but when the CBFC keeps banning the films that do exhibit reality, what choice do we have?
Anything outside of the hetero-normative is shown as silly and is completely stereotyped, almost to the point of showing gay characters as needy or, worse - rapey. And that is the culture the board promotes.
The films that are celebrated for being 'women-centric' and true to women's rights are the likes ofJai Gangajal or Gulaabi Gang. They reek of female masculinity, where a woman needs to be an oppressor to be taken seriously. Again, these films too get past the CBFC with little or no trouble.
Please relax, CBFC
It almost seems like the CBFC has a collective masculinity that is threatened by non-mainstream voices. Because how else would one explain an organisation's endless need to clamp down on any film that comes close to reality.
Also read - Was just doing my job, doors opened for vulgar films now, says Pahlaj Nihalani
Terming films 'indecent' or 'offensive' to *insert random community* is convenient. These words are just as vague in Indian laws as the CBFC's usage of them. They legitimise arbitrary bans.
Take Ka Bodyscapes and how it offends women and Hinduism as an example. It offends women by talking about menstruation, a completely natural, healthy, biological process we're only too familiar with. It offends Hinduism by drawing associations with homosexuality, a way of being we were totally cool with as far back as Khajuraho. Kudos CBFC, you never fail to amaze.