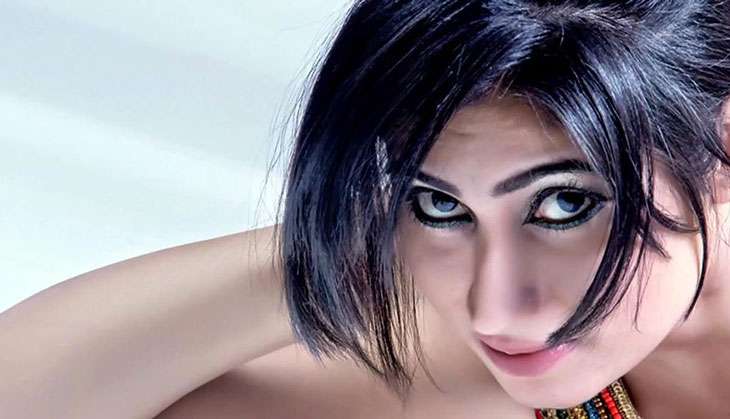 India knew her as Pakistan's Poonam Pandey, the controversial model who'd make it to Bigg Boss. Pakistan knew her as the girl who danced in music videos and took selfies with a cleric. And while most judged her for these antics, Qandeel Baloch never really cared and did her own thing anyway.
But her unfazed attitude offended her brother, and to save his 'honour', he killed her.
Three weeks before the murder, Baloch had sought help. According to Pakistan's daily Dawn, she wrote to the interior minister and director general of the Federal Investigation Authority (FIA) requesting security.
Also read - Pakistani internet sensation Qandeel Baloch shot dead in Multan
The selfie with Maulana which probably cost #QandeelBaloch her life.
Suddenly it all became about honour. pic.twitter.com/7JvGG5e4DN

— Man Aman Chhina (@manaman_chhina) July 16, 2016
Qandeel Baloch's murder would've been just another statistic in Pakistan had she not been in the limelight. Make no mistake. The shock value in this case doesn't rest so much in the misnomer that is 'honour killing' as in the fact that it's a celebrity murder.
And that's a problem.
While Baloch was a vocal public figure who often wrote about the problem of patriarchy and how society was constantly trying to control her, most who meet her fate are voiceless. By most we mean the 1000-odd women who are killed in the name of honour in Pakistan every year.
So to not highlight Pakistan's lenient honour killing laws in light of Baloch's murder would be an insult to what she endured. Her brother needs to be seen as a criminal in the eyes of law, and not as some righteous, concerned sibling.
I wish her brother tried to clean her up and guide her, instead of killing her.

RIP #QandeelBaloch

— Mariam's Madness (@mariamsmadness) July 16, 2016
Pakistan's Daughters
According to a Pakistan's Human Rights Commission report, 1096 women will killed by their families in 2015 under similar circumstances. And these are just the reported figures.
In 2014, 1000 women were killed. In 2013, 869. In 2012, the numbers stood at 432, and 705 in 2011.
"The predominant causes of these killings in 2015 were domestic disputes, alleged illicit relations and exercising the right of choice in marriage," the report reads.
Pakistan Peoples Party member Syeda Sughra Imam, who served as the Senator of Pakistan's Punjab province in 2015, pushed for a private members bill against honour killings. But the Anti-Honour Killings Laws Bill is still in limbo. This is owing to conservative groups like the Jamiat Ulema-e-Islam (JUI-F), who fear that the bill would go against Islamic injunctions and therefore needs to be reviewed.
"The objective of the bill is to amend the Pakistan Penal Code, 1860, the Code of Criminal Procedure, 1898 and the Qanoon-e-Shahadat Order, 1984 to provide justice to the victims' of this heinous crime by convicting the criminals responsible for this offence," Senator Sughra Imam said.
@sherryrehman She absolutely was a role model. In a society where sexuality is a woman's greatest sin, Qandeel fought back against all odds.

— Ali Mahad (@mahadtv) July 16, 2016
But why is a bill needed?
Pakistan's law recognises murder as a crime. But if the same murder were to be committed by a close relative to save their family's 'honour', by proving that the relative had the victim's best interests at heart, the court may acquit them.
This 'compounding' of the criminal offence allows for the accused to get away with a 'compromise', with or without payment of compensation.
Also read - Qandeel Baloch shot dead: Here's all you need to know about the controversial Pakistani model
Secondly, if the accused can prove that the act was committed due to "grave and sudden provocation", he or she can be acquitted.
Documentation of Pakistan's 'honour' killings
In Sharmeen Obaid-Chinoy's Academy Award-winning documentary A Girl in the River: The Price of Forgiveness, we encounter Saba - a daughter who was shot and drowned by her father and uncle for marrying the man she loved.
But Saba survived to tell her story. She crawled out of the lake with her face and hands wounded and bullet-ridden, but still made it to a nearby gas station.
She credits her survival to Allah, promises to never forgive her family for lying to Allah (as they swore on the Quran that they wouldn't harm her), and wishes that they rot in jail for the rest of time.
Also read - No honour in this killing: 18-year-old girl burnt alive in Lahore for marrying her lover
By the end of the short docu, however, Saba is forced to 'forgive' her father and uncle in court. The two men walk out of custody in 24 short hours.
According to Asad Jamal, one of Saba's pro bono lawyers, "It is the male members of the community who make the parties reach a compromise. And it almost always works against the interest of the victim."
Jamal asks Saba's intervening neighbours, ""You speak so much of the honour of the family, what about the rights of the girl?"
"Honour and land are common disputes here," respond one of the men.
Towards the end of the film, Saba confesses that she may have forgiven them in court, but she never will in life.
"Allah protected me from their bullets, so I survived. Tomorrow He may not, and they may kill me," she says.
The part society plays
Saba's story is one of lack of choice. Her husband Quaiser loves her and doesn't want her to go through with the compromise. But it is not he who makes the decisions at her in-laws'. Quaiser's oldest brother Shafaqat decides that forgiveness is the only way forward as they continue to live in the same neighbourhood.
Saba's in-laws are also financially backward, which leaves them at the mercy of their neighbours. Fearing persecution, they opt for a settlement over getting justice.
Also read - Pakistan honour killing: Teen girl strangled, set ablaze for helping friend elopeAs Jamal points out, "If they're convicted, they'll do their five odd years. These people fear that when they come out of jail, it'll be with a vengeance. This is safer."
The socio-economic status of the two families is evidently seen as a much bigger concern than the girl's life. The question of this being a gender-based violence never comes up.
When sisters start murdering their brothers for honor, this country's gonna run out of men pretty soon! #QandeelBaloch

— Malaaqsaab (@nom_malik) July 16, 2016
The fact that Pakistan's legal framework gives legitimacy to the criminal's version and frame of mind in 'honour' killings is reflective of the larger gendered concepts of 'good women', 'male honour', 'respect in society', etc.
The law needs to recognise that there is no 'honour' in these killings. That they're murders. And that Qandeel's brother or Saba's father aren't the victims here. The women are.